Holiday Style Guide: An Edit Of Places To Shop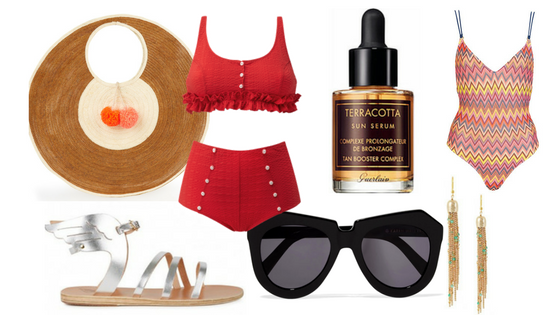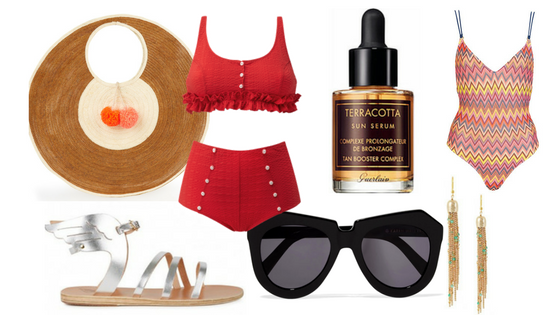 It used to be really hard to find beachwear out of season, I remember having to either wait until I got to the destination or else make do with a very limited selection (like two designs) from the high street.  Now most designer and high street stores have their own online holiday shops which we can access whatever the weather. It's always sunny in some part of the world meaning that beachwear is no longer seasonal and designers are constantly coming up with new collections. If you are thinking about going away and looking for the most stylish one stop beach shops, then here is my edit of the best with direct links to their pages.
The High Street Holiday
Swimsuit|Topshop  Pom Pom Sliders|River Island  Off The Shoulder Striped Dress|J.Crew
Most of the high street shops have a holiday section online. Some of the swimwear can be a bit of an eye opener for us mums but there is some really good stuff too. Personally I find high street holiday fashion good for buying basics and extra pairs of things like sunglasses, sandals and cover-ups.
J Crew – One of the best for higher end high street holiday classics. They always do good stripes, denim shorts and own versions of some of the top designer swimwear.
Other High Street Holiday Shops: Top Shop, River Island, H&M, Boden, Asos, Accessorize
The Resort Wearers
Straw Tote|Arinaz at Selfridges Linen Dress|Lisa Marie Fernandez at Matches Valdez Panama Hat|M'oda 'Operandi
Shop here for your holiday hero pieces or if you're a constant jet setter, your entire designer holiday wardrobe. This is where I always look for my holiday inspiration and buy one or two 'treat pieces' to take with me on holiday. It's where you will find all the leaders in holiday style from Marysia swimwear to Pippa Holt Kaftans, Yosuzi hats and Sophie Anderson beach bags.
Selfridges – I like that their holiday boutique offers the latest in both designer ski and beachwear. They have the best looking luggage and all the top brands in holiday skincare.
Other Designer Holiday Shops: Matches, Net-a-Porter, M'oda'Operandi, Harvey Nichols, The Outnet
The Holiday Boutiques
Bikini|Melissa Odabash Dodo Bar Or Skirt & Shirt|Beach Cafe Beach Room Spray| Heidi Klein
These are the stand alone boutiques that have always been dedicated to summer. Stocking either their own brand or a curated collection of the world's best independent beachwear labels.
B London Boutique – B London has everything to prepare you for before, during and after a holiday. Activewear for prep, designer swimwear and sun related beauty care for during and summer inspired candles to take you back on holiday after. They are online with boutiques in London and Ibiza.
Other Holiday Boutiques: Beach Cafe, Biondi, Beach Flamingo, Coco Bay, Heidi Klein, Melissa Odabash
Headline Picture: Sophie Anderson Circle Straw Bag|Matches  Lisa Marie Fernandez Bikini|M'oda'Operandi  Ancient Greek Sandals|Harvey Nichols Karen Walker Sunglasses|The Outnet Guerlain Sun Serum|Selfridges  Swimsuit| Topshop Michela Panero Earrings|Matches
Photo By: Copyright each brand