Dressing The Bump: An Everyday Style Guide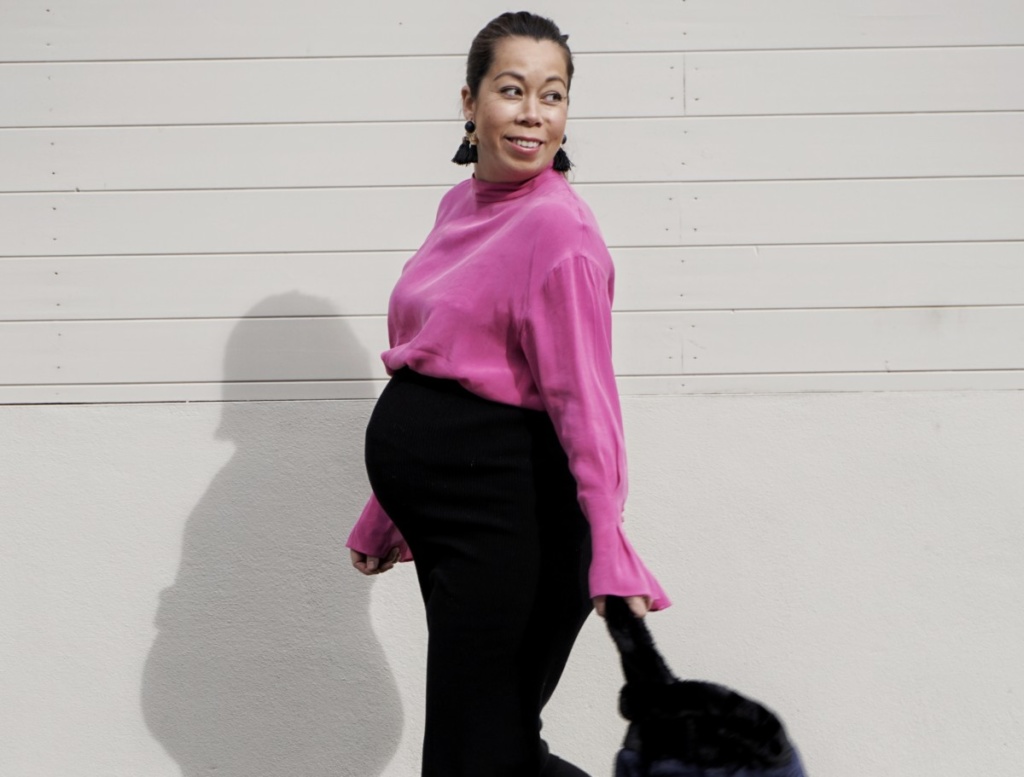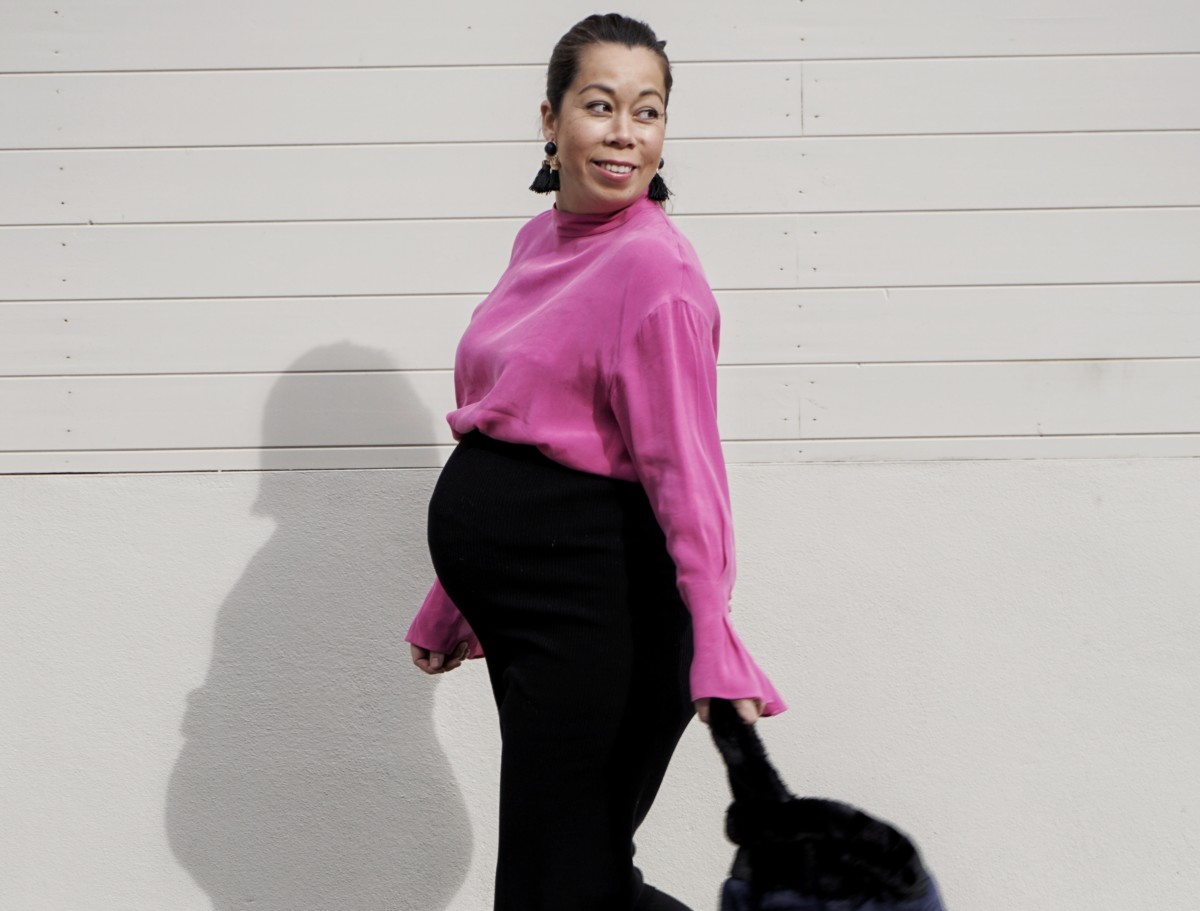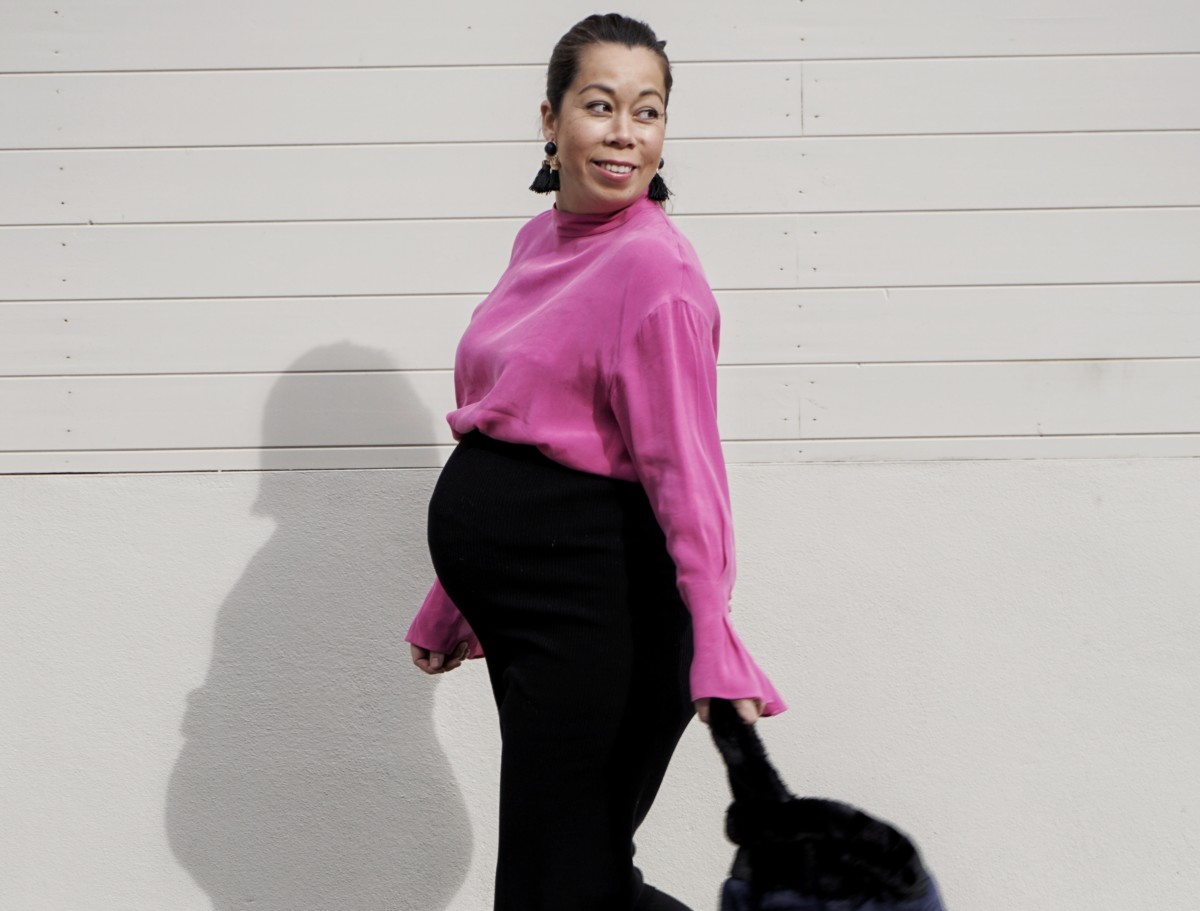 If there is one time you'll end up truly having a capsule wardrobe it's when you are pregnant. I've found the bigger I get the more capsule it becomes. From finding tops that cover the bump but aren't so long that you look like a sausage to comfortable smart/casual skirts and dresses. Here are my fail safe everyday pieces that I've been wearing during this pregnancy – they are not specifically made maternity pieces, just things I've bought in the next size up or adapted from my 'normal' wardrobe. The only maternity items I have bought and I think are necessary are boyfriend jeans, leggings and tights.
Kimonos
I think a long kimono has been my favourite thing to wear during pregnancy because it instantly smartens jeans or leggings up. The long length gives an illusion of height and skims over all the extra lumps and bumps you may have gained in places other than your belly:) The ones I'm wearing are from left: River Island (old), Lisa Taylor and Tallulah and Hope. More ideas of kaftans currently available below…

Knitted Skirt or Dress
A good one for winter pregnancies. Comfortable and versatile for creating different looks just by changing what you wear on top. I've loved wearing a bell sleeve jumper or a pretty blouse tucked into the skirt. Finish with long boots or pixie boots. I personally prefer a plain dark coloured skirt and then something more colourful on top. I've been wearing maternity tights or leggings underneath when it's colder. Here are a few options at different prices.

Side-Tie Skirt
So good because they expand with your bump. They are also so pretty and feminine on the days you feel like a big heffalump. Wear with a plain close fitting top like a vest, t-shirt or rollneck. A pair of pointy flats like the ones below or if you can manage, a pair of mid-heel courts like these gold sling back ones.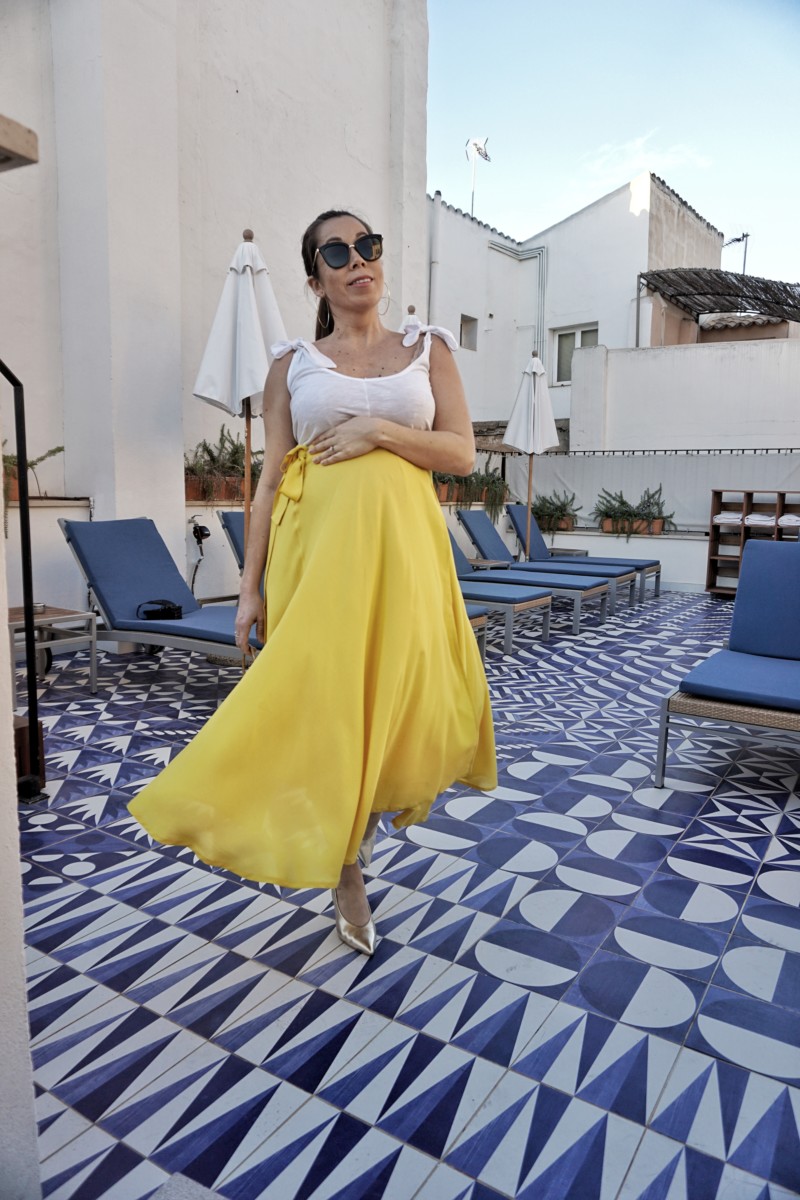 Stylish Flats
I have been living in a variation of these pointy mules. Easy to get on, comfortable and go with most things. Good for jazzing up jeans and leggings. If it's too cold for these I've been mostly wearing my soft black suede pixie boots which seem to expand with my swelling feet. A few ideas below…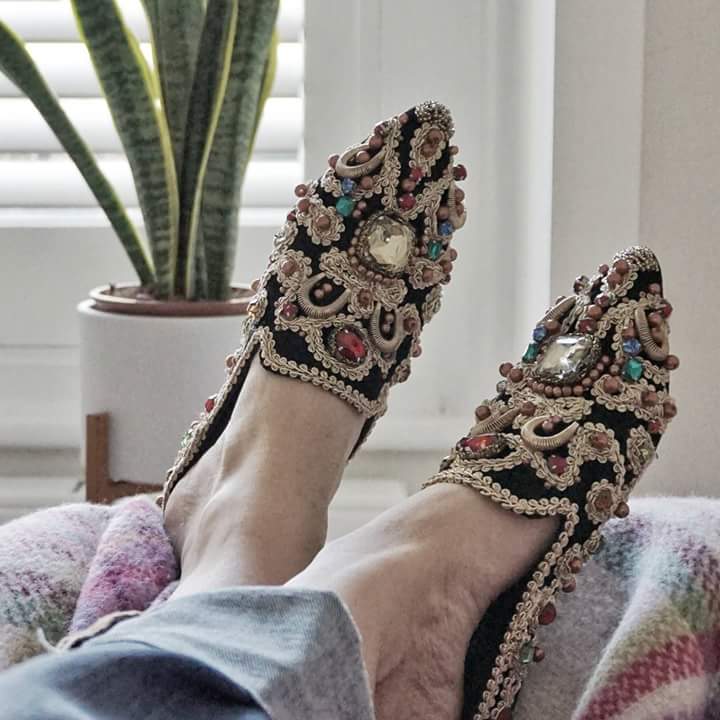 Pretty Tops
I find a lot of maternity specific tops a bit boring if I'm honest…they are usually monochrome or stripes and a very plain shape. There ARE normal tops out there that fit over big bumps, you just need to know what to look for. You need to find tops that are long enough to cover the bump and the band on maternity jeans but not SO long that it cuts your body in half. I find either long tailored sleeves very flattering or if the top is quite close fitting then mid -length bell sleeves are also flattering.  This pink one from Zara is long enough to wear with maternity jeans but also works tucked into my knit skirt.
Rule of Thumb
Basically you need to consider the bump is the big thing in the picture so other elements of your outfit need to streamline the rest of your body. So a long kaftan will elongate your body and skim over the bumpy bits you don't want to show. A long sleeve will give the illusion of slender arms and length in the body too. A pretty flat shoe will add character to your outfit and if, like me, you put a lot of weight on your face then I've found long hair tied back in a slick ponytail with a statement earring lifts everything up. All really easy additions.
I hope that's helpful pregnant mamas! We all know how to dress down when pregnant but I guess this is more an edit of ways to dress up comfortably. Any questions please don't hesitate to ask below:)
Abbie x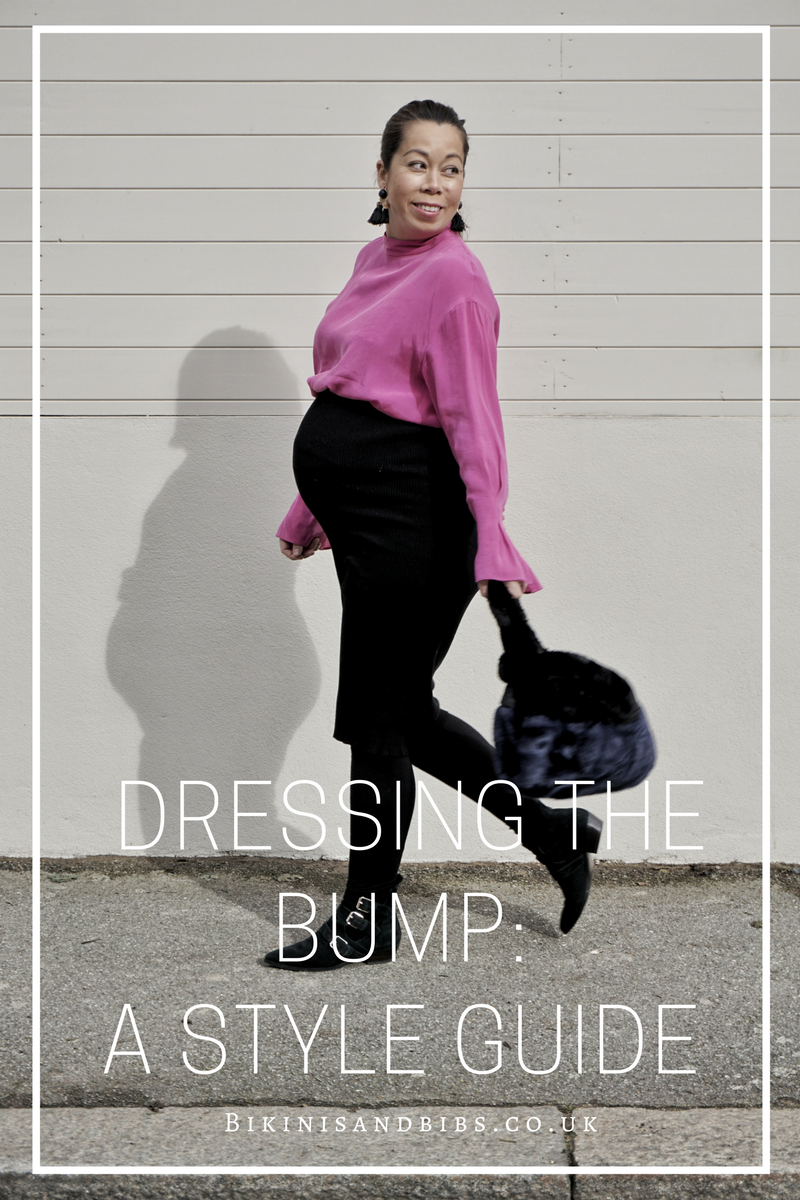 Photo By: All images Copyright Bikinis and Bibs