The Happy Hotel – Cowley Manor, Cotswolds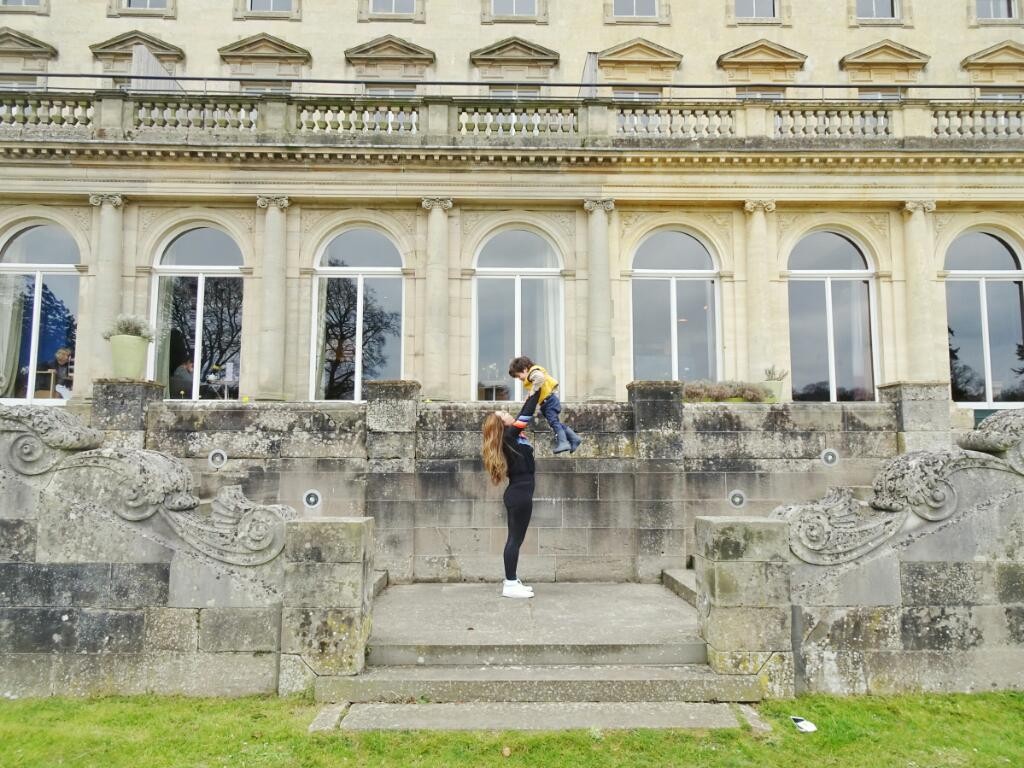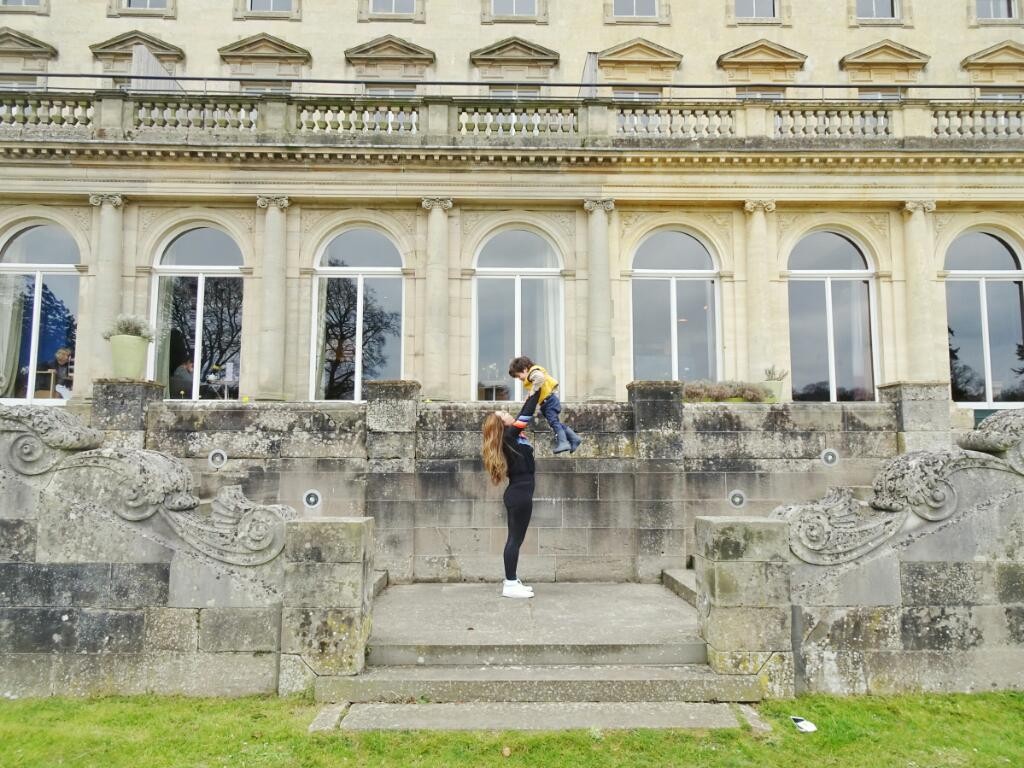 I realise that many of my posts start with "pre-child I used to like…" followed by some reminiscing about life before T-Rex.  This is because things have changed for me since having a child and it's not all been for the worse (which might sometimes be construed). Whereas before I had definite ideas about what I did and didn't want, now I am much more flexible (largely due to the fact that I don't have the energy to complain anymore) and it has opened up new avenues in life that I otherwise would never have discovered.
To get to my point, pre-child, my ideal holiday situation would be a colourless (perceived as calming) French-inspired shabby chic style accommodation, with no children allowed.  I didn't really care for hotel grounds, as long as there was a nice spa to hang out in – that would do me.  Therefore, the suggestion of a hotel with enough colour to rival a Lego box, would have given me a headache before we had even arrived.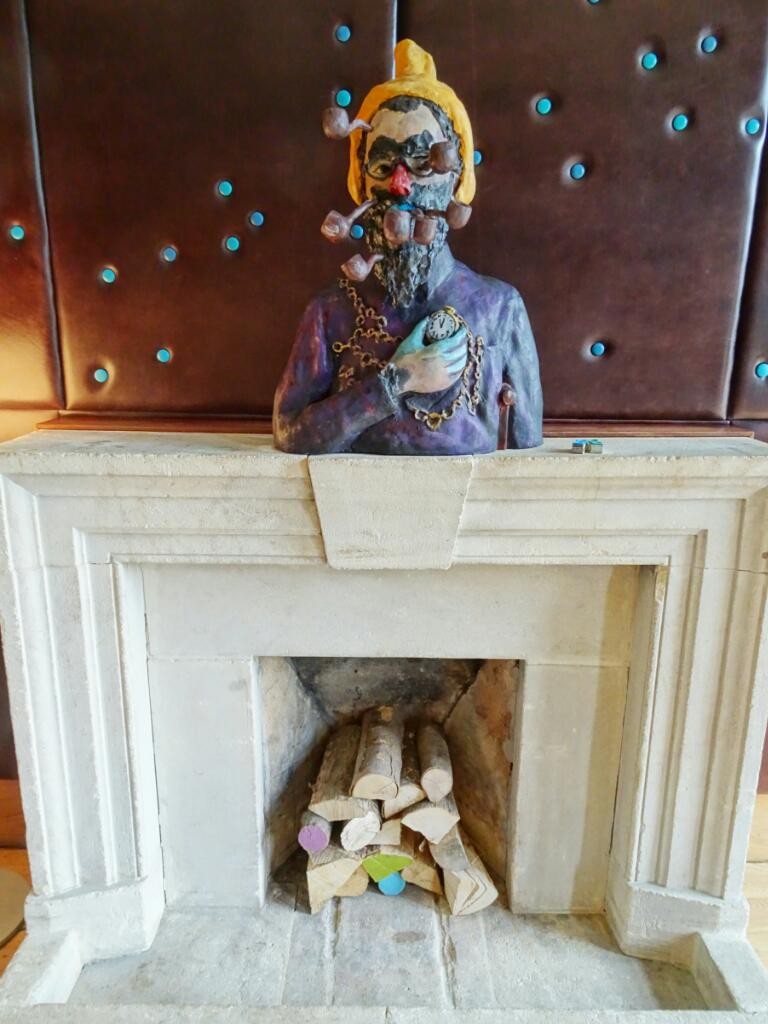 Well thank goodness for children (yes I said that!) and my hunt for a stylish but family friendly hotel in the Cotswolds because without T-Rex, I might never have stumbled across the very cool, Cowley Manor.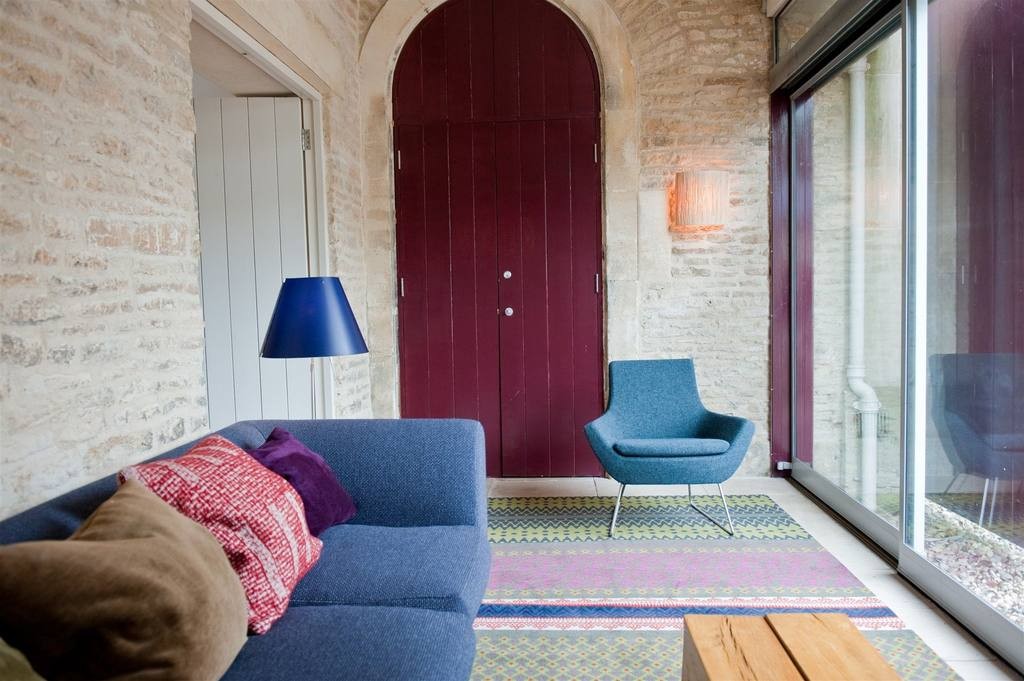 Cowley Manor is situated in the heart of Cotswold countryside amidst 55 acres of land and gardens.  The 19th century Italianate Villa is a striking piece of historical architecture with a facade that belies what is offered inside.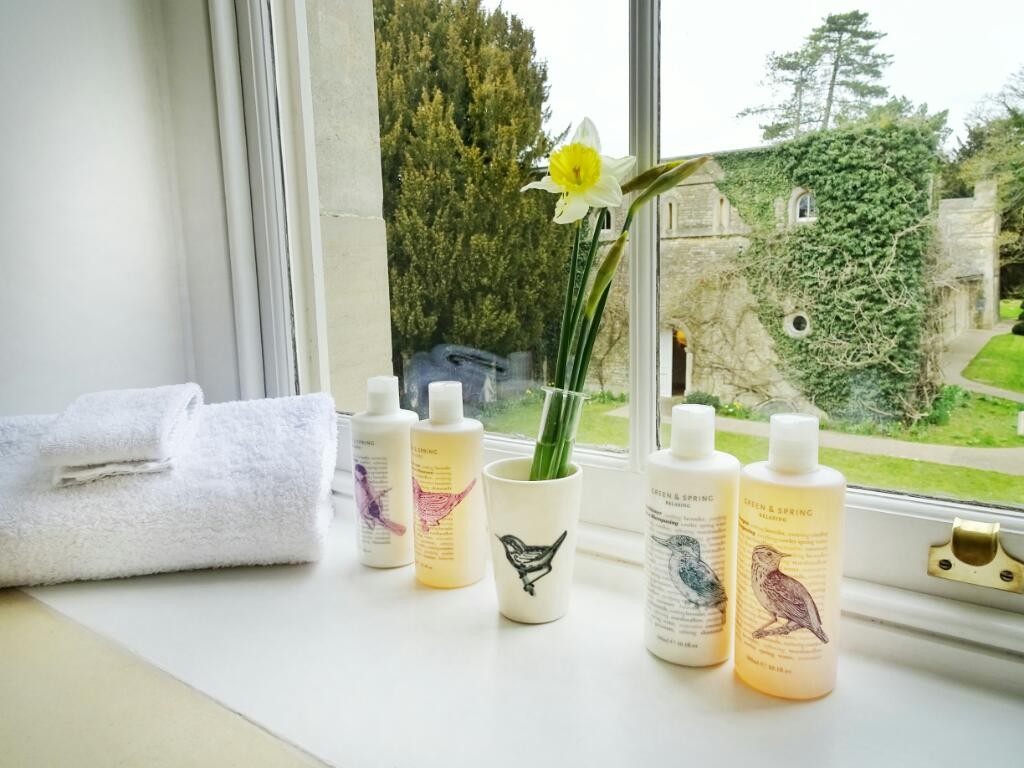 Green & Spring essential oil toiletries created by Cowley Manor – they smell amazing
A large colourful collection of Hunter wellies sit by the front door and are there for guests to use in the unlikely event that you might have forgotten your own.  Walk into the hotel reception and be greeted by minimalist but warm interiors and friendly staff.  This is where the colour begins and I should go running for the hills…but no, it is gorgeous.  A contemporary eclectic mix of mid-century modern furniture, Hockney inspired art and a burning log fire.  We are welcomed with hot flannels to refresh and a hot juice toddy.
The lounge is the place which warmed my heart the most – who knew blue walls could make you feel so happy. Especially when they are flooded with natural light and act as a backdrop to huge Victorian windows overlooking manicured Cotswold countryside.  In the evening my mum and I sat in this lovely lounge area and drank warm brandyies by the log fire – it was divine.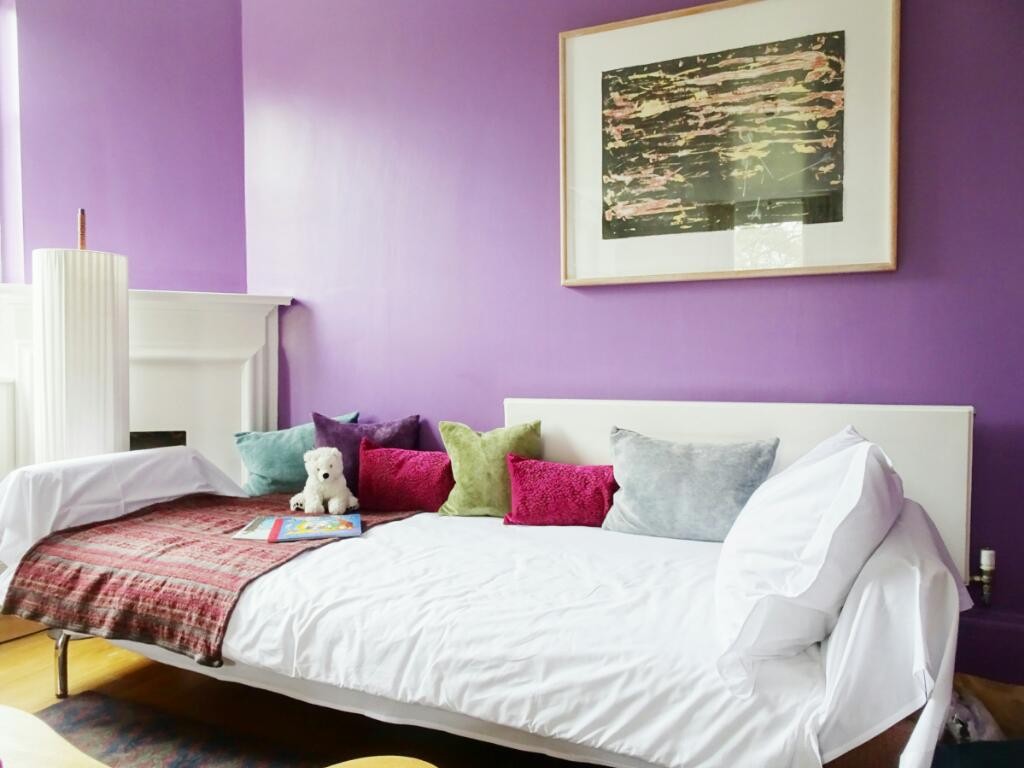 T-Rex's Bed in our Great Room
And where was T-Rex at this point?  He was being looked after by a qualified babysitter* in our 'Great Room' which had a GREAT BIG bathroom and well exceeded my 35sqm family room rule.  After our nightcap we found him sound asleep in his little bed which had been specially made up and which he loved.  The complimentary pot of Chupa Chups looked like they had been tampered with a little too much but oh well…holiday rules.
Food at Cowley Manor is the serious bit but not in a pretentious way – I loved the dining room at Malt because (again, I never would have said this before) it had families in it.  Granted, the children were very well behaved and maybe I'd have felt differently if they had been screaming but it was nice to see them in this pretty setting eating their kids menu.  I opted out of restaurant dining with T-Rex and fed him in our room instead – the food came within fifteen minutes of ordering (big tick)  and he had a delicious Spaghetti Bolognese followed by Vanilla ice cream whilst watching Peppa Pig…hurrah for holiday rules!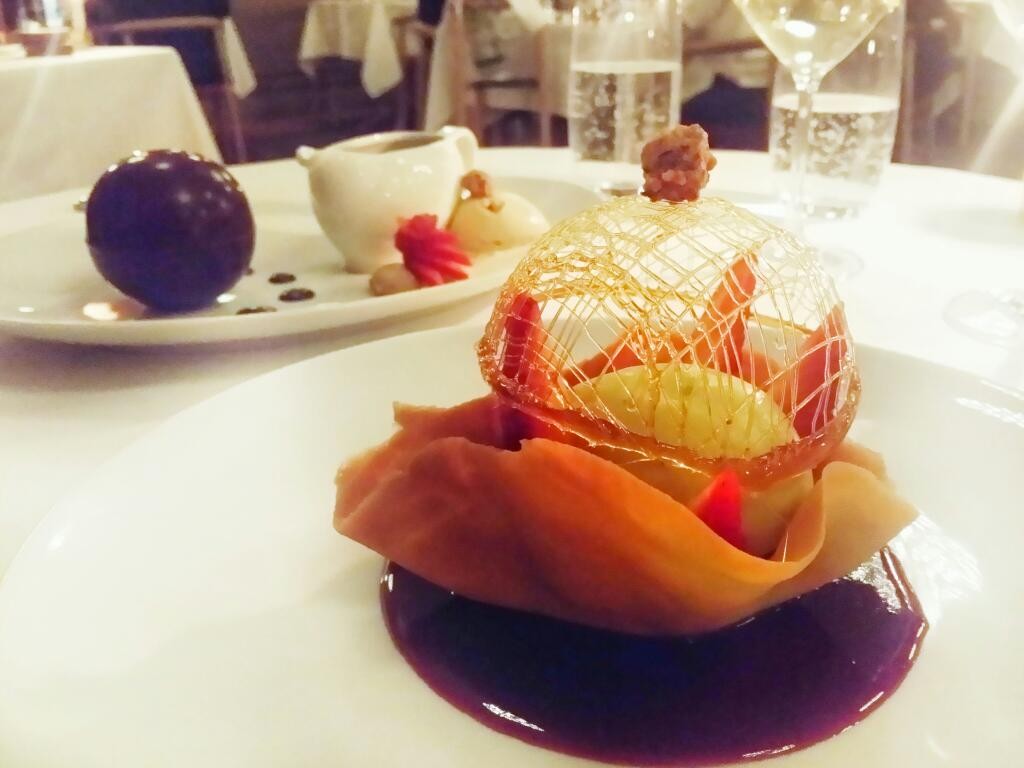 Our Desserts – that one in the background is called The Malteser. Enough said.
Our Malt dinner menu is here – I had the beef and mum had the celebration of lamb – they were both cooked perfectly and served by a lovely waiter called Victor.  I have to say that the staff at Cowley Manor were exceptional and so welcoming – amazing how a simple smile goes a long way.  When I told Victor I had a babysitter upstairs he said "no problem, if you need to leave we move your meal upstairs for you"…so sweet, he must have known I don't get out much.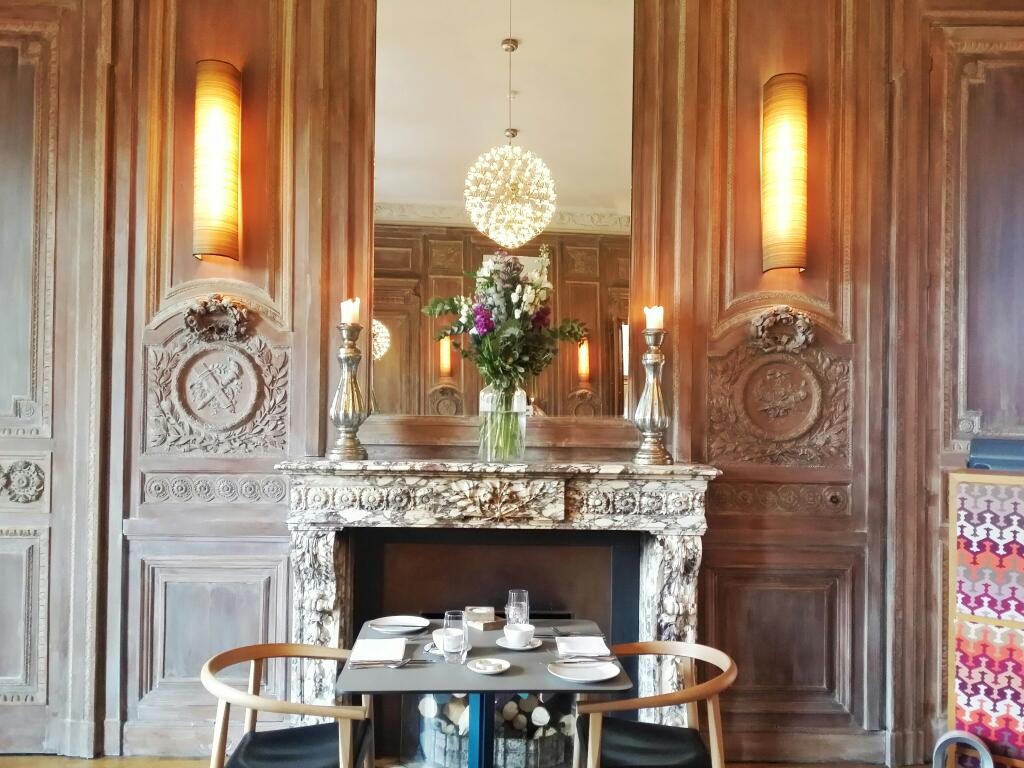 Malt Restaurant
Breakfast was equally yummy and yes we did eat with T-Rex and yes he did shout as loud as possible which was embarrassing when it was only us and the business man but when the business man left and another family entered, I relaxed.
Breakfast with a View
T-Rex got his own bathrobe so we all toddled down to the pool – a beautiful floor to ceiling glass square of natural light and water.  Normally I'd walk into somewhere like this with T-Rex and feel a bit conscious that I was disturbing the peace with my child but, once again, we were welcomed in and offered a noodle (floating devise that you never knew existed before children). So delighted was I to have this small offering of support (literally) I felt conscious no more.
Did I mention Cowley Manor has a shop? Retro kids toys sold alongside designer swimwear…heaven?
To conclude, Cowley Manor is a genuine family friendly boutique hotel.  It doesn't invite children in and then pretend they are not there, nor is it overrun with children.  They are fully set-up for families with large rooms, children's menus, meal-time colouring entertainment, sweet treats in the bedrooms and huge grounds to run around in.  They are also in the process of creating a kid's den where children can play and watch television together.  If you are a parent who loves good food, luxury facilities and design inspired spaces, then you'll enjoy a stay here.
*I organised my own babysitter through Sitters.co.uk simply because I always use them but the hotel can organise babysitting also.
This post is in association with Cowley Manor who provided us with a very lovely complimentary stay. Thank you.
For more information visit Cowley Manor
Photo By: All Images Copyright Bikinis and Bibs and Cowley Manor