Parent Escape: Purobeach Illetas, Mallorca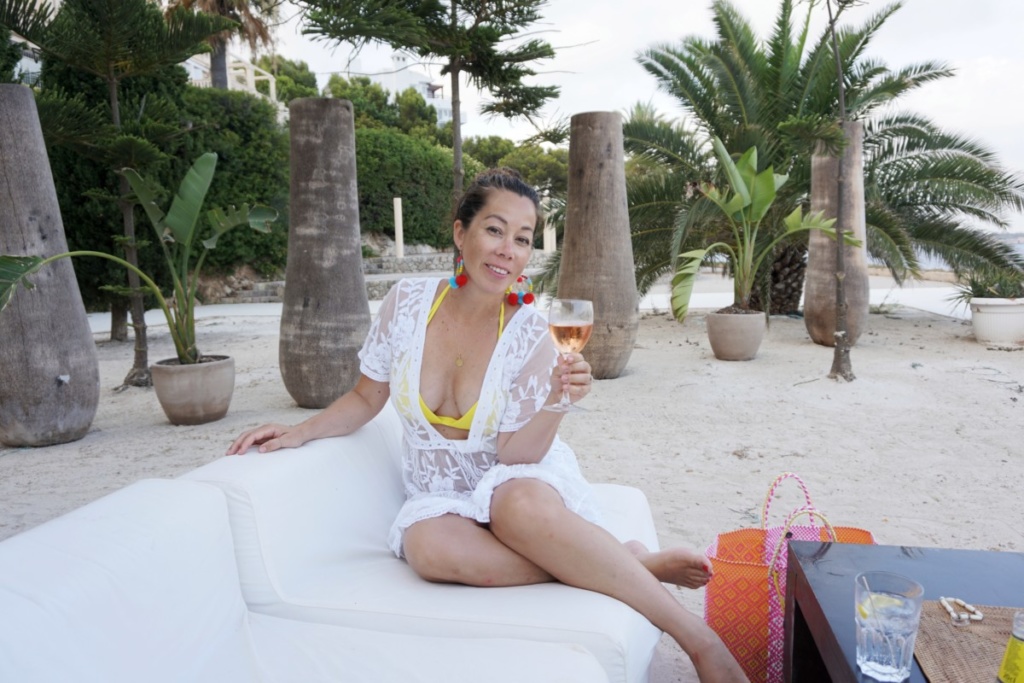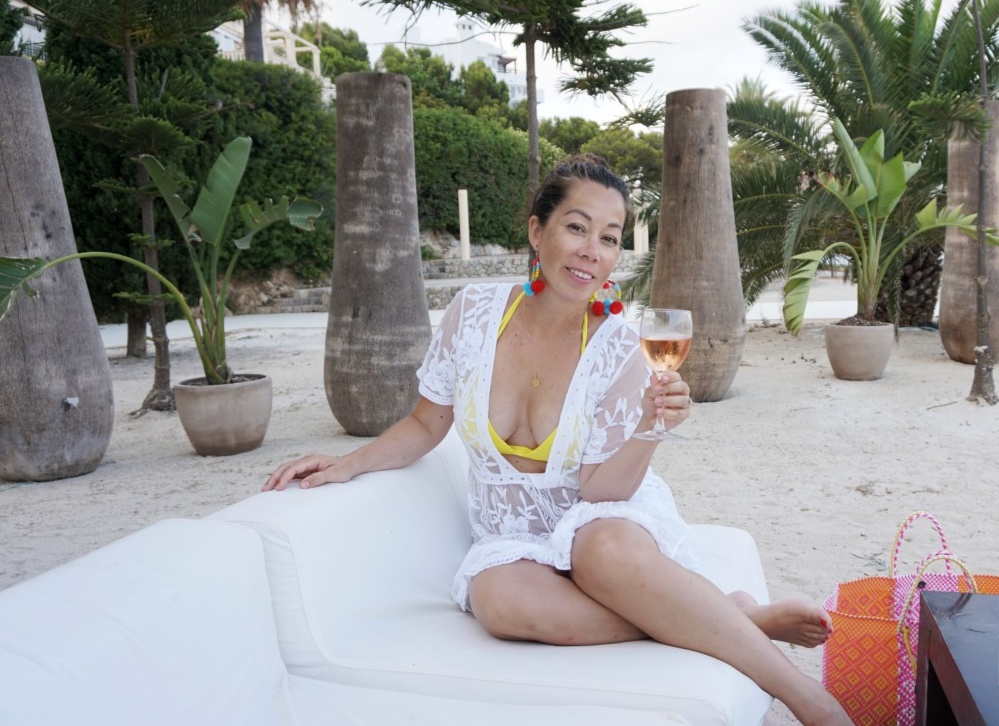 Last week Ross and I were invited on a well needed 'Parent Escape' to the stunning Purobeach Illetas located just outside of Palma in Mallorca. I must admit my beach club skills are a little rusty – the last time I went to one was in Ibiza…pre-children…say no more. I'd been told, however, that Purobeach Illetas has quite a different vibe to the ones I've frequented on the White Isle, more chilled, less hectic. After three months of a new baby and long work shifts for Ross, we were both practically running to this little beach club utopia.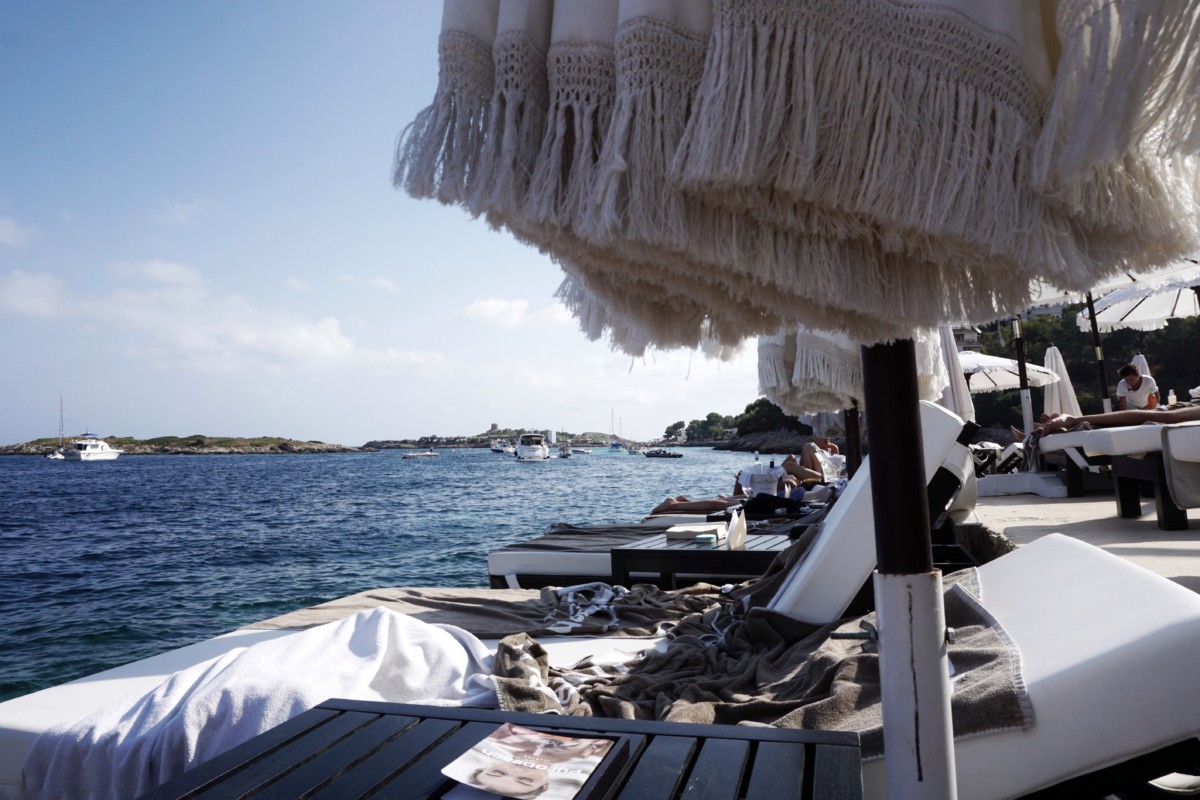 Parents get lost in parenthood, the seemingly endless feeds and nappy changes, bathtimes and playdates, don't even mention the mountains of washing. Before you know it days have rolled into weeks and you don't even know who you are anymore. I created 'Parent Escapes' on the blog because we all need a day or two out to let our hair down and talk to our loves. Purobeach Illetas was like a day long child-free minibreak which I'd recommend to anyone.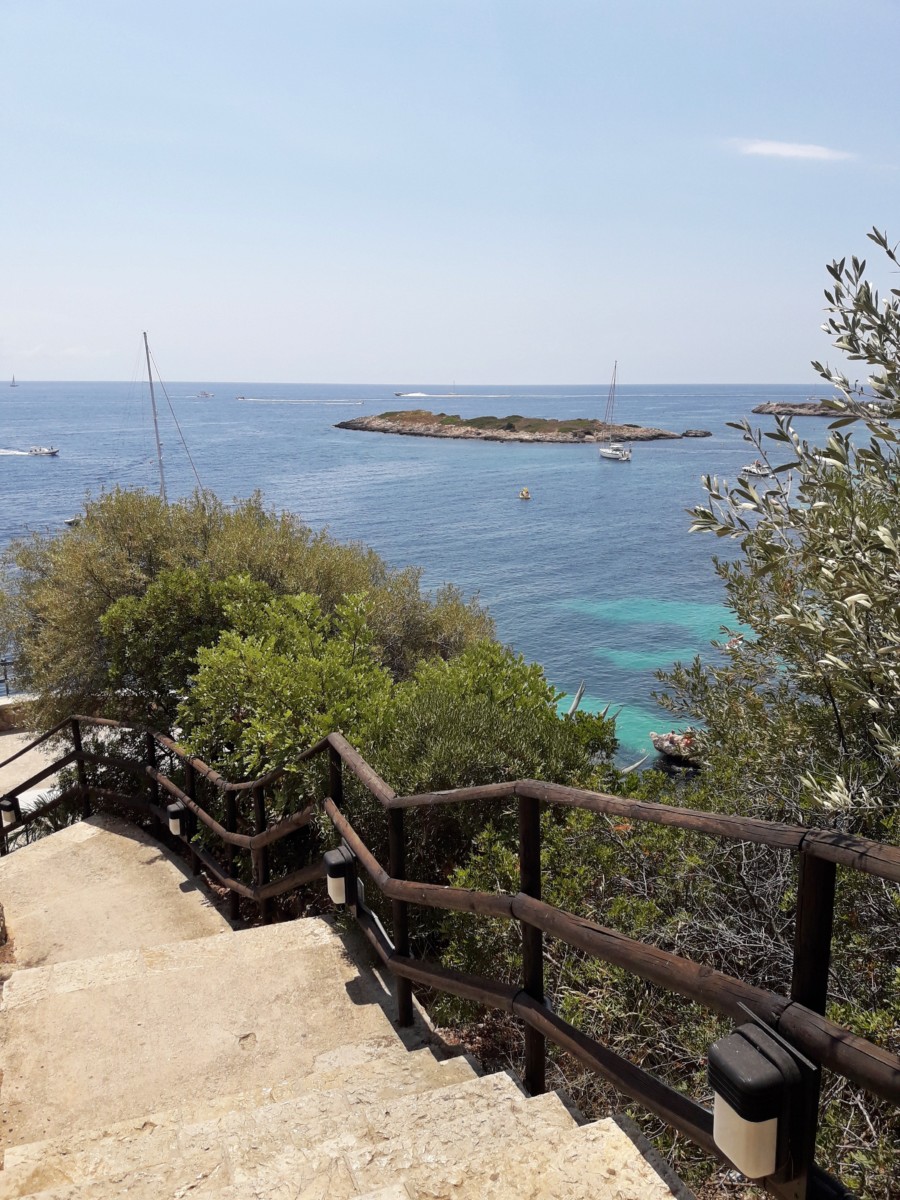 I love it when you rock up to a place and expect it to be all bling but it's not. Purobeach Illetas is unassuming from the road, I guess like the beach club version of a speakeasy. Then you walk down the cliffside steps and realise what everyone is going on about. The prettiest little cove of turquoise waters and buzzing beachlife overlooked by a cluster of white parasols, luxury sun loungers and quite possibly one of the most strikingly designed beach clubs I've seen yet.
We walked (skipped) down the steps as happy as children in a candy shop. I can't tell you how beautiful and inviting the restaurant and cocktail bar look, backdropped by the cliff face and all perched on the waters edge giving uninterrupted sea views.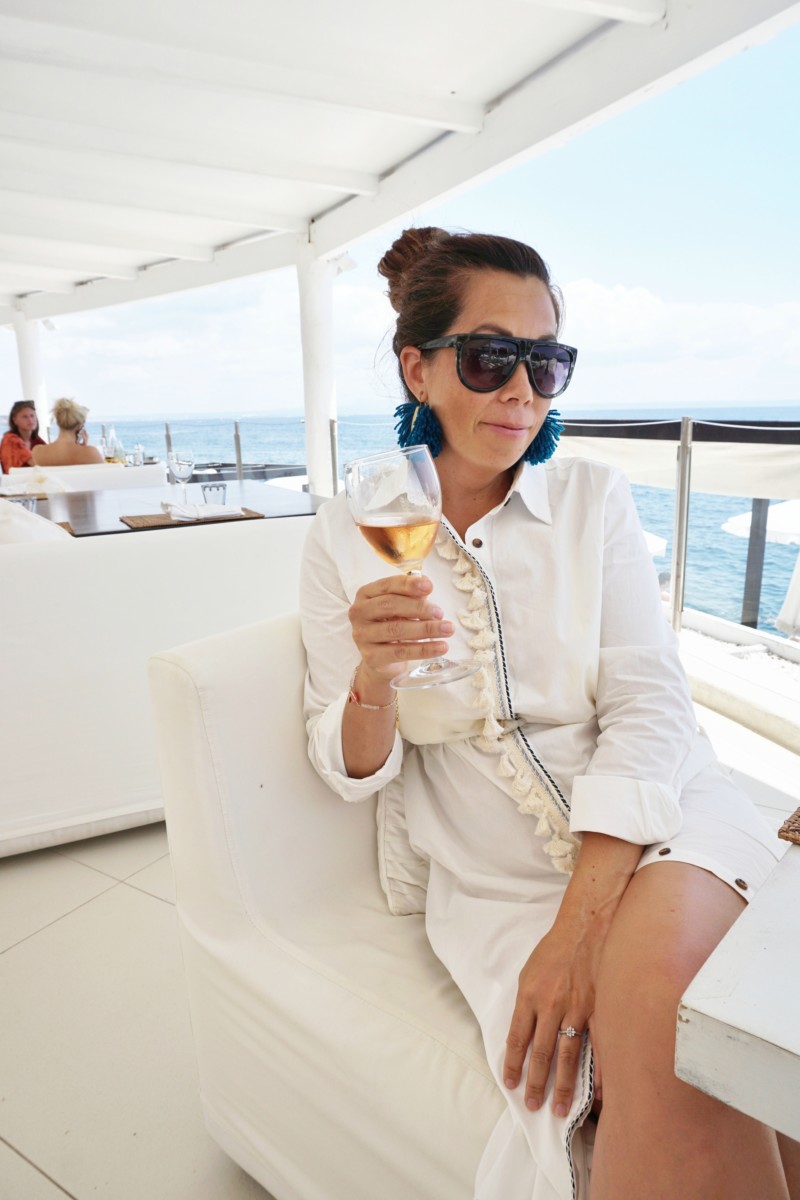 The plan was to enjoy a leisurely lunch (a rarity when you're usually sharing a table with a three month old and four year old) maybe drink some wine…perhaps go crazy and have some cocktails too! The menu is delicious. A combination of authentic Asian, seafood and some classic beach club style dishes. We opted for Salmon Sashimi and an Asian Beef Salad followed by a seafood platter of lobster, razor clams, Soller prawns and more.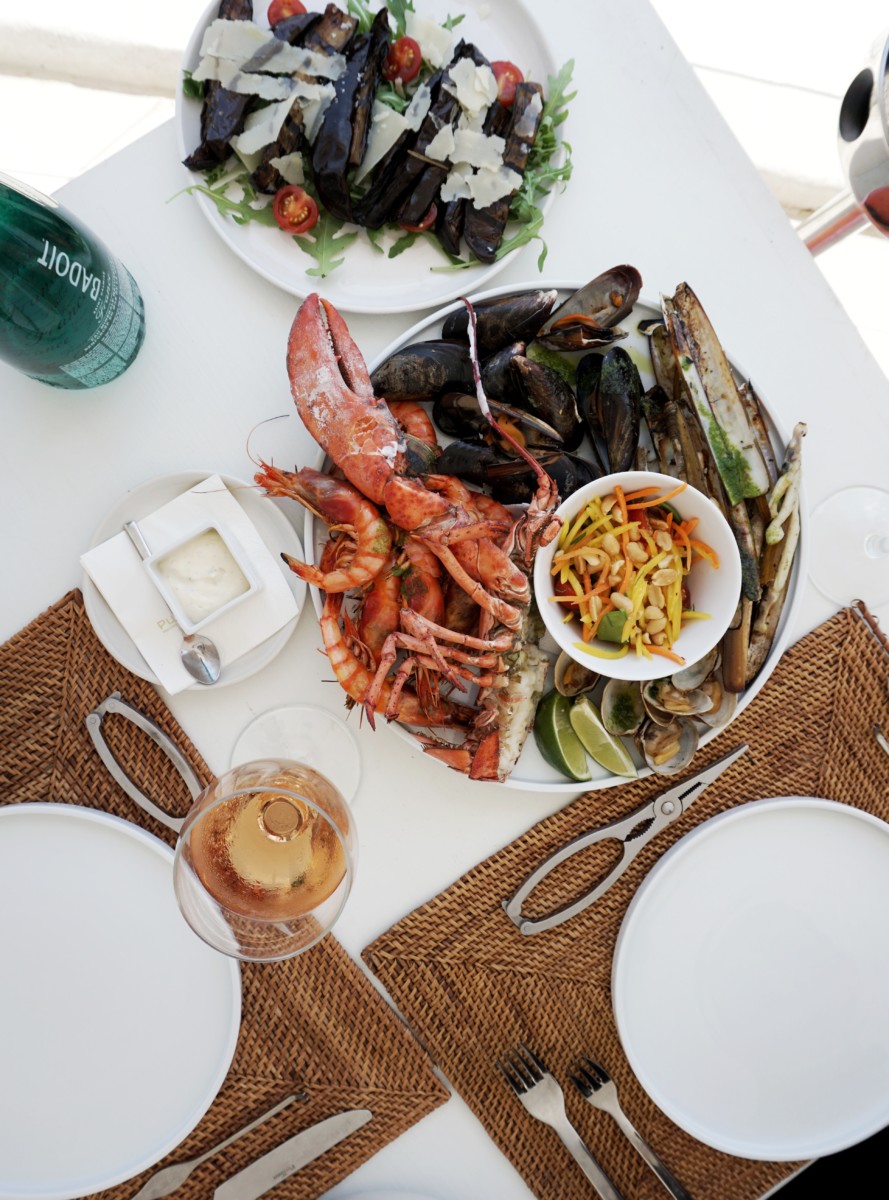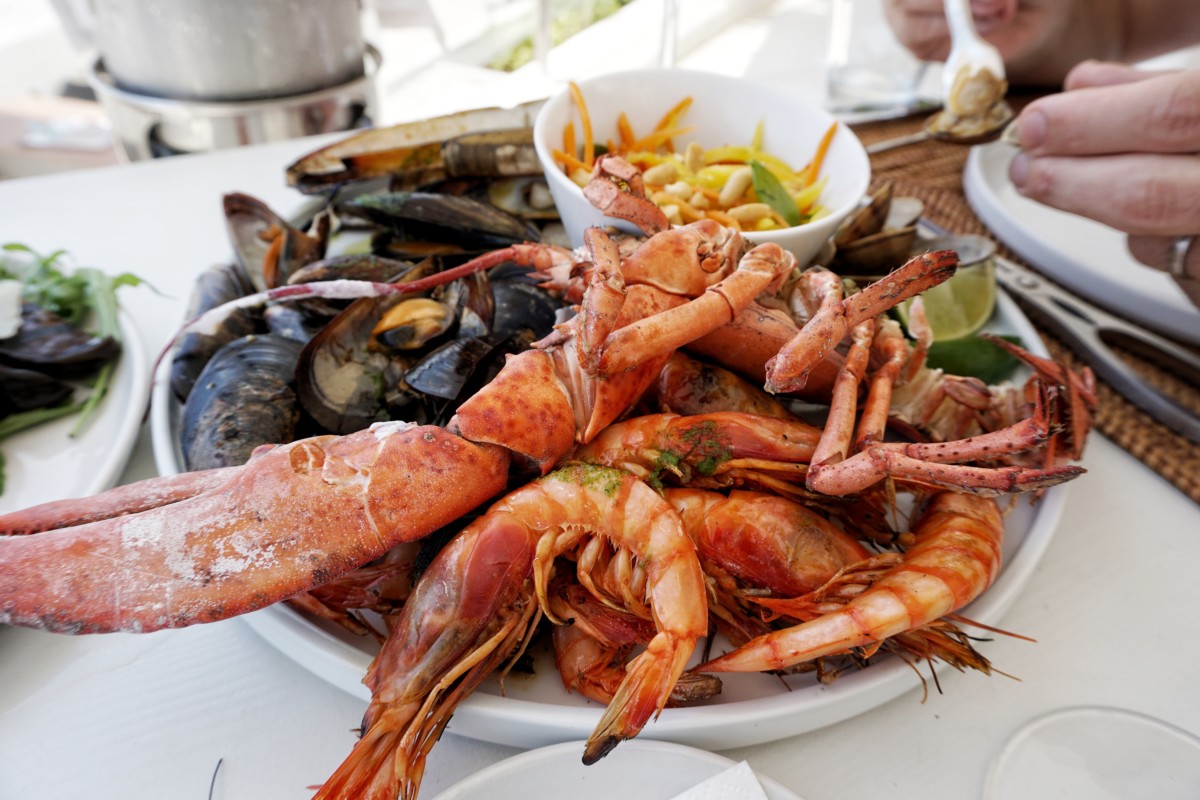 Giving Ross and I time to talk is actually quite dangerous. In the space of one lunch we had already mentioned Christmas in Thailand, building a house in Mallorca and several other unachievable life goals but how nice it was to discuss these dreams at length…uninterrupted.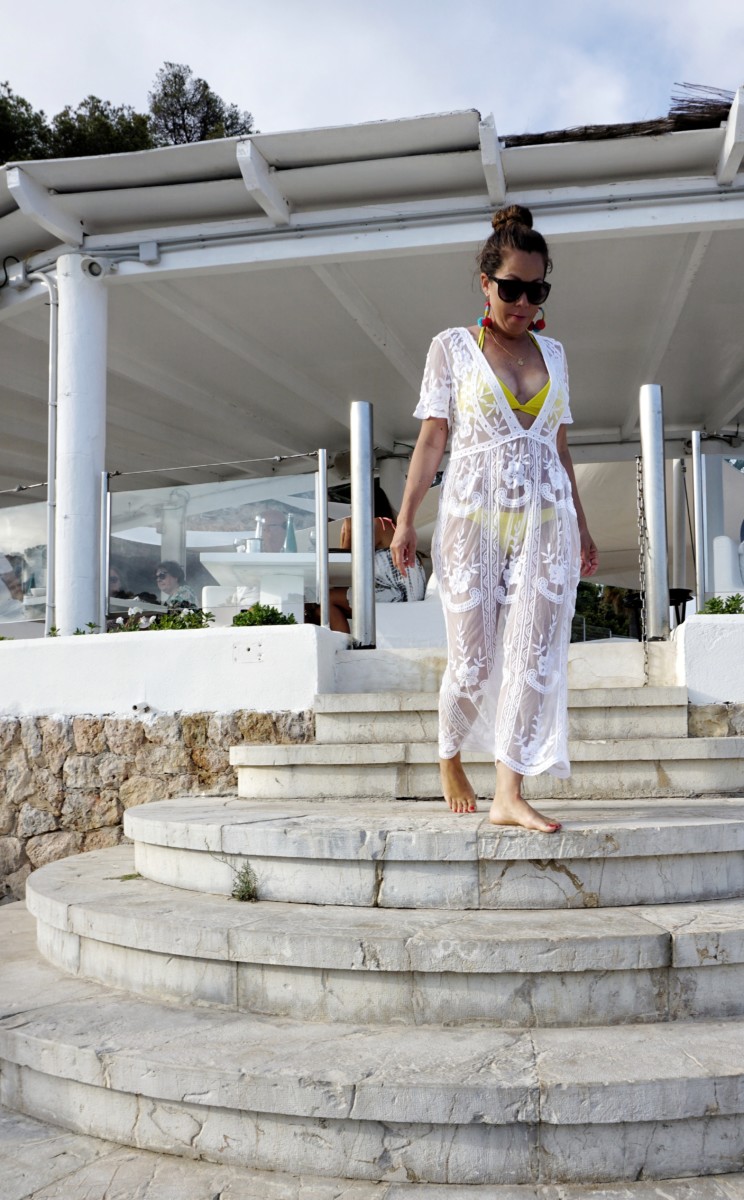 This chat continued well into the afternoon as we lounged on our extra large sunbeds, trying out the cocktail menu and maybe eating nachos…just because we could! At intervals we would jump from the rocks where our sun loungers perched into the turquoise sea like two carefree teenagers…without a worry in the world.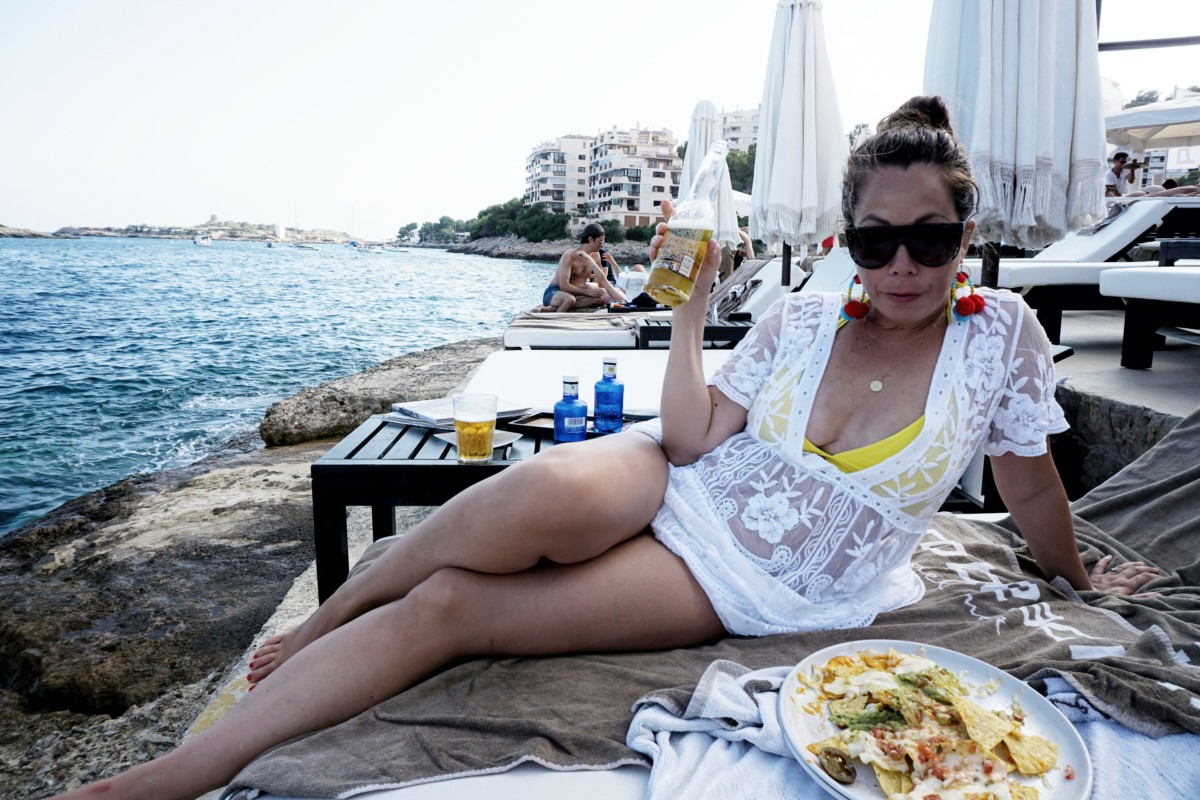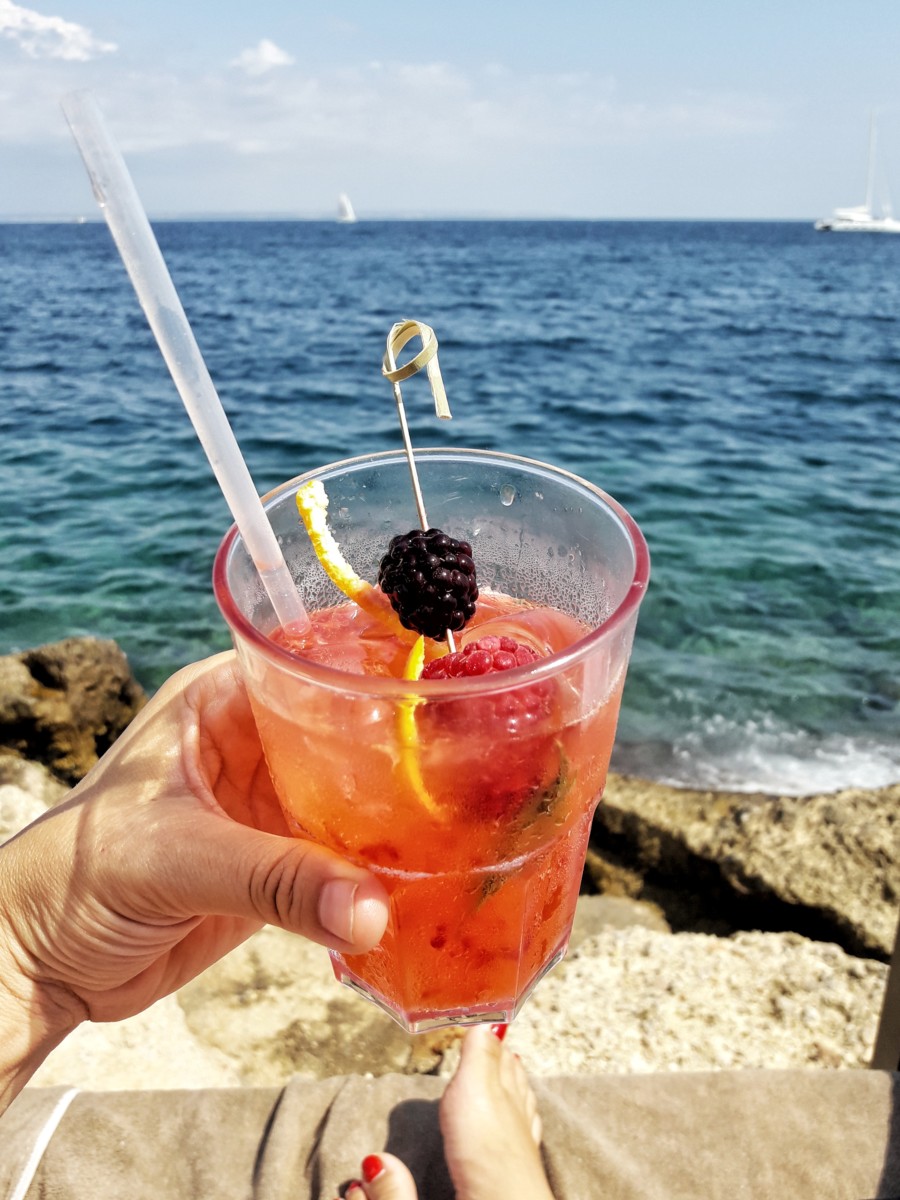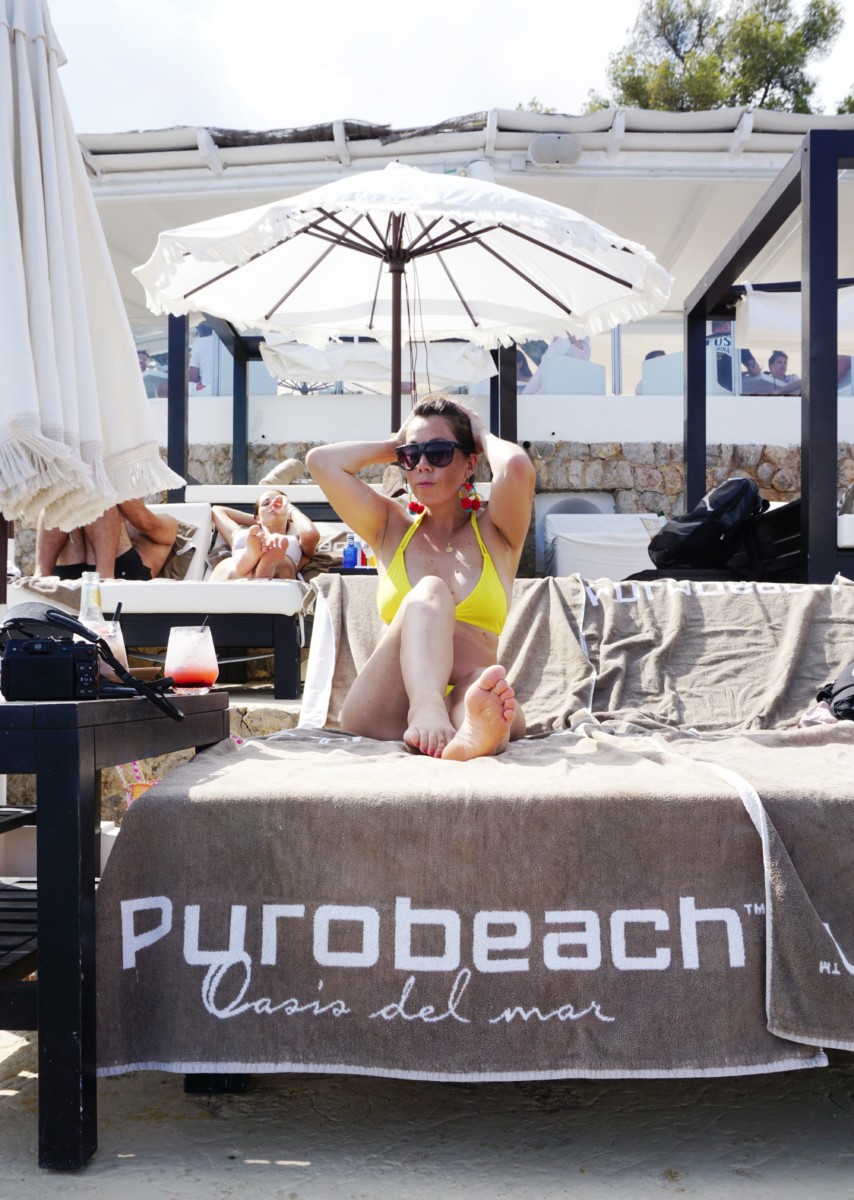 Of course, we are not teenagers and unfortunately for Ross I have incredibly high standards. My expectations for this day on our own at Purobeach Illetas were therefore also high. Above all, I like good food, good drinks, good service and inspiring surroundings that feel more chic than shabby. I feel slightly sorry for anyone that has to entertain my critical eye but thankfully Purobeach Illetas had everything more than in order. The staff were beyond kind and helpful and service was always delivered with a smile which is important to me. In turn the beach club had a really good relaxed vibe with no pretentiousness which can often happen in these places.
I thought we might just stay for lunch and a couple of hours on the loungers but by 10pm Ross and I had moved to some comfy sofas and were pondering whether we really had to go home. We love our children but…what a difference a day makes.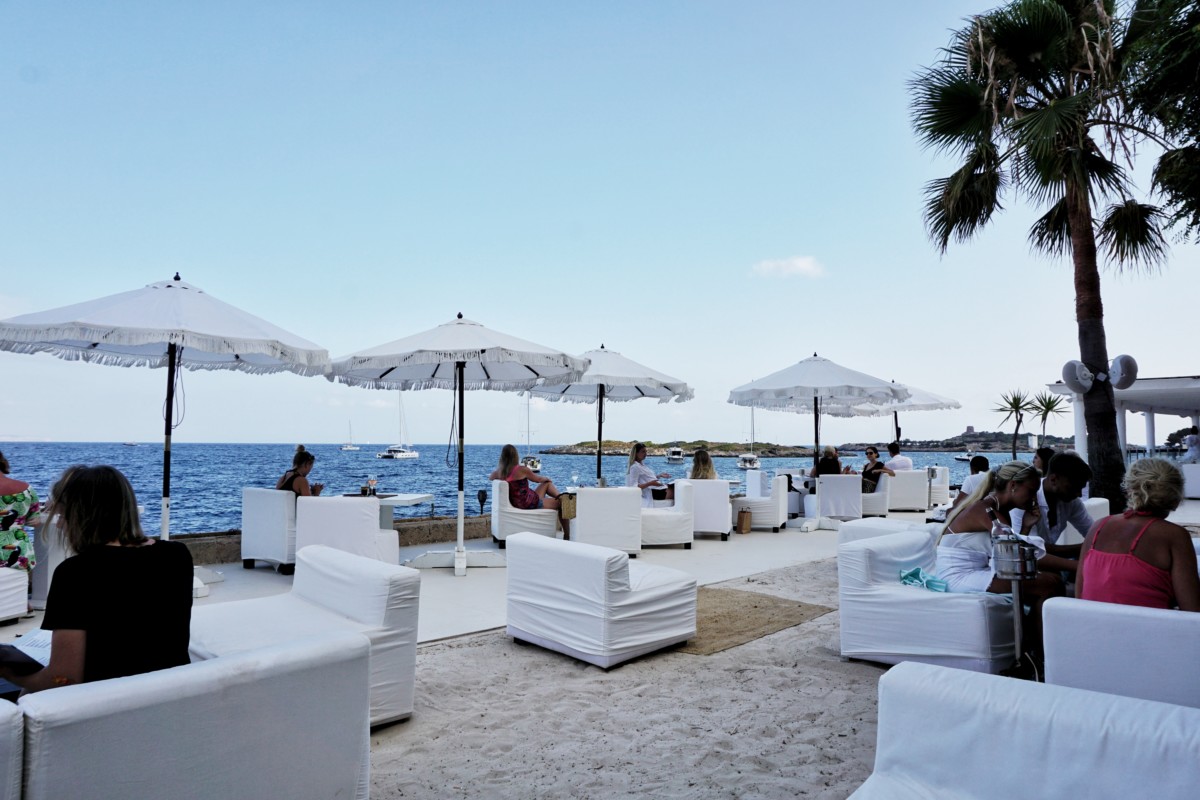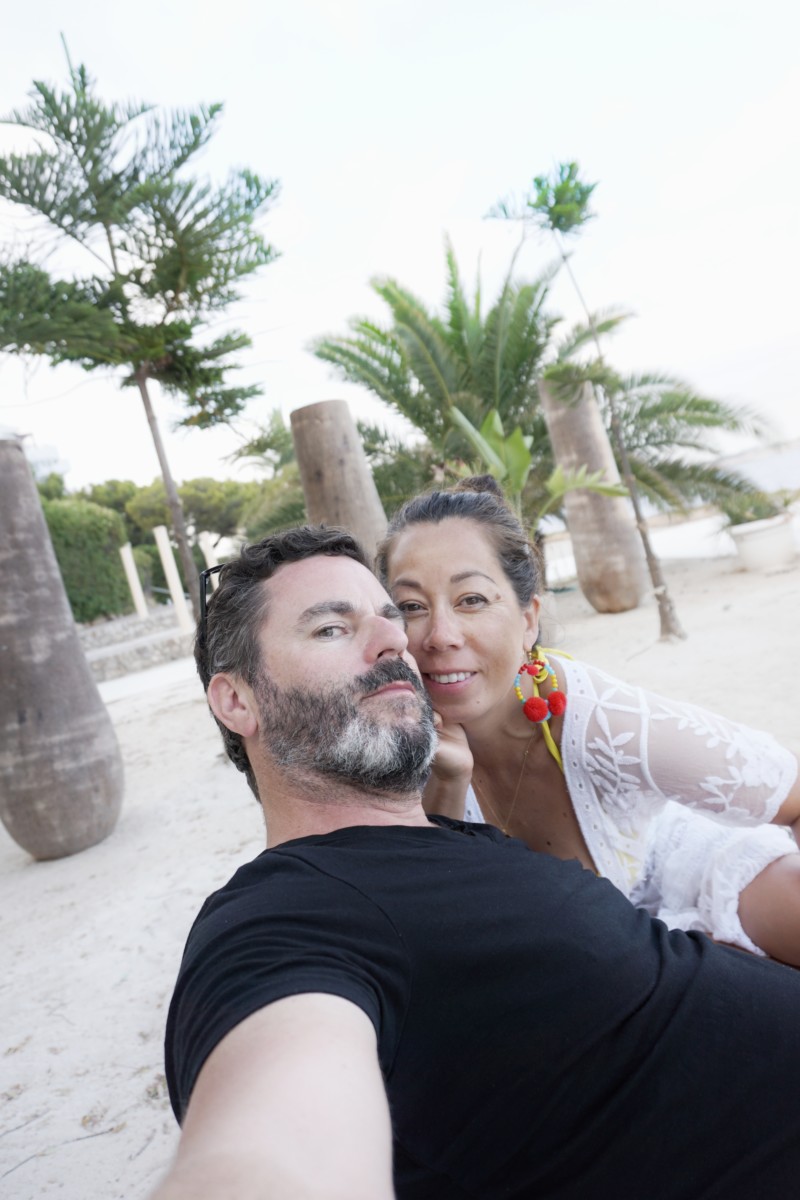 So, if you are in Mallorca and you happen to have a day to yourselves then I can highly recommend indulging in a chilled day here. Purobeach also has a beachclub in Palma and a boutique hotel in the old town. Their signature style combines beautiful interiors, discerning menus and good quality music. For us it was the perfect beach club day…the only thing we left longing for was to experience it for just a little longer.
Written in association with Purobeach Illetas who kindly hosted us for the day. All opinions, as always, are my own.
Outfits:
Tassel Shirt Dress: Never Fully Dressed; Turquoise Tassel Earrings: Mango
Lace Dress: Nicole (Mallorca); Yellow Bikini: To Dive For; Coachella Hoops: Iris Sandals
Lolita Beach Bag (featured in headline pic): Soi55 Lifestyle