Chen Sea Resort & Spa Phu Quoc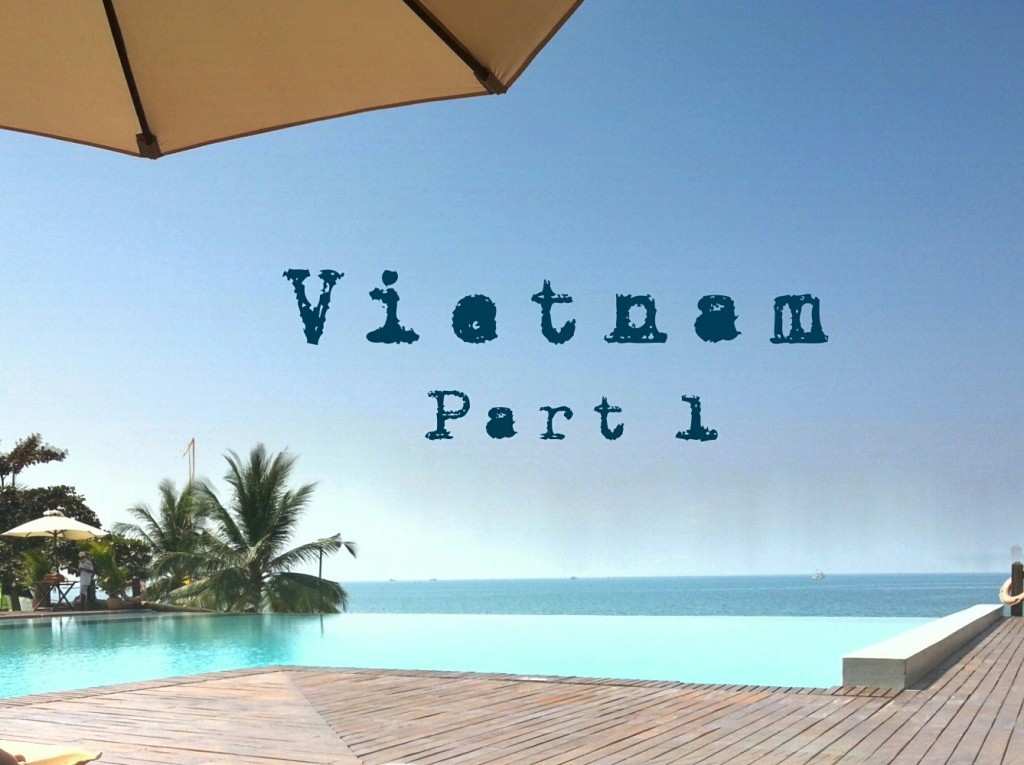 Some mummies give birth and don't want to leave home. I, on the other hand, was itching to get on a plane and fly to somewhere exotic with my new little family. It is amazing the amount of people that disapprove of this and thus my announcement that we had booked flights to Vietnam with our three month old son returned looks of sheer disgust "how could we be so irresponsible?", "what if the baby catches something?".
My personal history saw me almost being born on a plane and then my mum took me to live in Petaling Jaya in Malaysia when I was six weeks old. Kuala Lumpar was not what it is now and neither was the twenty four hour plane journey to get there. Therefore, to get to my point, travelling with a three month old to today's Vietnam didn't feel that daunting to me. I just thought, if I'm going to be sleep deprived and house bound – I may as well be doing it in the sunshine.
The horror stories I'd heard about flying with kids thankfully didn't apply to T-Rex at this young age and he slept for most of the 12 hrs it took to get there. Please note I am not being smug, I have, since, had a vile travelling experience with T-Rex 'the toddler' which I quite agree is enough to put anyone off stepping outside their front door…but more on that one later.
In February 2014 we went to Vietnam. You know when you get somewhere and you finally feel really really far away. Suddenly everything that seems to matter so much back at home doesn't matter at all here. We travelled to the south west Island of Phu Quoc and stayed at the gorgeous Chen Sea Resort and Spa.
On arrival at 'The Chen Sea' (as it's so warmly referred to by all its staff), one is handed an exotic refreshment, seated in a swinging ratten chair hanging from a Banyan tree and invited to take in views of the Gulf of Thailand. The view seamlessly drops off the resorts large infinity pool. This epic moment of tranquility was one that I hadn't experienced in a long time and I think even little T-Rex felt obliged to honour my silence.
One thing I have learnt on my family travels is that size matters (clear that dirty mind we are on a family holiday!). Whatever size room you booked your flexible little loved up selves into before parenthood – double it. No actually triple it , if you can afford to.  We booked into the Jacuzzi Villas – traditional wooden houses moved from the old port city of Hoi An and refurbished into luxury accommodation.  For a couple with a *small baby, the space was perfect.  A super king size bed facing onto a private verandah with oversized sun loungers and a plunge pool.  A walk in wardrobe – say no more.  A beautiful and very large eastern inspired bathroom and a small kitchen area all tastefully decorated with restored fittings. *small baby who doesn't crawl because that plunge pool with a toddler would not be relaxing!
There were two things, as a parent, I truly loved about this villa.
1. The private outdoor space.  This meant that little T-Rex could happily sleep in his cot as and when he needed to, while husband and I could also happily sunbathe and still be within earshot.
2. The bathroom. Totally luxurious in the simplest most tropical way with bi- fold doors opening up onto the verandah and little pots of loveliness provided to slather all over yourself, my favourite being the lemongrass body scrub.
The Chen Sea Resort is, in itself, totally charming. It is not flashy, blingy, super duper cool and whizz bang trendy but instead it is authentic. From the sea you can barely make out the thatched villas as they cleverly camouflage into the surrounding greenery. The staff are so friendly and adore children, nothing was ever a chore. The breakfast buffet is delicious, particularly the french pastries and congee (not together). The Ghe bar couldn't get more chilled with happy hour on beanbags at sunset getting us just tipsy enough to feel like we had actually had an adult night out, even though T-Rex was in attendance. Everything from the outdoor spa to the daybeds by the beach lent itself to relaxation and despite the fact I had a three month old who still woke every two hours and still demanded me throughout the day, this small corner of Vietnam made it all just that little bit easier.
Three things that made holidaying with a 3 month old easier:
Sterilisation bags – for bottles, dummies and anything else that required cleaning.  They say you can use them with local water but we always used boiled.
Always making sure there is at least, a kettle in the room – it's surprising how many rooms don't have them.
Having spacious accommodation for all your baby paraphernalia – pram, travel cot and car seat take up a LOT of space.
We were guests of Chen Sea Resort and Spa Phu Quoc. For more information visit their website www.chensea-resort.com
Copyright of www.bikinisandbibs.co.uk