Cotehele Villas, Plymouth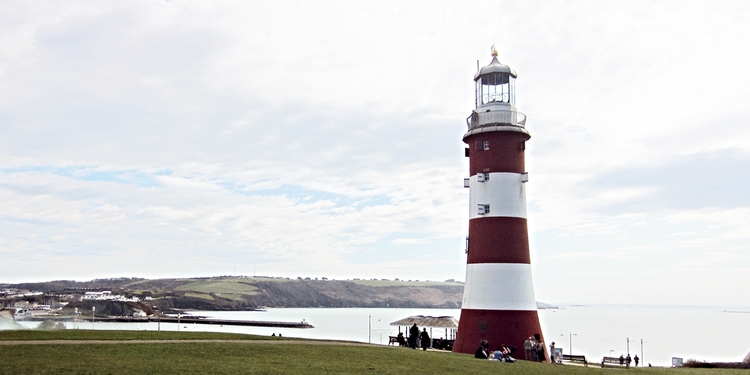 Plymouth has never been on my wish list but our stay just on the outskirts of the city centre, in the pretty area of Stoke was this weekend's perfect base to explore the area and South Devon.  Being toddler-free meant we could enjoy some much needed down time and discover that Plymouth has quite a few hidden gems, one of which was the gorgeous Bed & Breakfast that is Cotehele Villas.
As much as I adore the decadence of a top notch, luxury hotel, I also really love the simplicity of a well run Bed and Breakfast.  Cotehele Villas is owned by Ally and Pete, a lovely couple who welcomed us into their three storey Victorian townhouse with tea and homemade cake.  Inca, their black Labrador, had just given birth to seven puppies but also managed to greet us with a nudge and smile. The warm reception was pretty much perfect.
Both Ally and Pete have professions in design and so their house exudes style, I'd say a mix of Scandinavian minimalism with modern country living.  The White Company candles, bedlinen and cushions are complimented with industrial light fittings and contemporary mohair blankets.  The rooms are spacious and bright but cosy and equipped with everything you need including fluffy white dressing gowns and Neals Yard toiletries in the bathroom.  Not only did I feel totally relaxed but completely inspired to give our own home a makeover.
Whilst Plymouth might not have the quaint reputation of its neighbouring Devon and Cornish towns, I was pleasantly surprised at just how much it has going for it.  Royal William Yard, once a naval victualing yard, is a waterside area which has been turned into a hub of shops, restaurants and offices and is not dissimilar to the busy vibe found in London's Shad Thames. We had a delicious meal at Hugh Fearnley Wittingstall's River Cottage Canteen and Deli and heard that Bakery was also great spot for coffee and cakes.
Another great place for a stroll is the old harbour area of the Barbican with it's original architecture and cobbled streets which are now home to a number of independent shops.  If by this point you are looking for something a bit more rural however, you can hop on the ferry from the Barbican to Cawsand and then walk along to the Devonport Inn for lunch and stunning views.
Approximately thirty minutes drive outside of Plymouth is the cute little town of Totnes which offers everything that you'd expect from a quaint little Devon town.  Known as the more alternative part of Devon, Totnes is where you'll find organic fruit and veg, trendy coffee and yoga along one very long oldy worldy looking high street.  We had one of the best roasts I have had in a while at the King William IV pub – a hearty plate of pork with crackling, cauliflower cheese and buttered carrots was the perfect Sunday lunch.
Talking of food, did I mention that Pete back at Cotehele Villas is a bit of a wizz in the kitchen?  An extensive breakfast menu (for a b&b) included his fresh rhubarb compote with yogurt followed by a selection of perfectly cooked egg dishes, pancakes or chocolate croissants on request.  His jovial manner was such a nice thing to be greeted with in the mornings and the breakfasts totally set us up for the day.
Visit Cotehele Villas for more information.
Thanks to Jess Meins for her recommendation on Cawsand and the Devonshire Inn!