Daios Cove – A Luxury Family Resort In Crete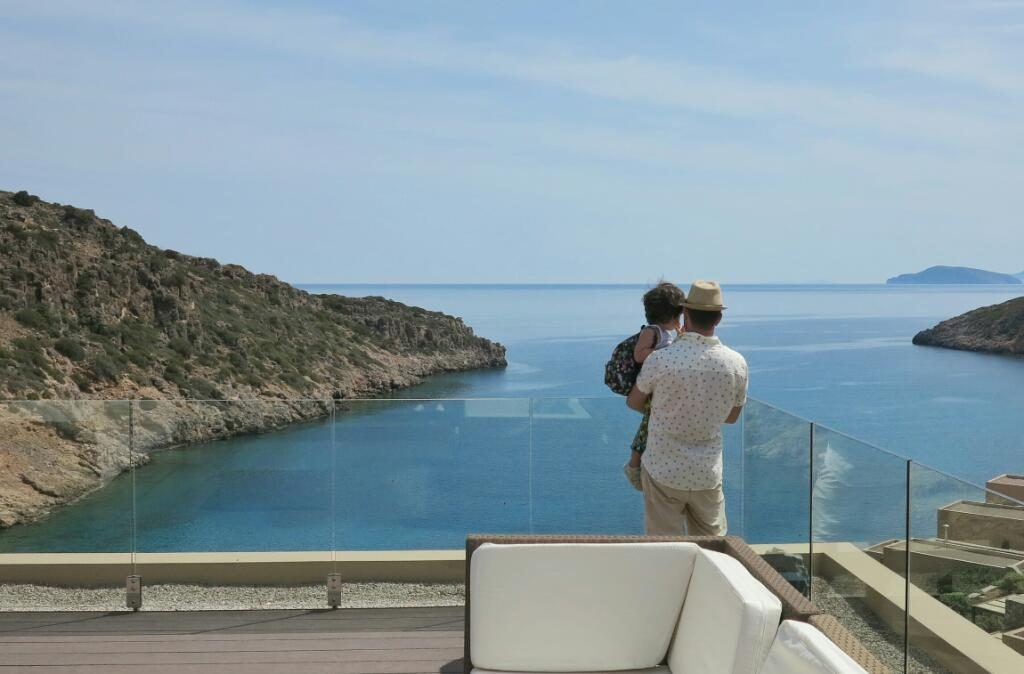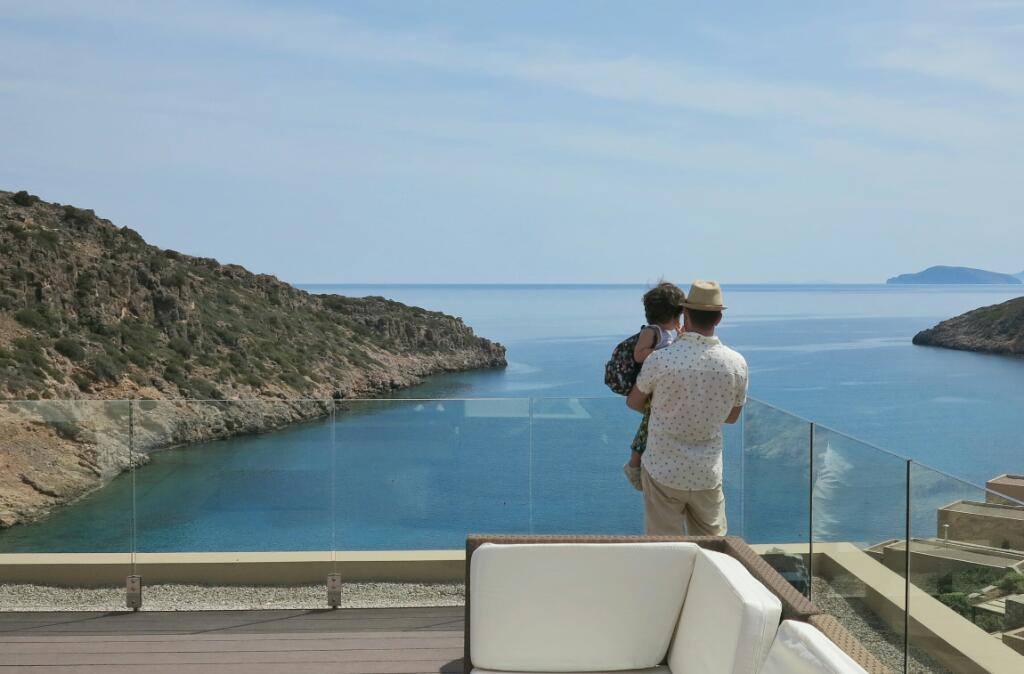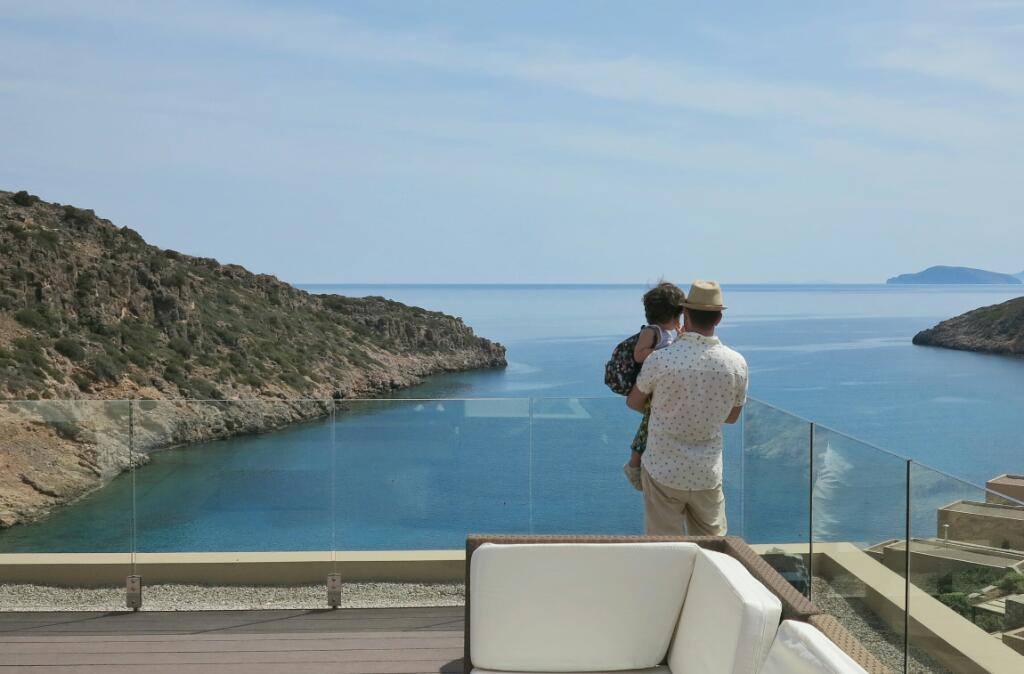 As a habitual independent traveller who likes to do her own thing, I rarely stay at resorts but since having a family the idea has become a lot more appealing.  I have been looking at places that both my husband and I as well as my son will enjoy.  The ease of having T-Rex's every whim catered for in a resort is undeniably dreamy but I don't want it to be at the expense of staying somewhere that lacks local culture, cool design and high standards. So when we were invited to stay for four nights at the luxury resort of Daios Cove in Crete, Greece, I was keen to try…and I think it may well have won me over.
"Oh Wow"…views views views are one of the best things at Daios Cove
My son seems to have inherited my love of luxury and as we pulled up to the entrance of Daios Cove and its dramatic panoramic view, his words were 'oh wow' – he is two and a half.  It is definitely 'oh wow' though.  Daios Cove is a collection of luxury rooms and villas with private pools, architecturally designed to blend into the hillside it is scattered across.  It is located on Vathi beach in its own private bay and overlooks neighbouring Greek islands.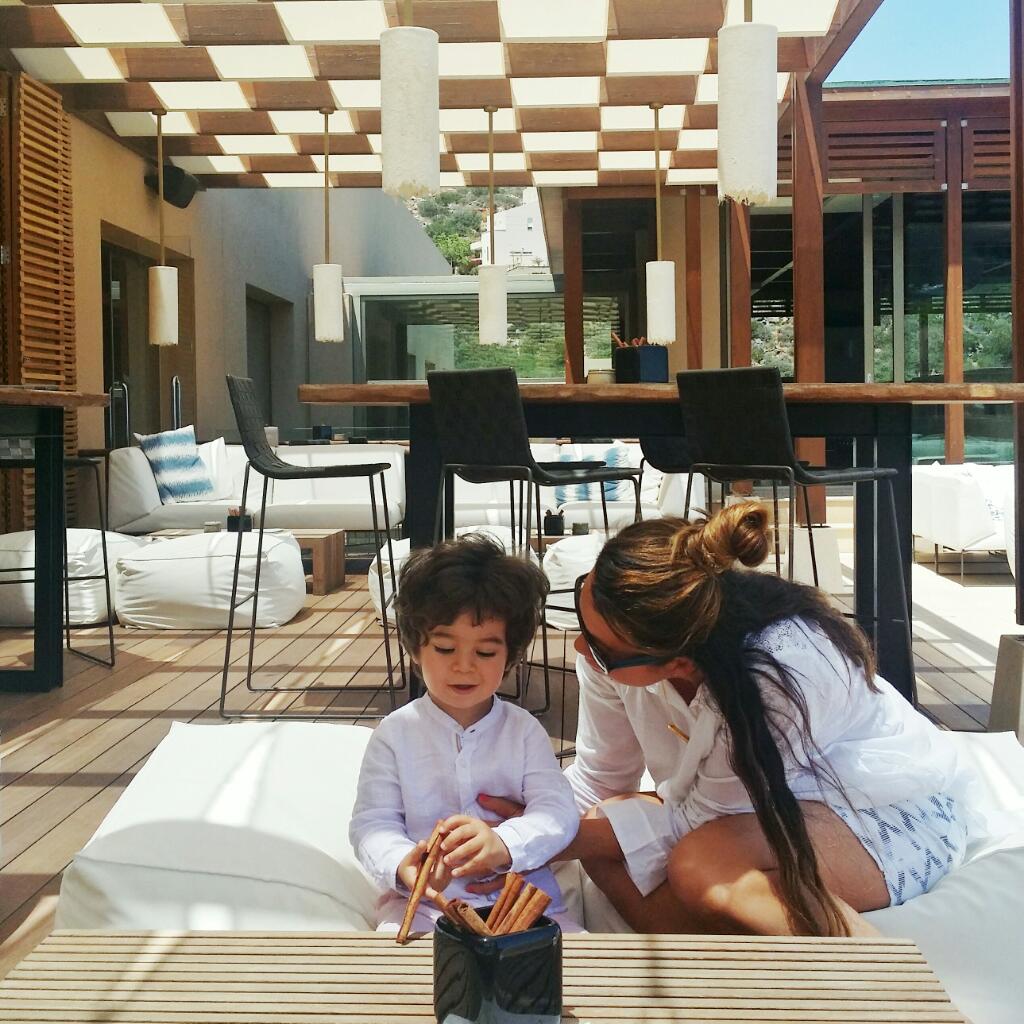 We liked this bar a lot – Crystal Box
We were welcomed with a drink at Crystal Box – my kind of beach bar – all white and wood in design with low sofas, yummy cocktails and views.  Our room, a deluxe sea view with private pool was big – an important factor for me on family holidays because space equals a calmer place to hang out with your kids.  It was 42m² plus 20m² outdoors and so much larger than my minimum family holiday space in a hotel ( with 2 adults and toddler) of at least 32m². Big room, big bed, big bathroom and…own saltwater swimming pool – happy! For parents worried about the pool, a pool gate is available on request.
Private Pool and Sea Views in the Deluxe Room
If you are a family who wants an even larger space with more peace and privacy then I would opt for one of the two or three bedroom family villas with private heated pool and access to the Cove Club Services. Cove Club provides villa guests with upgrades such as breakfast in the Ocean restaurant, pillow menu, children's welcome gifts and more.
One of the villas and the vine covered terrace where villa guests can eat breakfast
The hotel's glass inclinator was an unintentional novelty for T-Rex who could have spent his whole holiday in it.  It takes you from the lobby where the Greek designer beachwear shop Apoella, is somewhere I could have spent my whole holiday; to the Spa, kids club, restaurants, pool and finally, beach.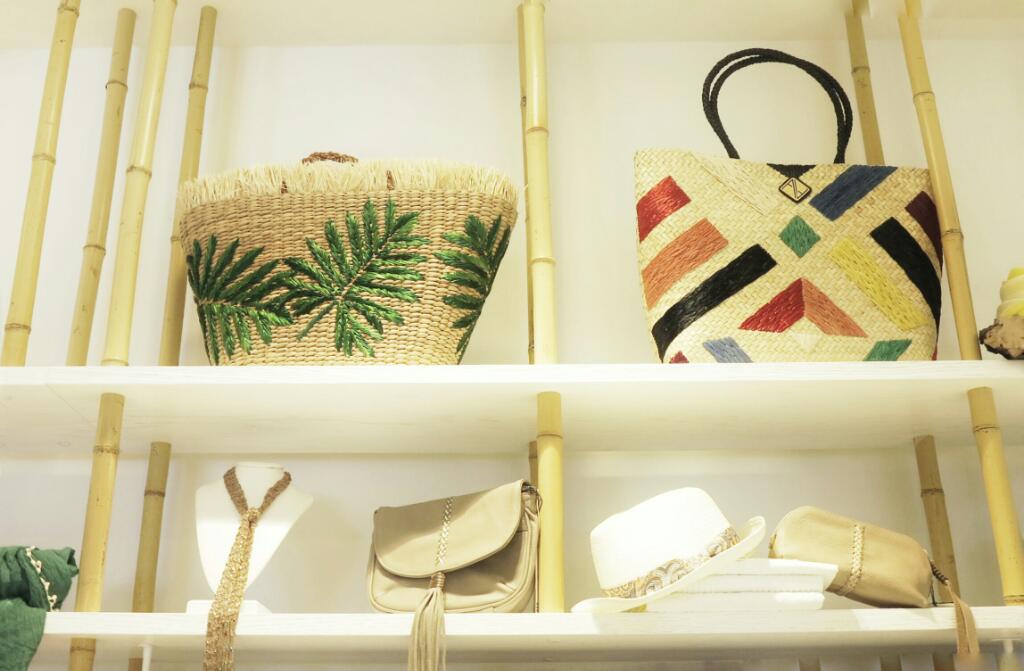 Apoella – the amazing designer beachwear shop at Daios Cove
Let's talk Crèche and Kids Club…
…because they are the best invention ever. The kids club at Daios Cove is delightful.  Happy, warm and welcoming staff who most importantly seem sensible and diligent about signing in and out and ensuring T-Rex has hats, sunscreen and sign-off to be taken to the beach.
The crèche and kids club is large, with indoor and outdoor space and lots of holiday related activities.  It is supervised by the UK childcare experts Worldwide Kids Company whose qualified nursery staff meet UK standards and regulations.  I know this might all sound boring but I have learnt from travelling that not all kids clubs abroad have the same standards and regulations as those in the UK .  I've experienced a 'kids club' with one member of staff to 30 kids…I decided if I wanted to see T-Rex again, I had better not leave him there.  So Daios Cove was not like this and was the lovely, 'Sound of Music' type childcare that I felt happy leaving him with, while I sipped a cocktail by the pool.  In turn he was happy to have a slide and other kids to play with for a change from mum and dad.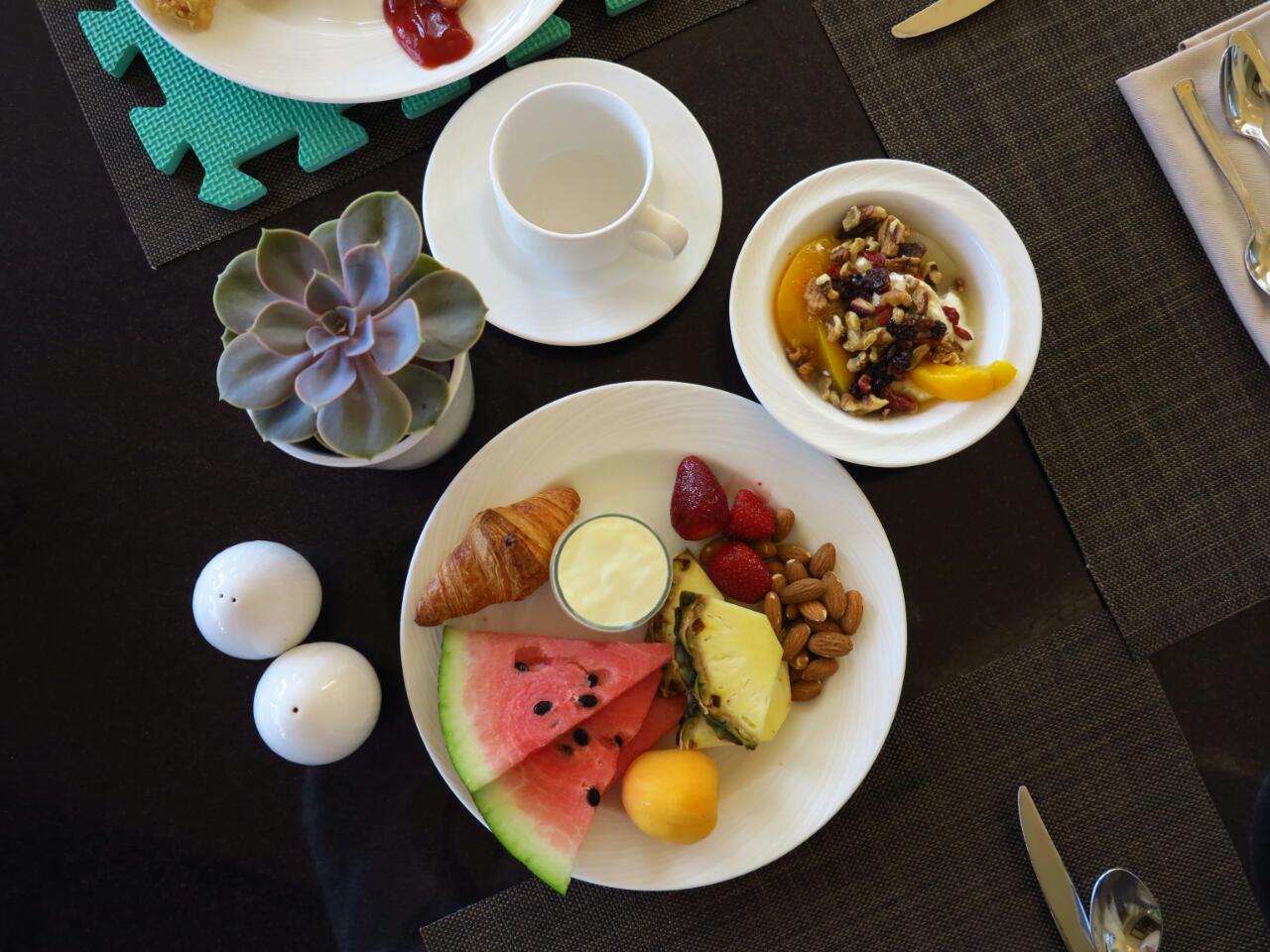 Breakfast at Pangea Restaurant…this was my starter
Daios Cove offers a half board option which includes breakfast and dinner at the main restaurant, Pangea. It can get busy in this restaurant so I would recommend waiting for a table outside where your children can play, within sight , on the grass (with other children) while you finish eating dinner.  The buffet breakfast and dinner is of a high standard.  We ate dishes including Pork Belly, Paella, Gnocchi and Panna Cotta desserts whilst there – everything to please big and little mouths.  We also drank some very good Greek wine from the menu (not included).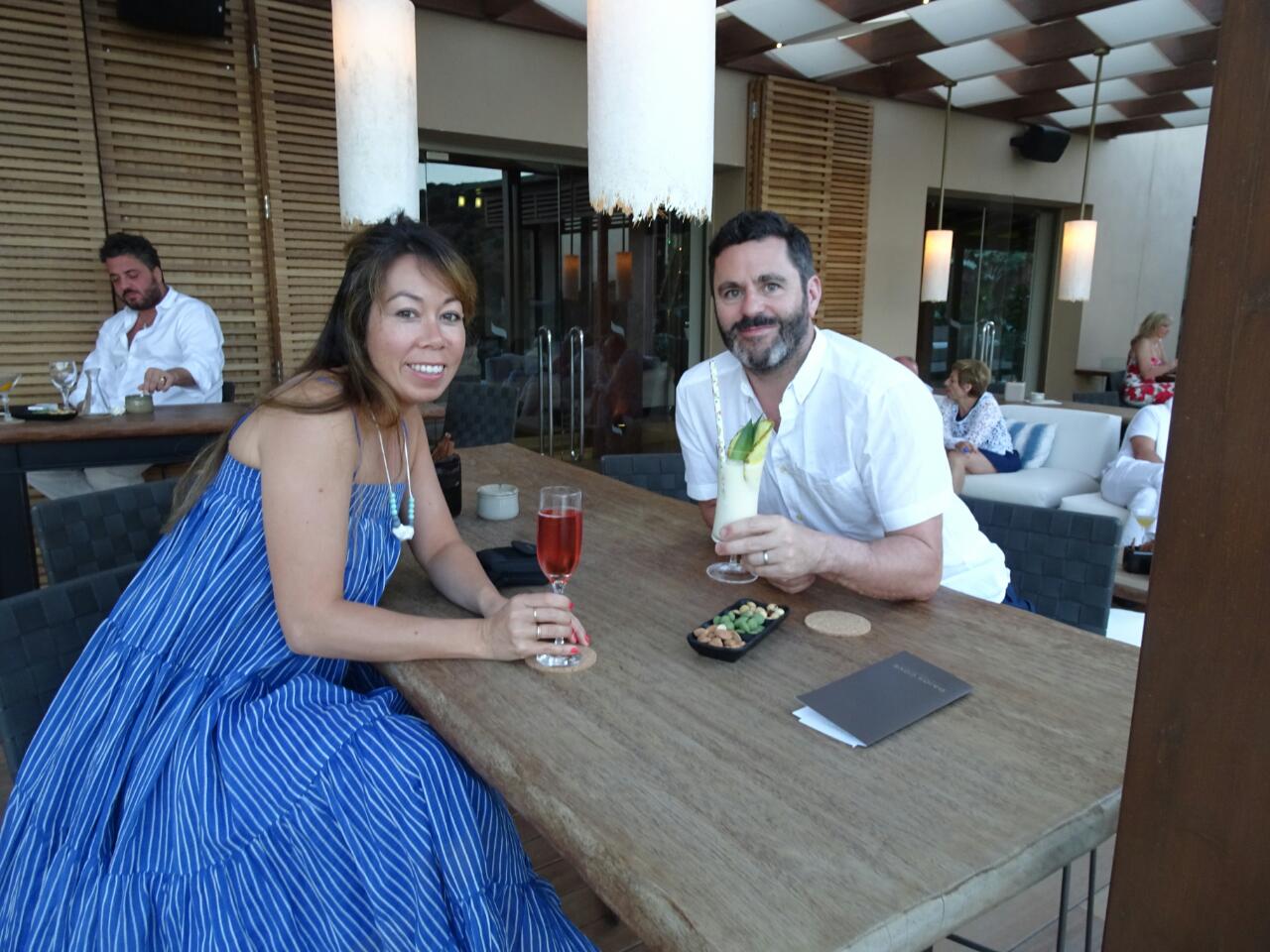 'Date Night' starting with drinks at Crystal Box
If you are looking for a quieter evening meal, I would recommend doing as we did and getting a babysitter then booking a table at the Greek Taverna where we ate authentic mixed grills and seafood salads and watched (maybe even danced with…) the Greek dancers.
Another cool thing about Daios Cove is its spa.  I was given a 20 minute neck, back and shoulder massage to try which I thought wouldn't be anywhere near enough time for me to relax but it was in fact the perfect amount of time and my therapist was excellent, sending me off into a doze after just 10 minutes.  I came back to the pool feeling like I had had a mega power nap and was ready to run around chasing balls and making sandcastles again.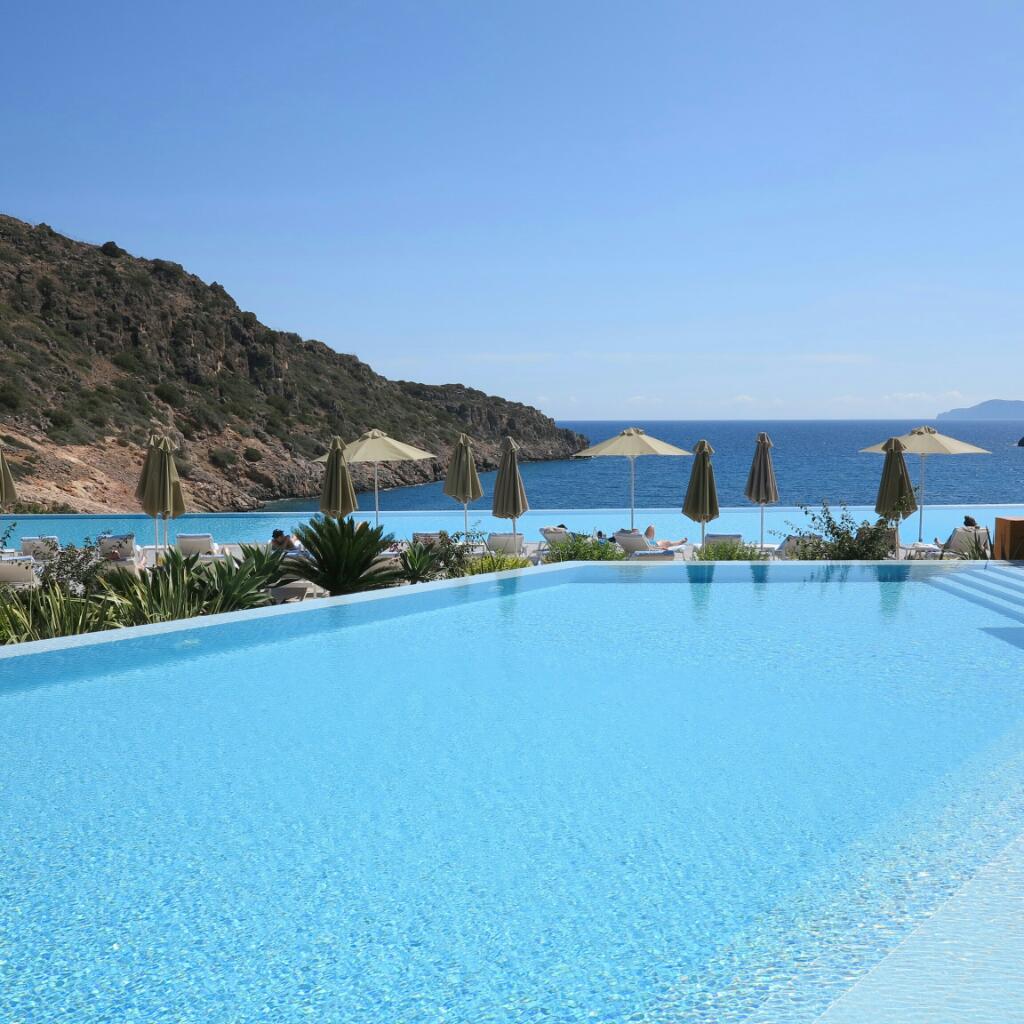 The bar pool…that overlooks the inifinity pool…that overlooks the sea
Finally, what you'll spend most of your time doing at Daios Cove is hanging out by the amazing infinity pool and the beach.  It is so nice to be able to just sit on a sun lounger (for approximately 2 minutes if you have a young child) and have someone come up to you and ask you what you'd like to eat and drink.  The pool also has a children's pool at the end which T-Rex loved and spent a lot of time in.  The beach has a casual bar/restaurant with a hint of Ibiza in the form of the Balearic beats being played, it is hugely chilled and very relaxing…even for those of us who are chasing their toddler up and down the beach.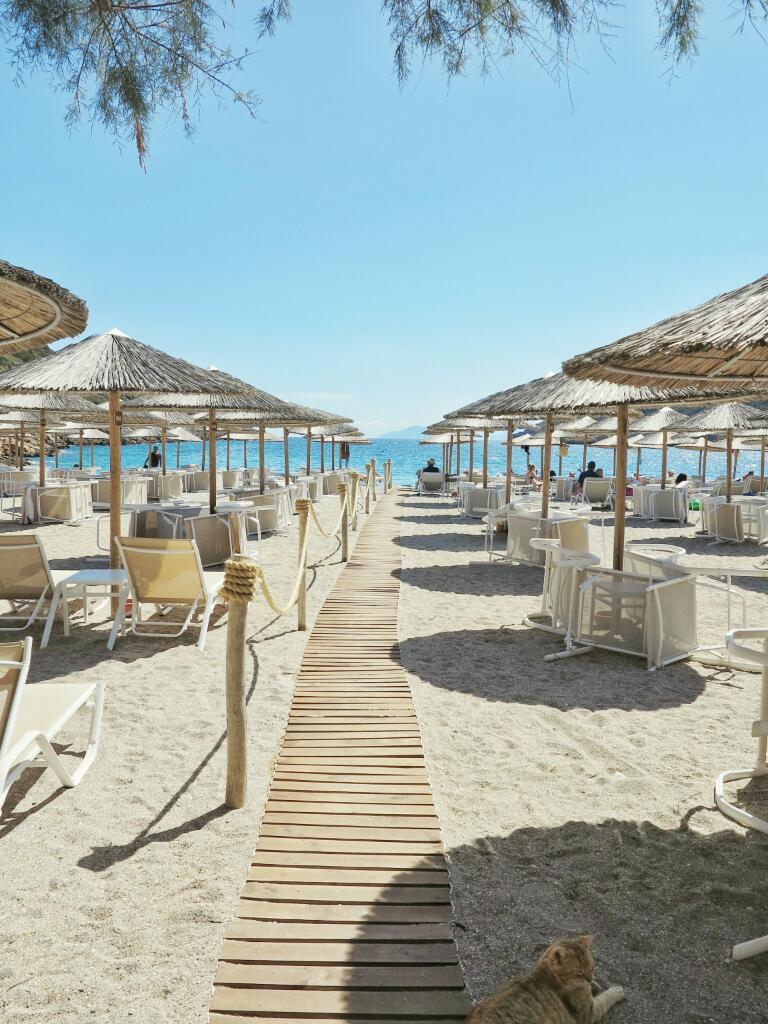 Greek cat enjoying the luxuries of Vathi Beach
What I liked about Daios Cove…
Daios Cove is a fair sized resort but its spacious design and villa options mean that you actually feel like you have a lot of privacy with the added bonus of all the hotel facilities to hand.
The vibe is cool and luxurious with great interior and exterior design.
The food is really good and authentic which is often hard to achieve when catering for large numbers.
The rooms are large and perfect for families and the children's facilities are excellent – they pretty much provide anything you need when it comes to babies and small children meaning you don't need to pack as much luggage.
Other things to know:
Crete is around a 4 hour flight from London.  It is approximately a 1 hour drive from Heraklion Airport to Daios Cove. Daios Cove will arrange private transfers should you need them.
Daios Cove provides an extensive list of children's amenities including: baby monitors, bottle warmer/sterilizer, baby bath/changer, high chair, stroller, toilet seat, potty, food set, stool for the wash basin, pool fence, staircase fence (all subject to availability).
It is a 15 minute drive to the pretty port town of Agios Nikolaus – we got the bus which was very easy but you can also order a cab.
Daios Cove currently has a few offers available including a June Getaway and a Kids Stay Free package.
For more information visit www.daioscovecrete.com
This post is in association with Daios Cove Luxury Resort & Villas who provided us with four nights half board on a complimentary basis.
Photo By: Copyright Bikinis and Bibs