Mission: Sleep. Part 2, Sleep Guide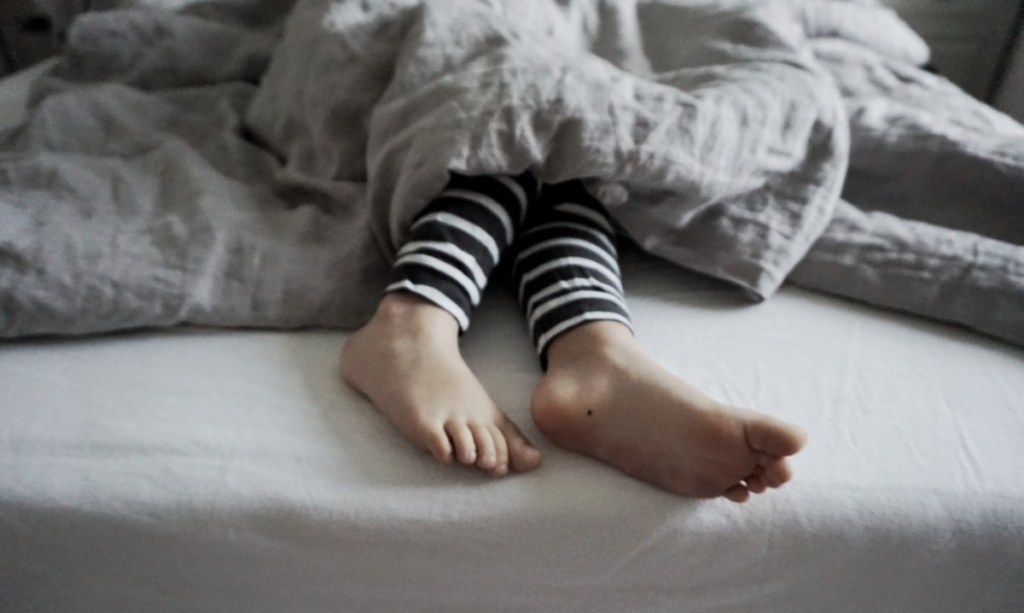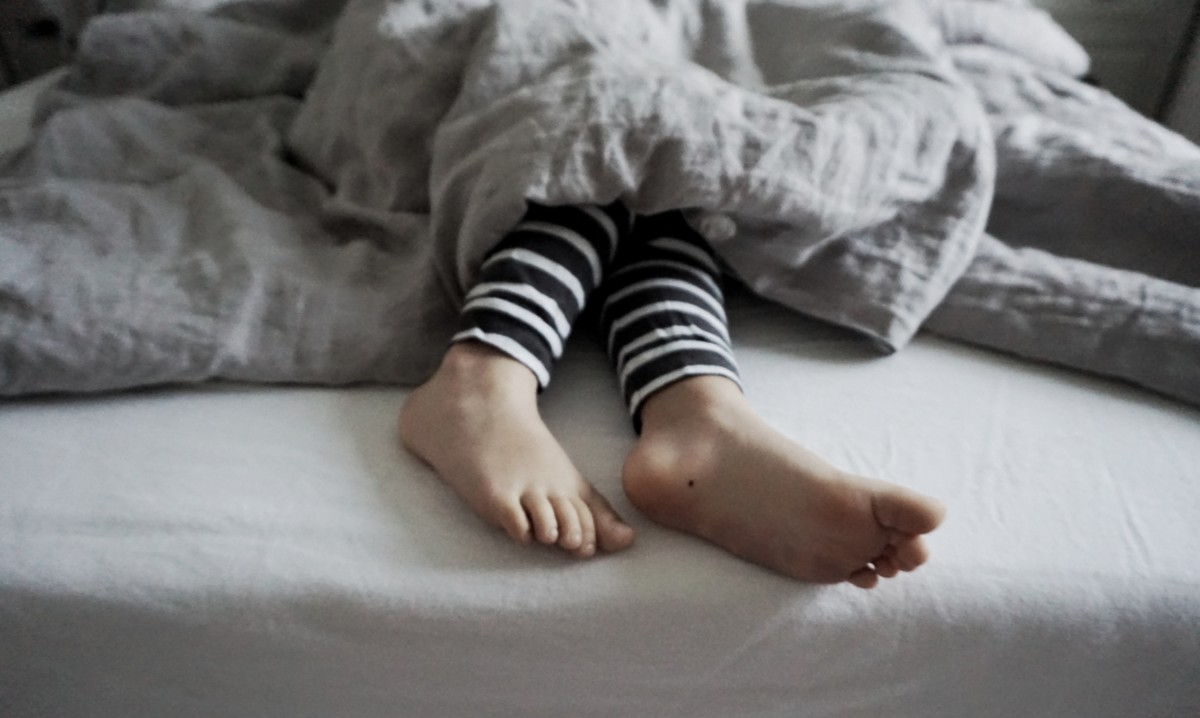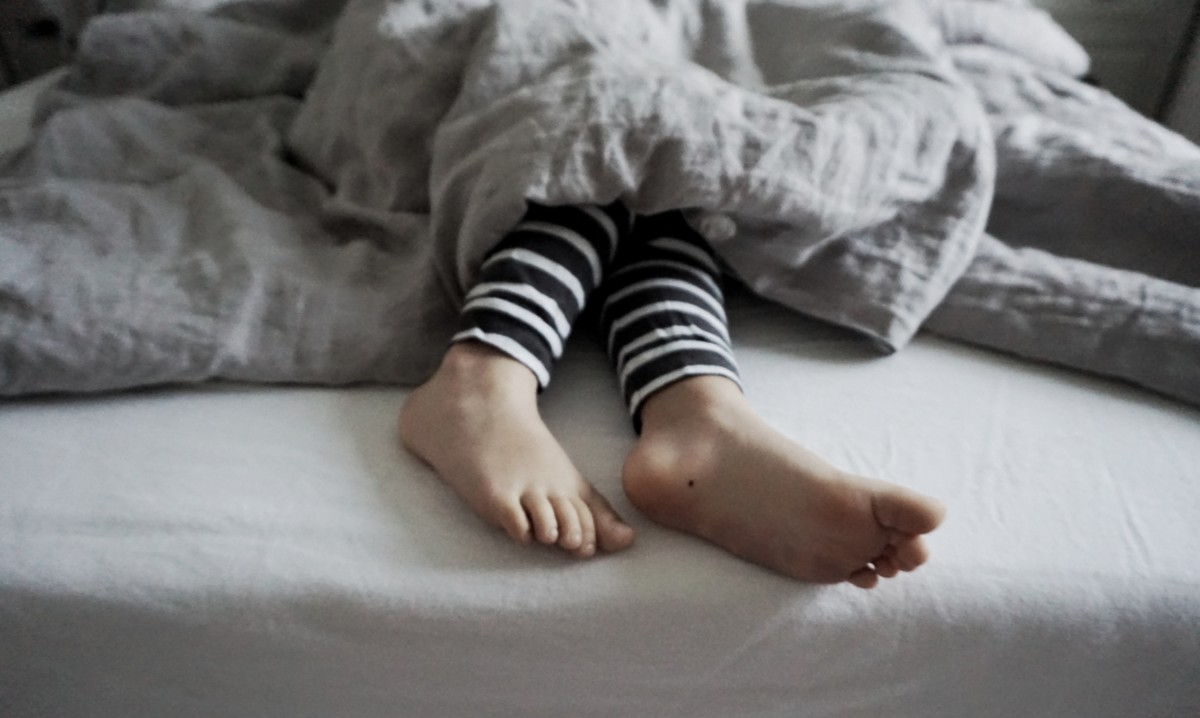 Can we say it's officially Spring? Brighter days and the clocks going forward feels like a distinct shift in the seasons (despite the 'April Showers'…grrr). I have been quietly cultivating my little nest over here. My mission to create the perfect sleep environment continues and over the last couple of months I've been collecting some of the cosiest and most comfortable linens and cushions to make sleeping as easy and luxurious as possible (even with a bump and early rising 4 year old).  Sleep is after all, the thing that makes most of us feel our best – I know for a fact that I'm less grouchy, more productive and more youthful looking when I've had a good night's rest.  So here are a few of my chosen sleep companions plus some tips and sleep app recommendations for when winding down feels near impossible.
Linens
I cannot stress enough what a difference having beautifully soft bed linen makes. I've been wanting some grey linen sheets for a while and these ones from Noctu Organic are perfect. They are made from 100% soft french flax linen – a natural fibre which doesn't provoke allergies, absorbs humidity and allows the skin to breathe. This means it's a great linen for all year round because it will keep you cool in the summer and cozy and warm in the winter. I also simply love it's look…makes me want to hop into bed immediately!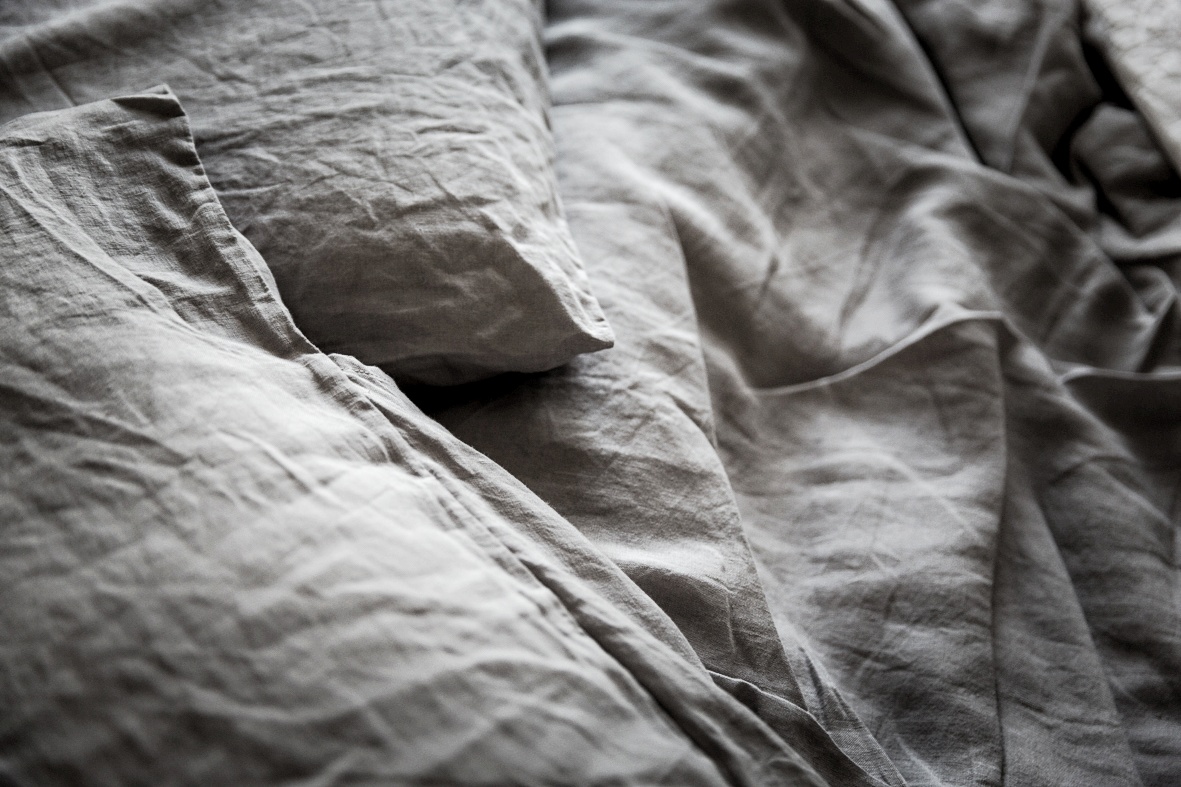 Pillows
I like LOTS of different pillows. I just feel like you have more support when you sleep. I kind of have them scattered around my neck and head with the memory foam one as my main sleeping pillow and the others at angles – I realise this is highly personal and not for everyone but it's what I find comfortable. I have three pillows, one duck feather, one memory foam and just a normal polyester one. I get my pillows from The White Company. They have a really good advice page if you are unsure of which pillow to get all appertaining to how you sleep ie. on your side/back etc.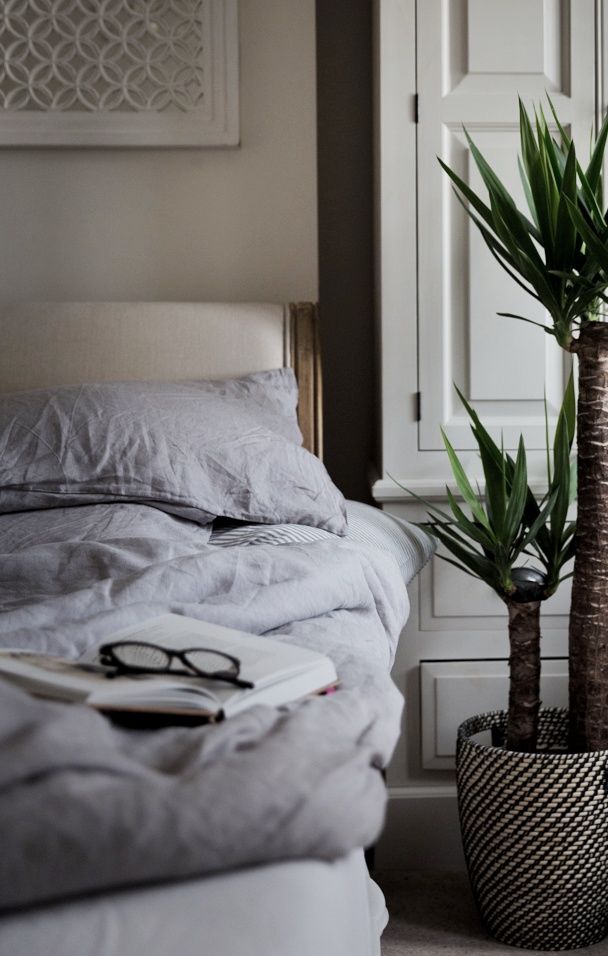 Cushions
Where do I start? Ross is always baffled by all the cushions on the bed. He never knows their purpose but I love loads of cushions because they make the bed look pretty and again can be really supportive for sitting up in bed…I'm not too precious about them (not all the time anyway! haha!) The two cushions I recently got here were this white and grey stripe pom pom pillow from The Souks  – a gorgeous little online shop with the most amazing interior accessories sourced from Morocco. I also absolutely love their rugs and you may remember I bought these raffia shoes from there last year too. The statement fringe cushion I bought was from House Curious another beautiful online interiors shop curated by Australian owner, Sommer, who I think quite possibly lives in one of the most enviably designed houses in South West London.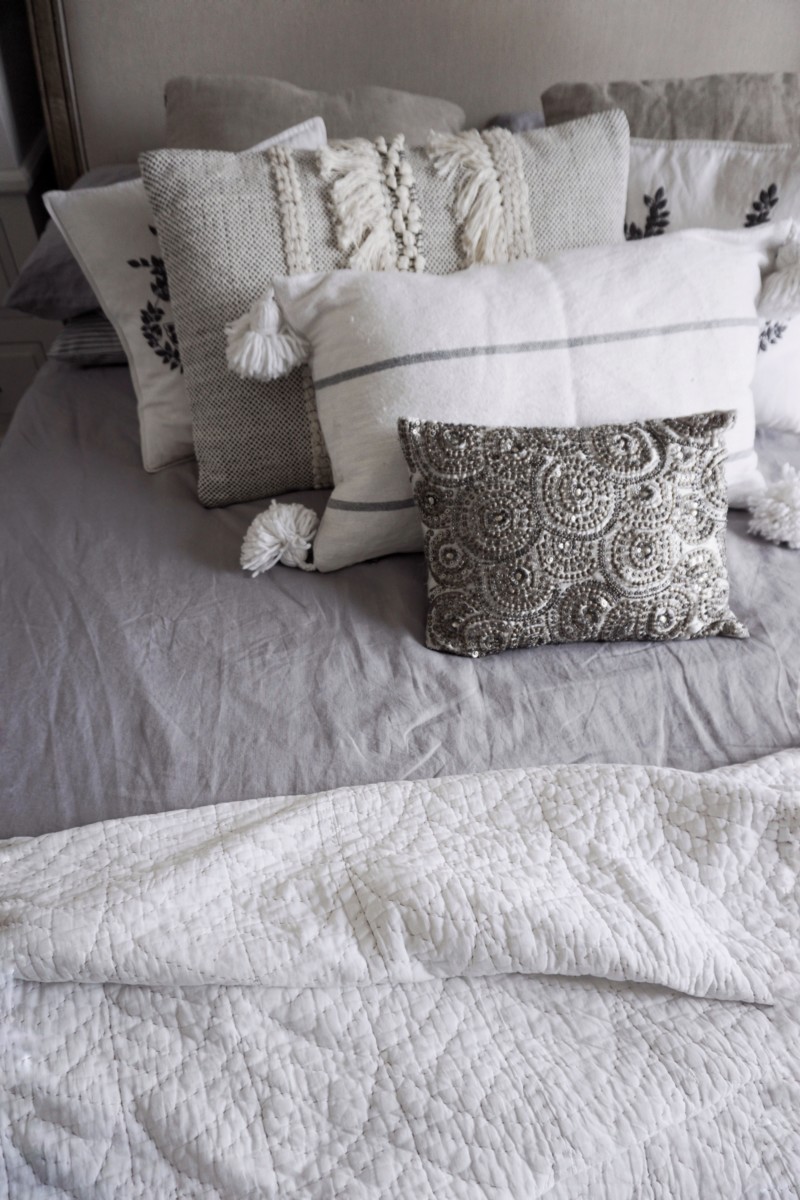 PJ's 
Ok I know a lot of you sleep naked (tmi!) but if you don't then soft and comfy pjs are a must. Again Noctu Organic have the loveliest collection of organic cotton nightwear for the whole family. I have been wearing this one a lot during my pregnancy – it's so comfy and cosy and will definitely be coming in the hospital bag. For absolute luxury I also adore the prints on Desmond and Dempsey pyjamas and recently got these parrot ones you can see me wearing them in Part 1 of this sleep post.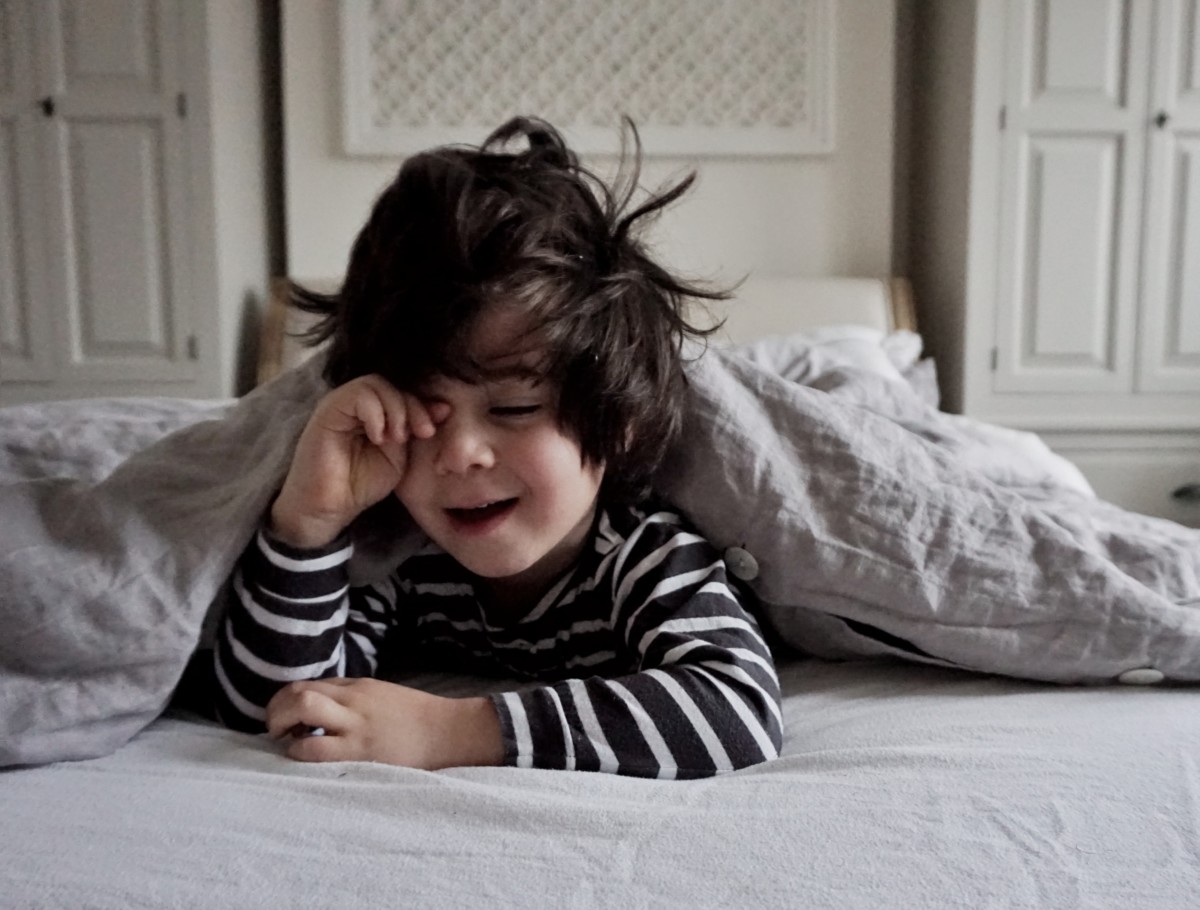 Tips
One of the first brands I worked with when I started my blog was Kiss The Moon. They are now an award winning company which creates the most delicious smelling aromatherapy blends to help you get to sleep. They also have a brilliant bedtime blog which I'm slightly obsessed with. I asked Kiss The Moon's founder Jo Foster for her best tips on how to prepare for a good night's sleep…here is what she said:
Keep things deliciously dark 
Light levels send a big signal to our brain's sleep or wake habits. Cutting all light out of your bedroom puts you in control. Blackout roller blinds are your friend. They keep out daylight and streetlight pollution and leave you free to choose any curtains you fancy. Keep out any other light sources such as greens and digital clocks. Dark is beautiful.

Stay cool
The perfect temperature for sleep is around 19 degrees. Go for layers of bedding that can be added or packed away in the cupboard through the seasons. A bit like we do with our wardrobes. 

Flower power for bedtime
Our sense of smell is controlled by the same bit of our brain that controls sleep. So relaxing aromatherapy oils are a direct way to lull yourself to sleep and help you tune out of your busy mind at bedtime. Kiss the Moon has four nighttime aromatherapy blends designed to combat the most common causes of insomnia and sleep deprivation.  A spritz of Lavender & Bergamot DREAM Pillow Mist  a dab of jasmine infused CALM pulse point balm or a relaxing rose oil hand massage with our LOVE Night Cream for Hands will work wonders to help you get more out of your night's rest.  
Blankets and Throws
As Jo mentioned there is nothing worse than being too hot when you sleep. We have a beautiful white indian embroidered quilt/throw which I keep on the bed and sleep under when a normal quilt feels too hot. I got ours from the shop Lombok years ago but Dilli Grey currently has some very pretty coloured versions and Anthropologie has a good selection too. The normal quilt I use is an all-seasons duck down quilt from John Lewis which is so cosy and easy to adjust during summer and winter.
Lastly…Sleep Apps
I initially found the idea of sleep apps a little incongruous with sleeping well. Technology x bed is surely a bad combination? But since I have been listening to countless meditation apps for hypnobirthing I am a convert! Here are a few sleep apps that have been recommended to me; Calm; Breethe; Relax Melodies: Sleep Sounds and also this one which I have been listening to – it's free and part of a hypnobirthing app but is actually for busy mums…it sends me off every time.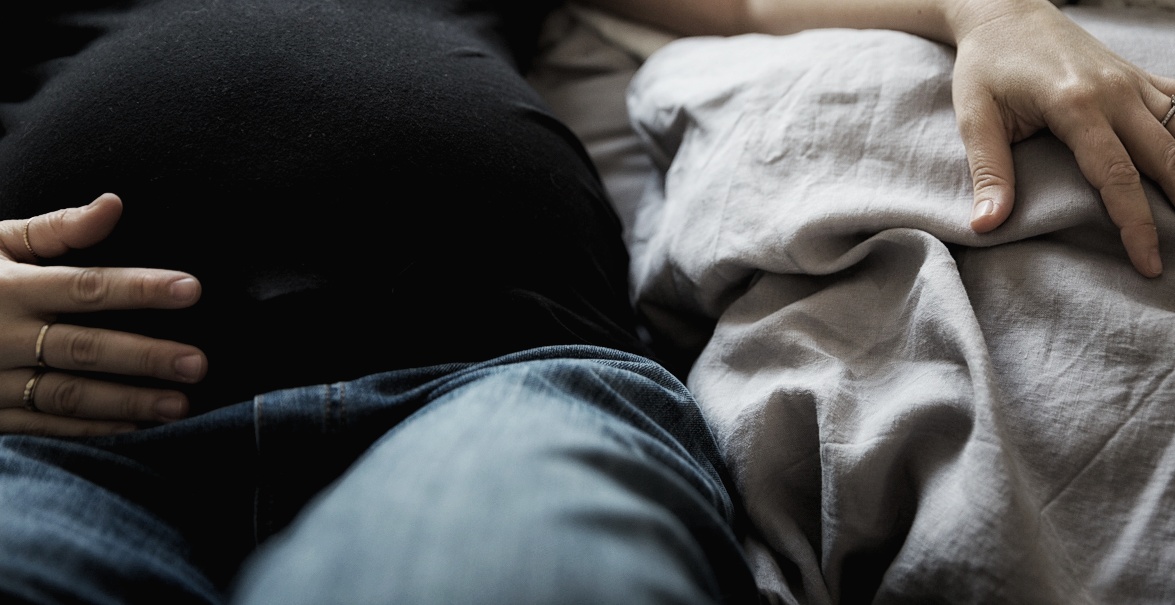 I hope you find that helpful. Sleep is so important, especially when you are mega busy. I think it is the best healer for many things. So sweet dreams and if you have any useful sleep tips yourself please don't hesitate to leave them below in the comments.
This post is written in association with Noctu Organic and The Souks who both gifted the products in this post (linen, pjs and pom pom pillow).
Thanks to Nilufar Documentary for the contribution to photography.
Photo By: All images Copyright Bikinis and Bibs