Samsonite – Family Luggage For Three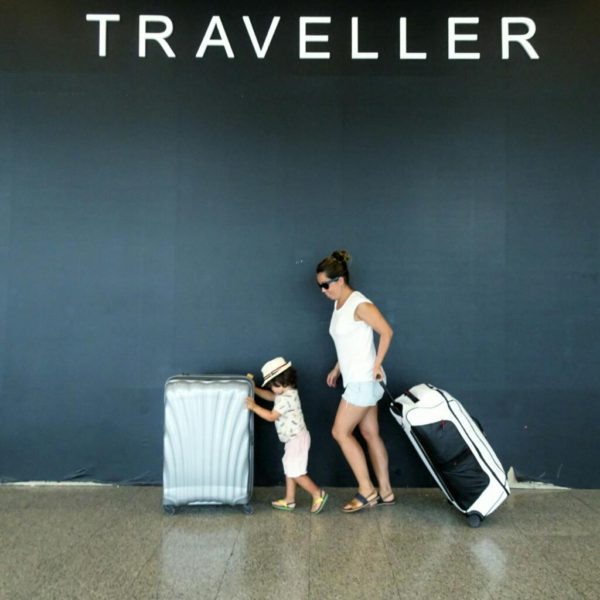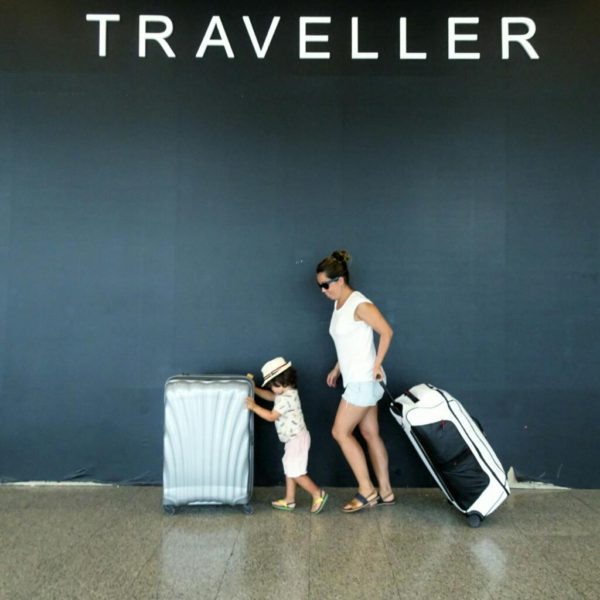 On our most recent trips to Greece and Spain we were loaned some Samsonite luggage to trial as a family.  As many of you know we were away for quite some time (two months) due to Ross's job so there was a lot of 'stuff' to pack. I would love to say I'm a supersonic, amazing, zen packer but I'm not. I'm a kitchen sink kind of girl who likes space and options when it comes to packing for our travels.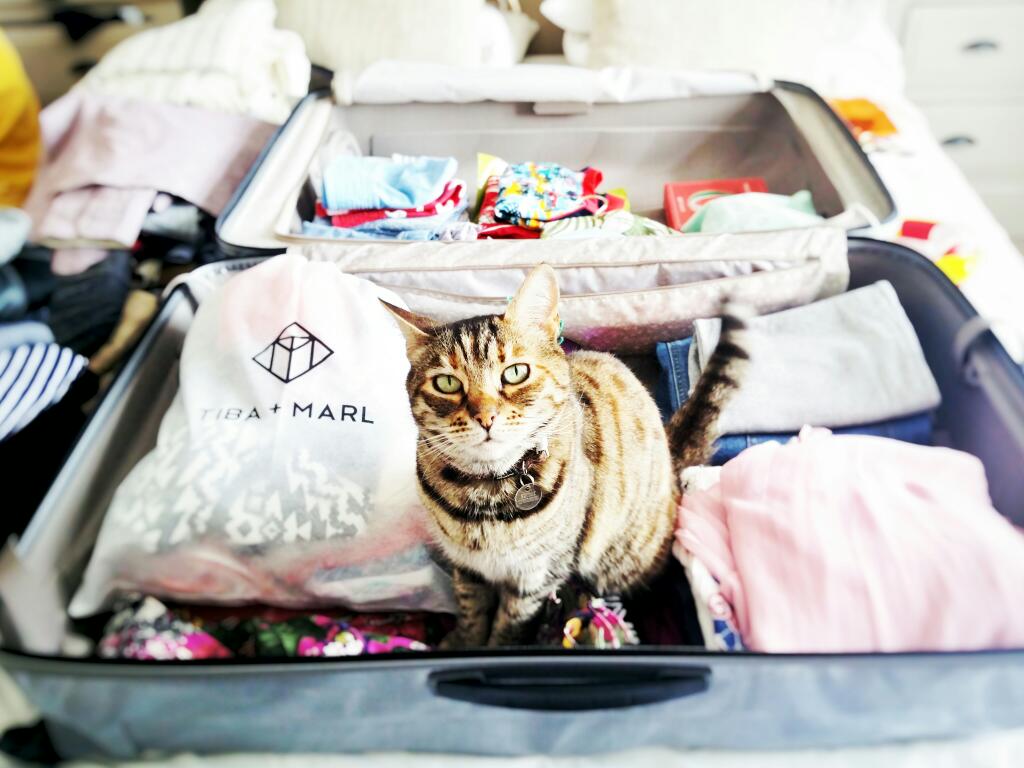 The two Samsonite cases we chose were the Lite-Locked Spinner in off-white at 81cm and the Paradiver Light Duffle in White at 79cm.  My thinking was that my son and I could have the larger case (the Spinner) and Ross could have the more sporty looking duffle, which would also more than likely get filled with our things.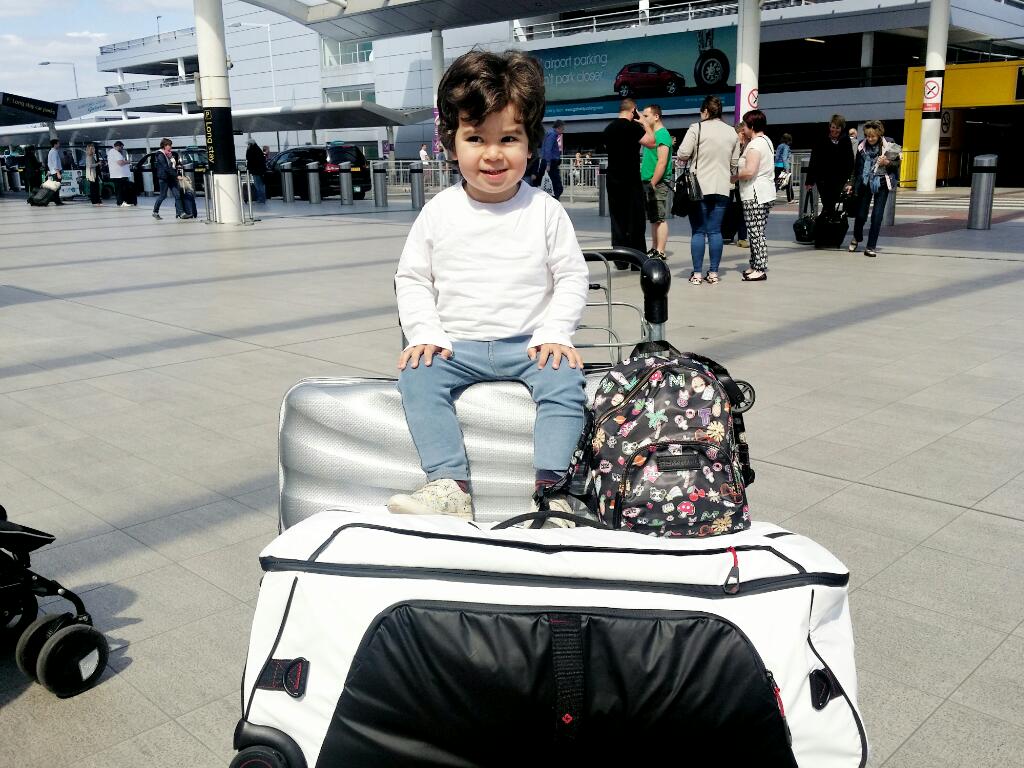 Were they good for packing?
The Spinner is like a big shell of a case which is good inside for space and outside for hardiness.  I packed my things in one side and my son's in the other. If I had a family of four, I think two of these cases would be more than sufficient for a two week holiday.  I liked the fact that there was a zip divider pad on one side and luggage ribbons on the other to keep mine and my son's things separate when it came to closing.  This case is BIG. We had all the usual clothes and shoes but also a big bag of toys plus a load of toilet training paraphernalia and extra nappies.  I also probably had a much larger than the average person's selection of swimwear (all necessary for the blog of course). Check-in weight at full capacity: I checked The Spinner in at approximately 32kg (the maximum for one bag on Easyjet if you are pooling luggage with your child) and it was full.
The Paradiver Duffle was deceptively large and was a good squishy bag choice next to the less squishy Spinner. Ross packed all his stuff with room to spare for our excess of more toys and books. The softer material and extra outside pockets also meant that we could squash things in at the last minute if we needed to. Check-in weight at full capacity: approximately 20kg.
Were they good at travelling?
The Spinner was SO easy to manoeuvre at the airport and its casing is really light so most of the weight comes from what you have packed.  Even my son was able to move the case around easily (not really where we wanted but hey).  It has a sturdy pop up handle and special 'impact resistant' material which sort of moves when it gets chucked around on belts ie. doesn't stay rigid and so doesn't break.
The Paradiver Duffle also came back to us unscathed although I would say that the cool, sporty looking white, didn't look very white after a journey through baggage handling. This bag did serve as a good seat/bed for my son at times of waiting around though.
Would I choose this as family luggage again? Most definitely.  I own a Samsonite which I bought about ten years ago as a medium sized luggage to accompany big luggage and I have gone through several big luggages whilst the Samsonite has stayed strong.  I do think if you can afford to invest then it is really worth it, especially if you travel a lot like we do.  Both the above cases have lots of other cool extras which you can read about here (Spinner) and here (Paradiver).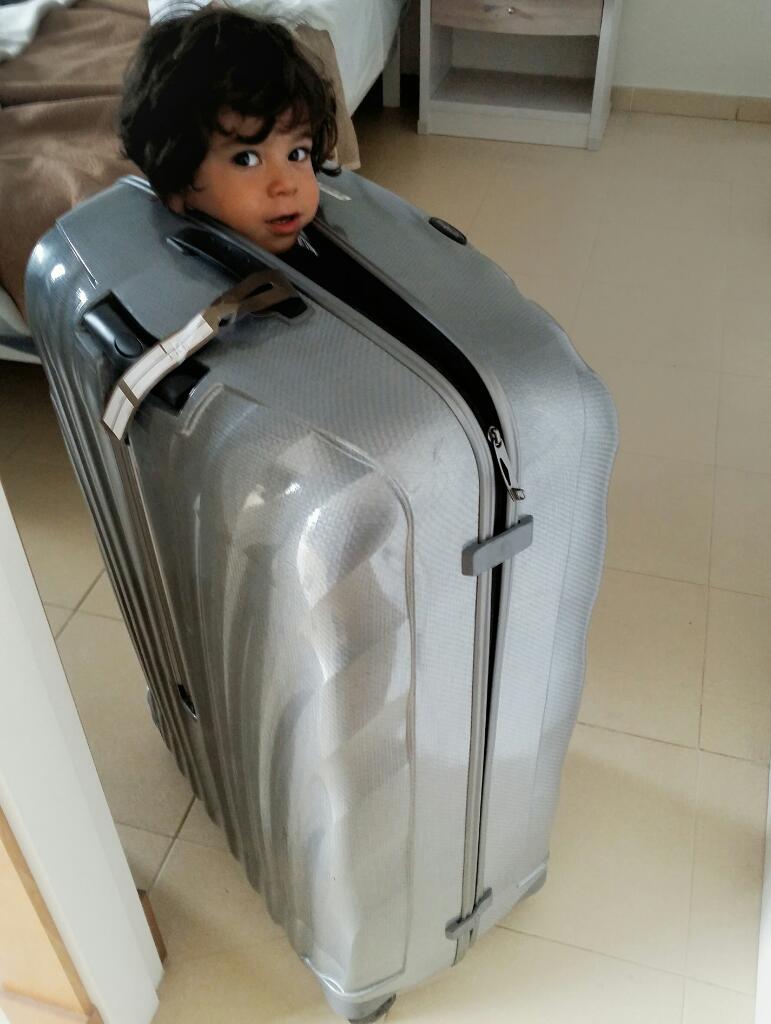 And when you're not using your luggage for travelling…the Spinner becomes every toddler's dream toy
This post is in association with Samsonite who loaned us our luggage for review.
Photo By: Images Copyright Bikins and Bibs