The Packing List – Spain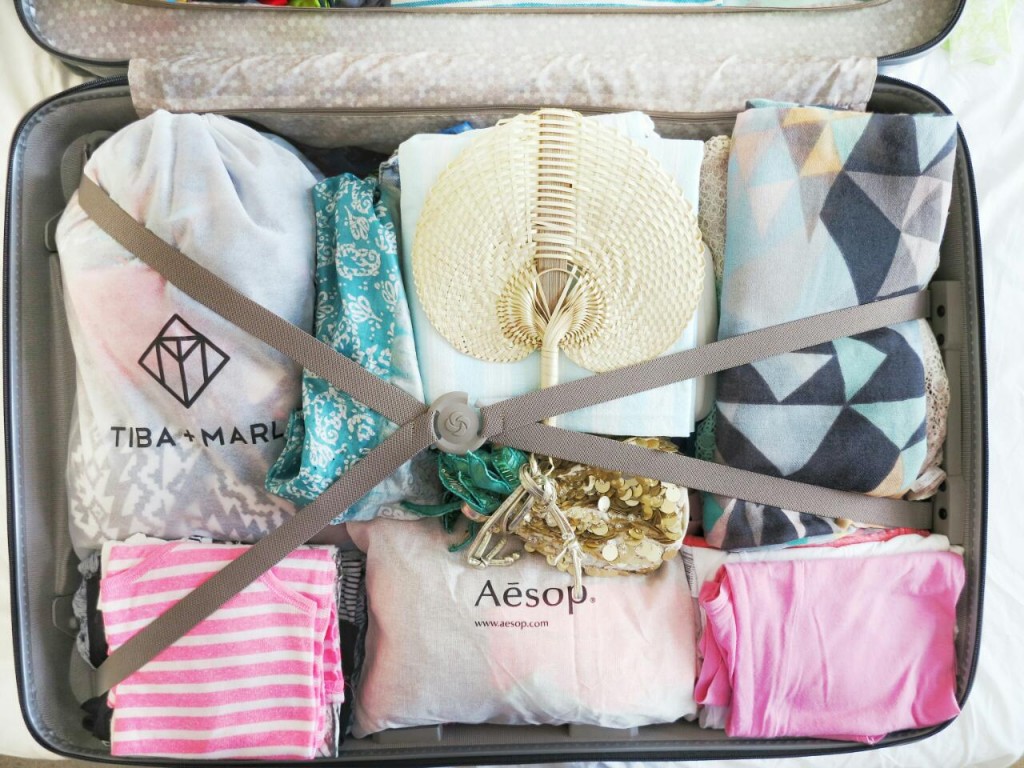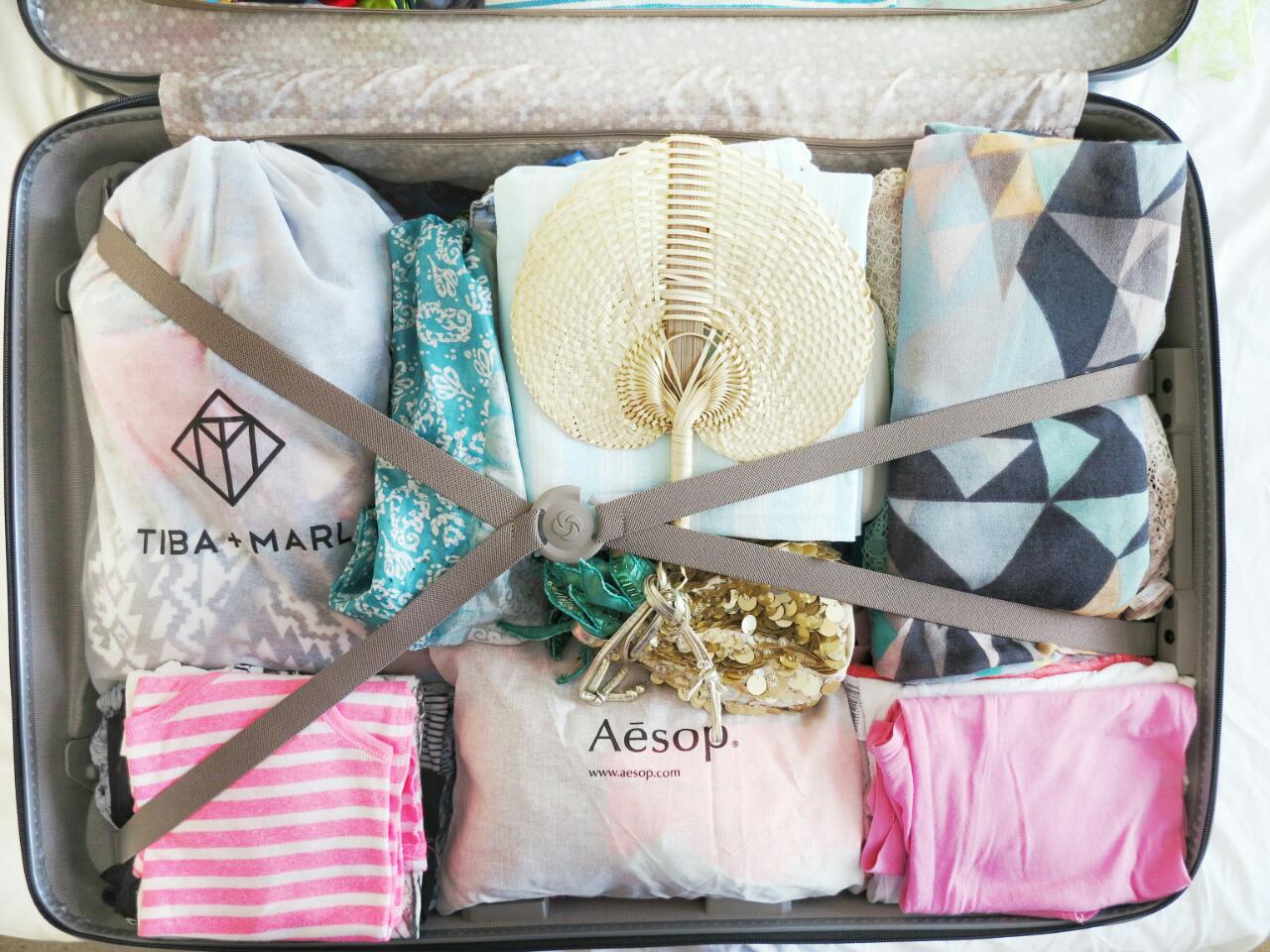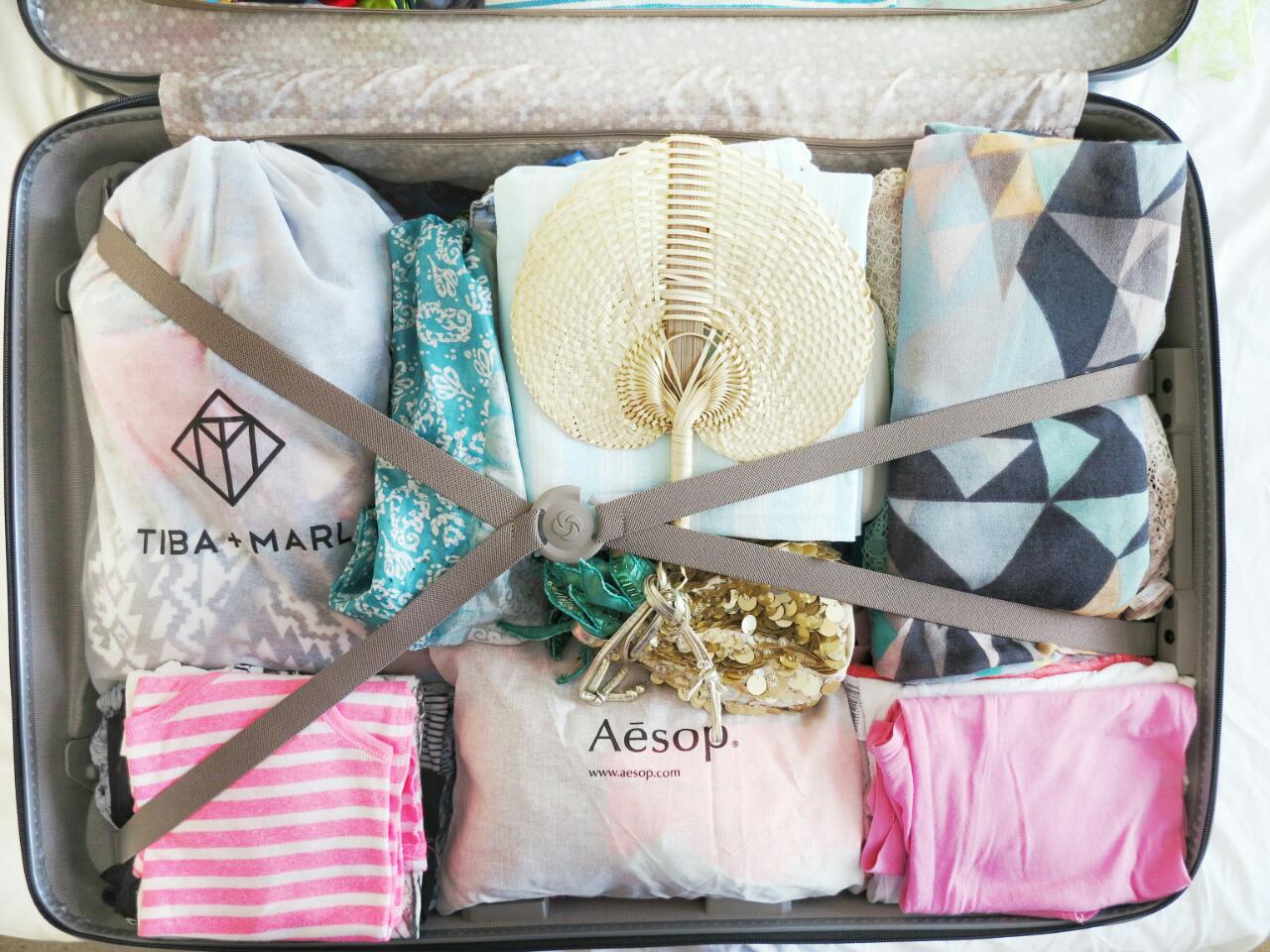 If you are looking for a holier-than-thou list of 'how to pack for kids' I'm sorry but this is not it.  I literally have the biggest suitcase I could find (we are away for two months) and have (over) filled it with lots of cool (but probably useless) holiday things for both myself and T-Rex.  Ross has his own bag…which also has some of my and T-Rex's things in, you see that's the beauty of having to pay for your child's seat – you get extra luggage allowance:)  So, I'd say this is more 'ideas' on things I'm taking rather than a 'how to pack' list…although I am anally neat and a bag in a bag freak.
Hand Luggage:
This little bundle of plane goodies (above) is not cheap but you will be so thankful you invested once you get on the plane with your toddler.  New Tiba and Marl backpack for T-Rex in the hope he'll find joy in carrying his own stuff.  Headphones, tablet and tabletcase with a load of games and programmes downloaded (this is a kindle fire and you get 2 years warranty – in case it gets chucked down the toilet – and 1 years worth of free downloads from the amazon store). Other things I have put in his backpack: Stickers, Peppa Pig Snap Cards, A new Thomas the Tank magazine, colouring book and crayons. Snacks (yes chocolate) and drinks go in my hand luggage.
We are sharing a big suitcase (I'll be writing a post on our choice of luggage if you're interested). T-Rex has one side and I have the other.
His Side:
H&M Espadrilles; Swimwear: M&S, Beanie & Bear, Sunuva; What Mother Made Trousers
T-Rex also has x 3 shorts from Zara – they are the best I could find on the high street (and you know I love a bit of Zara) a couple of light linen trousers – I find them good to cover legs in the sun without getting too hot and also protecting from mosquitoes at night.  His sun hats and sunglasses are from Marks & Spencer. He also has a posher pair of sunglasses from Baby Banz.
My Side: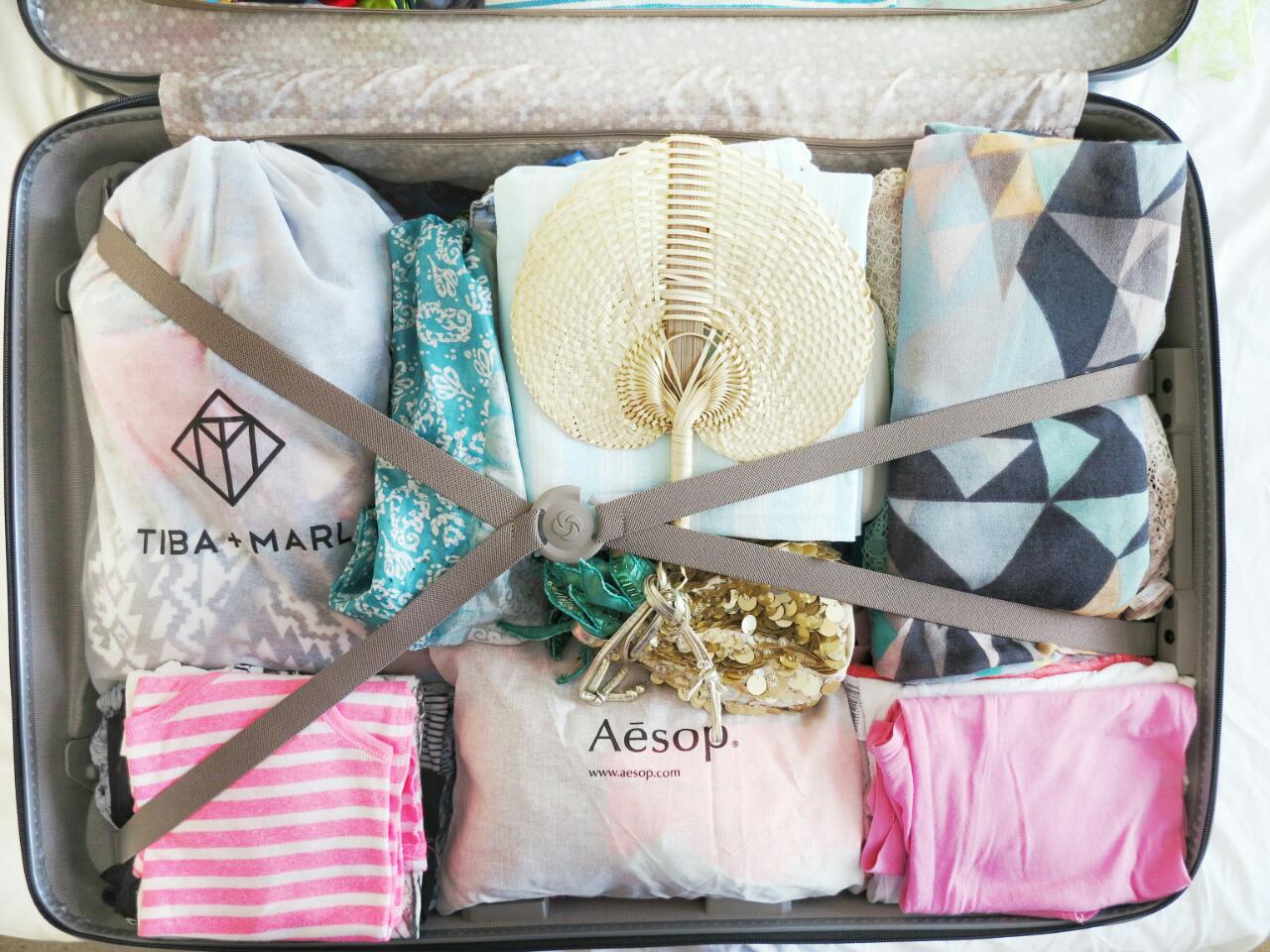 Bag In A Bag Freak: All of those dust bags that you get with everything these days – keep them!  I have swimwear in one, underwear in another, shoes all in individual ones.  It means I don't really have to unpack at the other end – I just get all the bags out and put them in a drawer somewhere.
New bikinis from Seafolly at Coco Bay and To Dive For . Old espadrilles and old jewellery holder – both very useful on travels.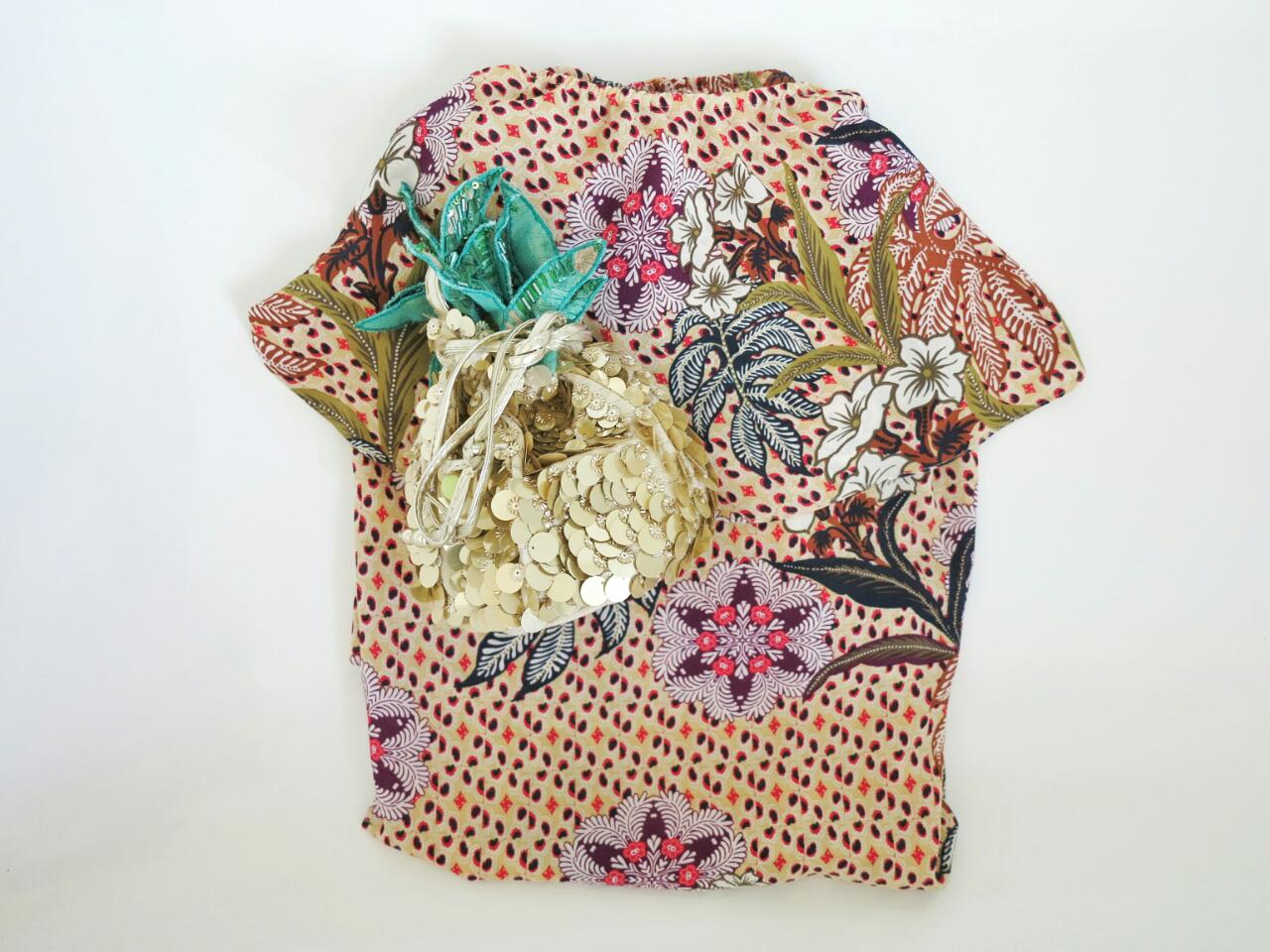 New off-the shoulder dress from…yes you guessed it, Zara (I promise I do have other brands in my wardrobe). Old Pineapple sequin bag from Accessorize.
Other things I have in my case: That fan is not there just to look pretty, it's really useful when you get hot! Headscarf and hats to keep cool and protect my (over) coloured hair.  A scarf – essential travelling accessory as can be used for so many things; keeping warm on plane, keeping baby cool in pram, sitting on! (dedicated post to come). All sandals are flats and I have a couple of pairs of the smart Havaianas as I can wear them in the day and evening.
Toiletries: Piz Buin Factor 30 for me – this is my favourite suntan lotion mainly because it smells of holidays but it also goes on nicely and isn't greasy. Nivea Kids Factor 50 for T-Rex – I am obsessed with these pocket size ones because they are small and handy to keep in every bag, buggy etc rather than having to always remember the one big bottle.  Mosquito repellent – I use Afterbite for me because I get bitten really badly and Anthisan for T-Rex as it's slightly gentler (I know there are loads of herbal remedies for mosquito bites out there if you prefer not to use these).
That's it!  A snapshot I guess, of what I'm taking (there is obviously a lot more!) All will be revealed in forthcoming posts:)
Our suitcase is on loan from Samsonite
Photo By: Images Copyright Bikinis & Bibs