Claughton House – A Luxury Villa In Sri Lanka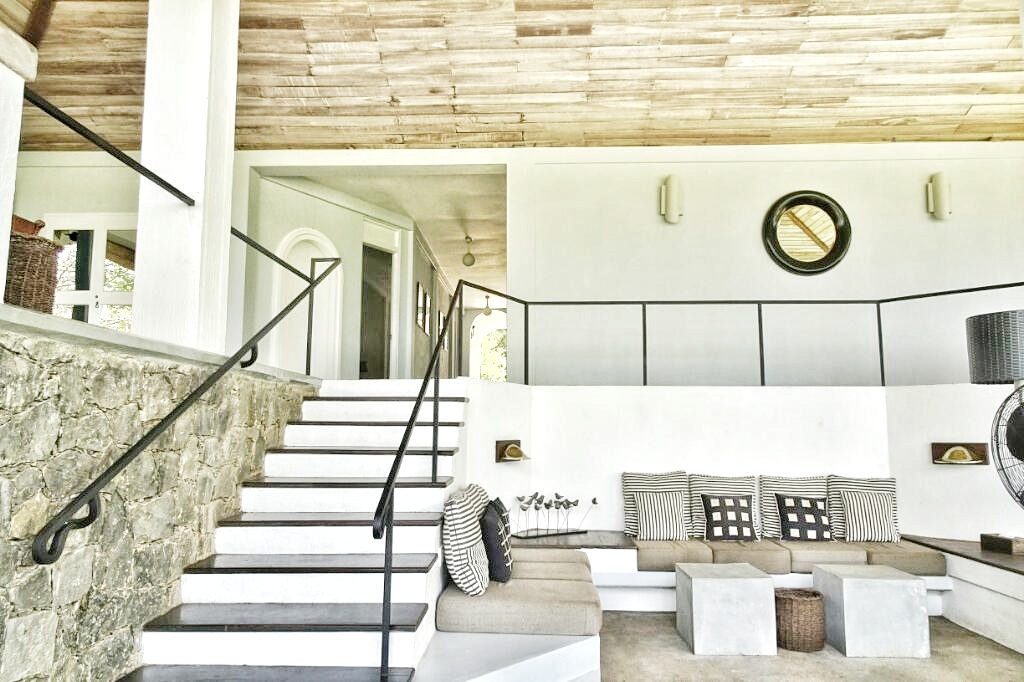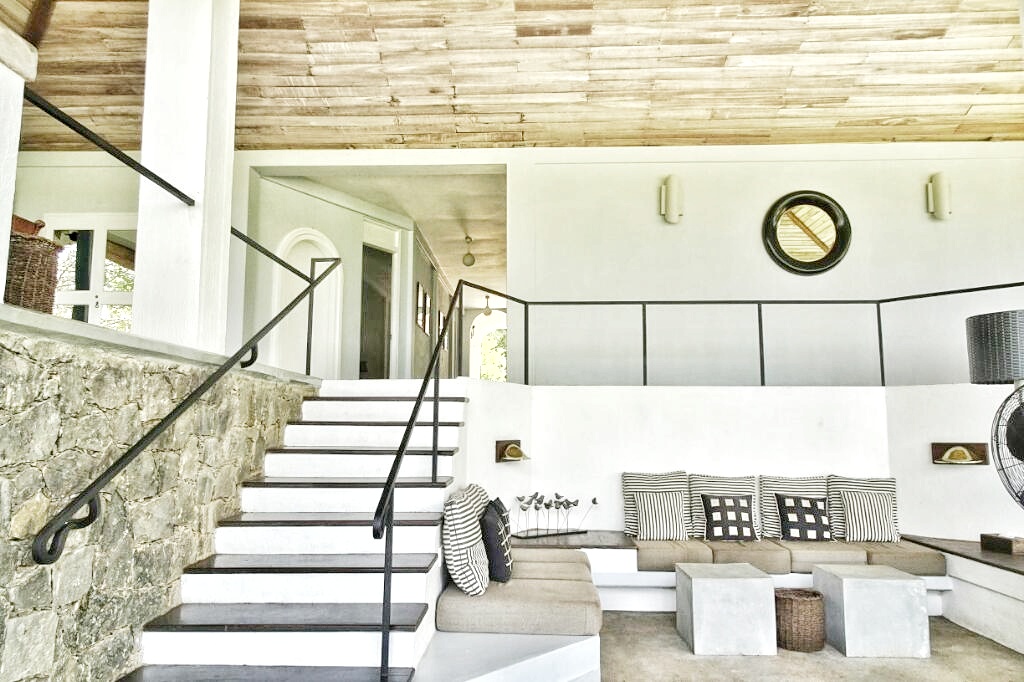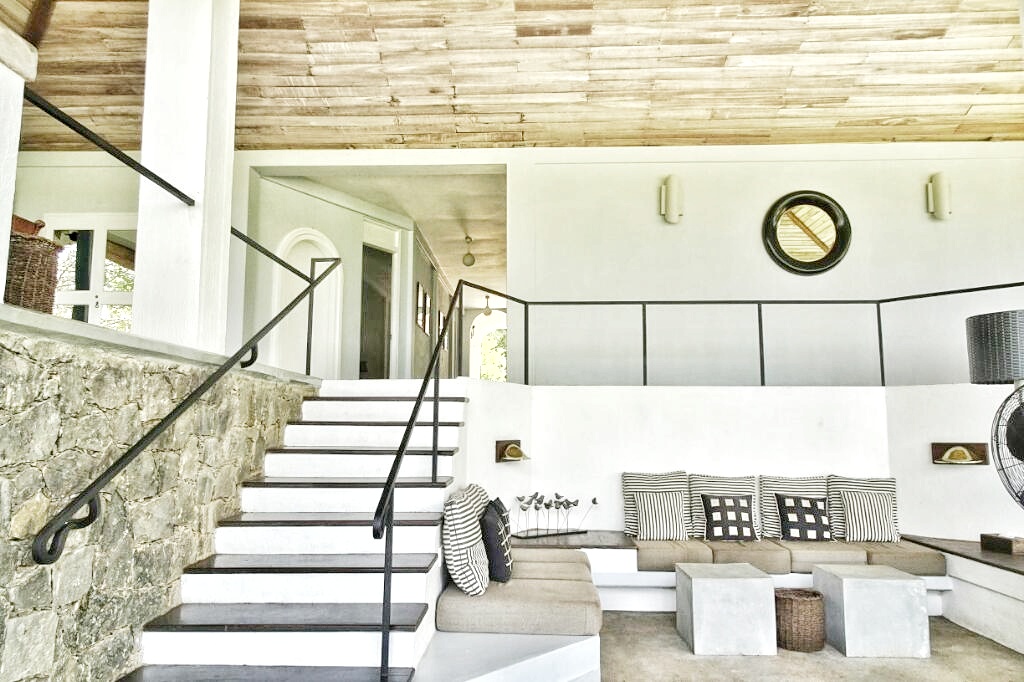 If you followed my trip to Sri Lanka on Instagram or Facebook and are feeling inspired to book a family trip yourselves then I'd highly recommend having a look at Villas In Sri Lanka.  They have a whole range of self catering accommodation from small but stylish cottages amongst tea plantations to luxury beach villas suitable for big families or groups of friends. This is the first of two villa reviews – a villa designed by Sri Lanka's most famous architect, Geoffrey Bawa, located on the south coast in Tangalla, on the western tip of Kudawella Beach.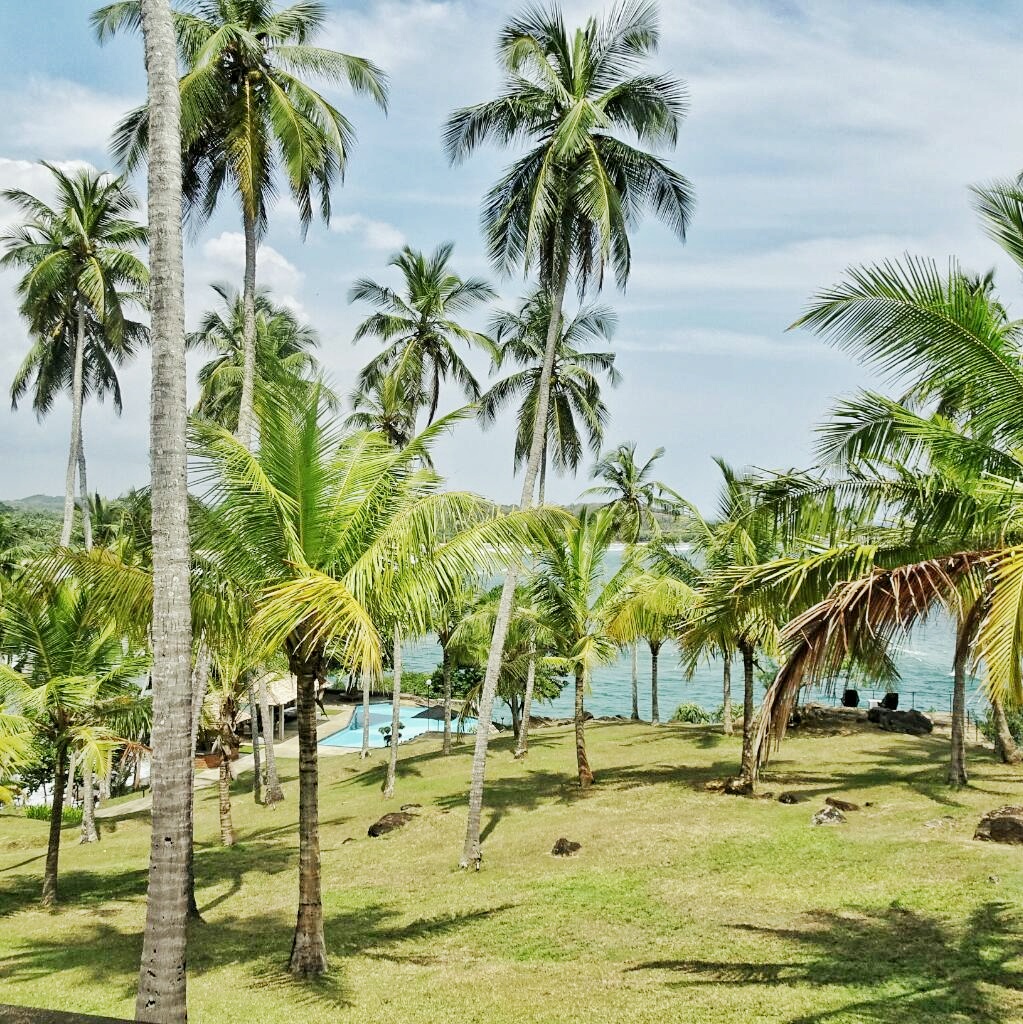 The Villa is called Claughton House and is a five bedroom beach house which sleeps six adults and six children. It is one of the most sought after villas on this coastline due its beautiful location, grounds and not least, its architecture. We arrived feeling pretty tired after a 10 hour flight and three hour transfer (Sri Lanka is a big place and it takes time to get to your destination) but the minute we walked through the doors of Claughton House we were so well looked after by the kind team of resident staff. Cases were taken, drinks and cold towels were supplied and a beautiful Sri Lankan dinner was served.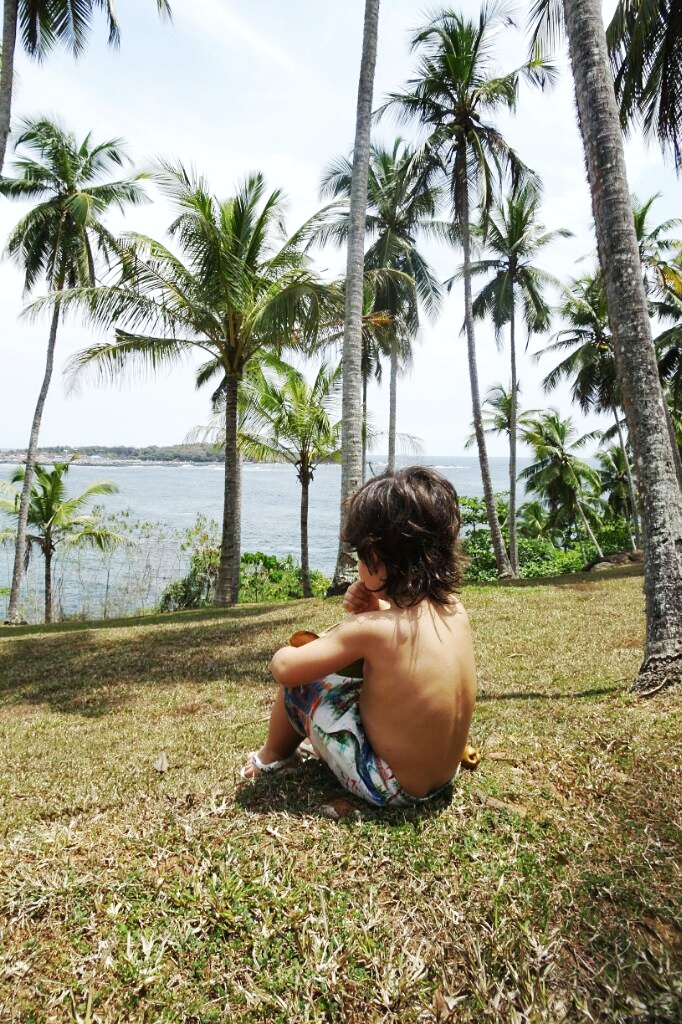 Villas In Sri Lanka provide all guests with a villa manager, chef, concierge and household staff to look after you during your stay. To say it is blissful for parents is an understatement – we didn't have to lift a finger. The villa itself is stunning and exceeded my expectations. It is exactly the sort of open air, colonial style accommodation you would want to stay in, in Sri Lanka. It is also surrounded by eight acres of gardens and sweeping palm trees, to which we flung open our balcony doors each morning.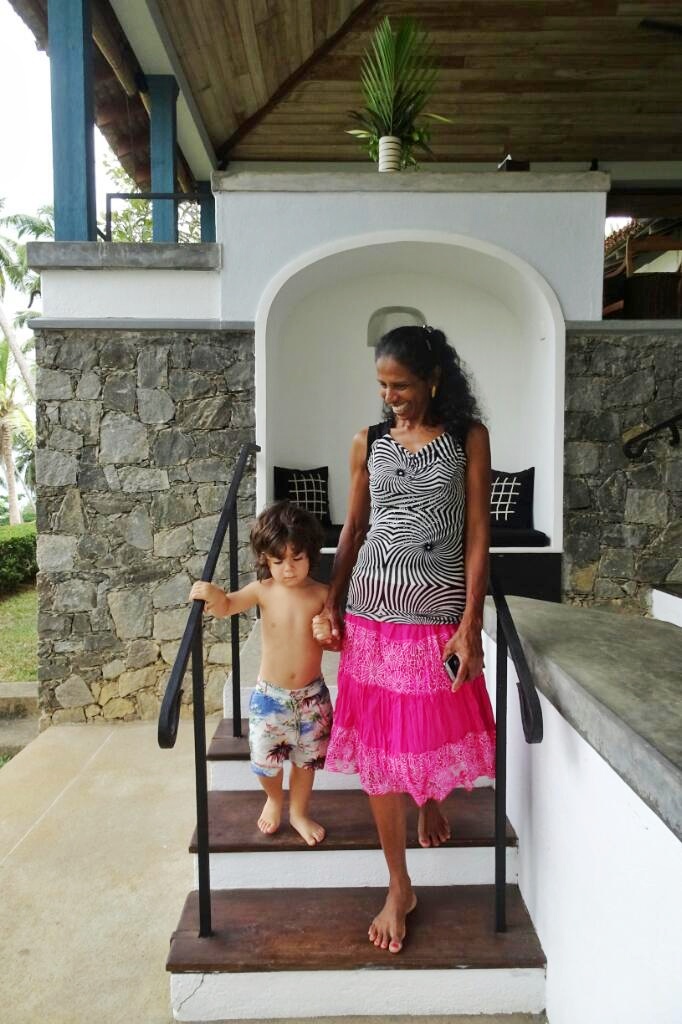 Lovely friendly villa staff who Rex warmed to straight away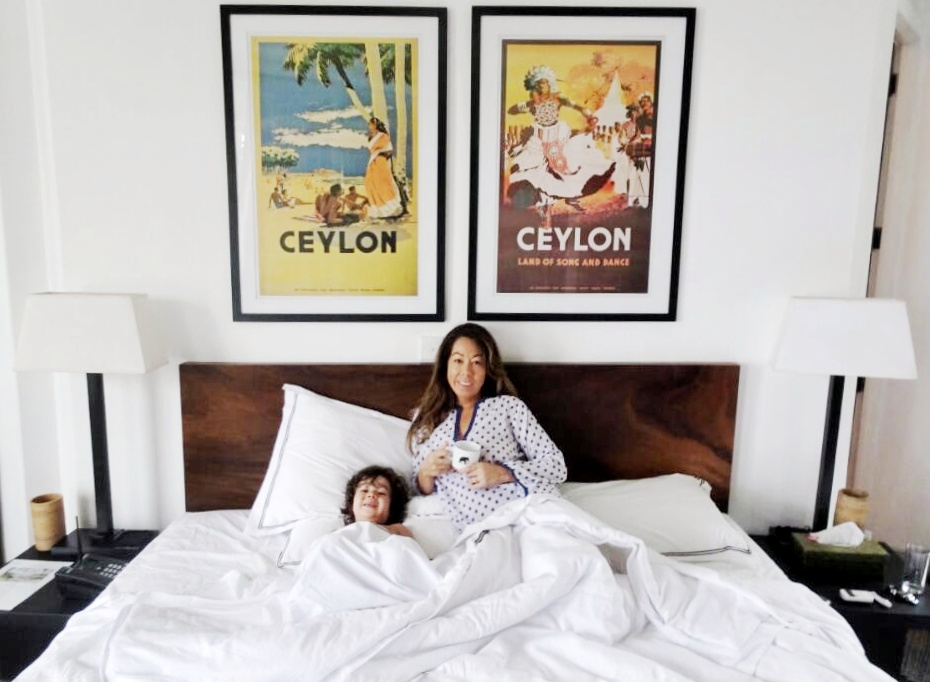 The Bedrooms are large and have spacious ensuite bathrooms. We stayed in the master bedroom which was ideal for the three of us because it had a large single sofa bed which our three year old son happily slept on. I loved the character of each bedroom which was individually decorated in a luxurious but cosy colonial style with cool local art, books and dark wood furnishings. Each bedroom also has sea views to wake up to each morning.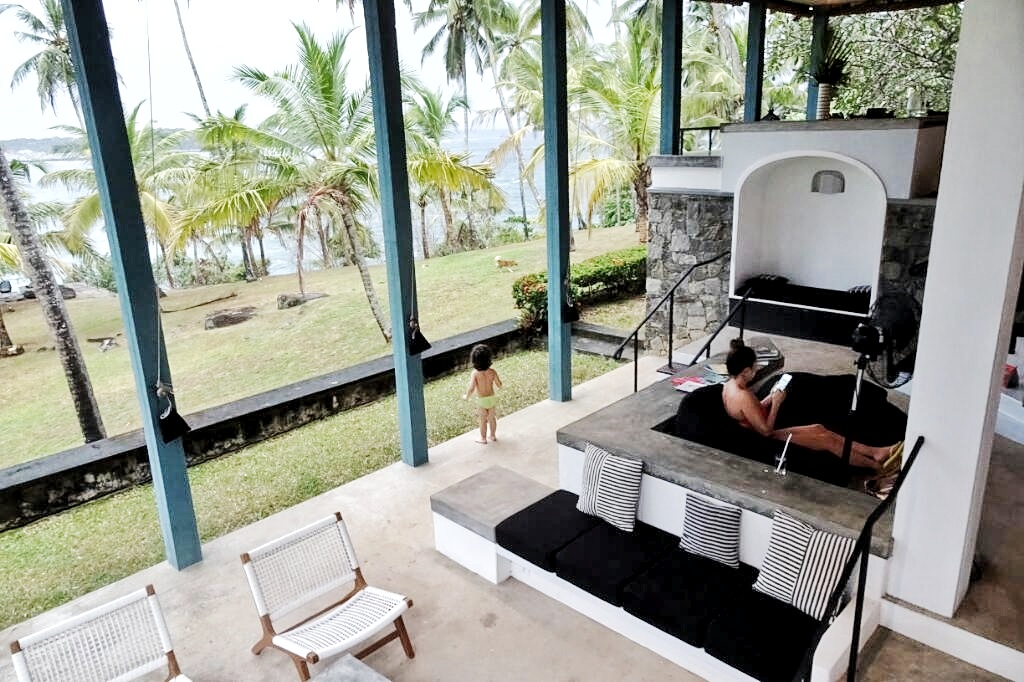 Loved my temporary office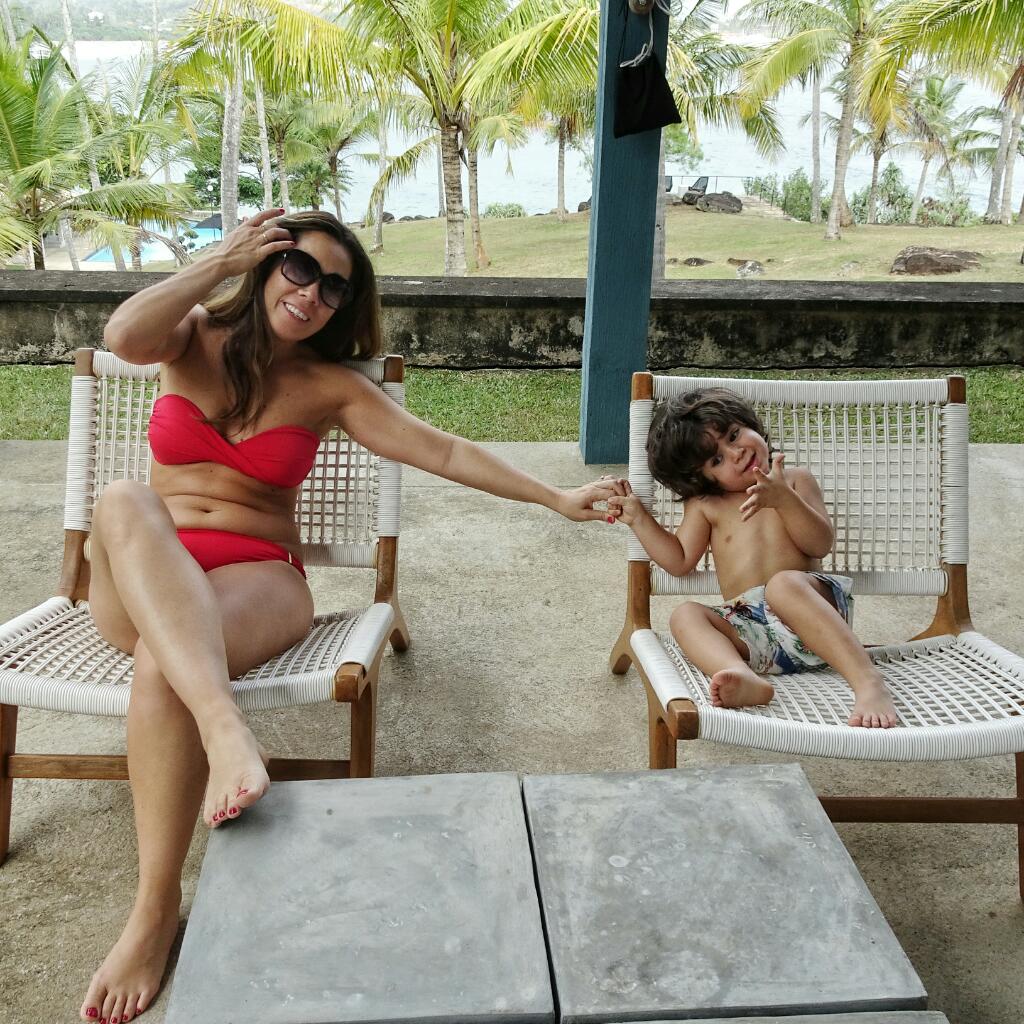 Getting ready for a dip in the pool (Bikini – Melissa Odabash)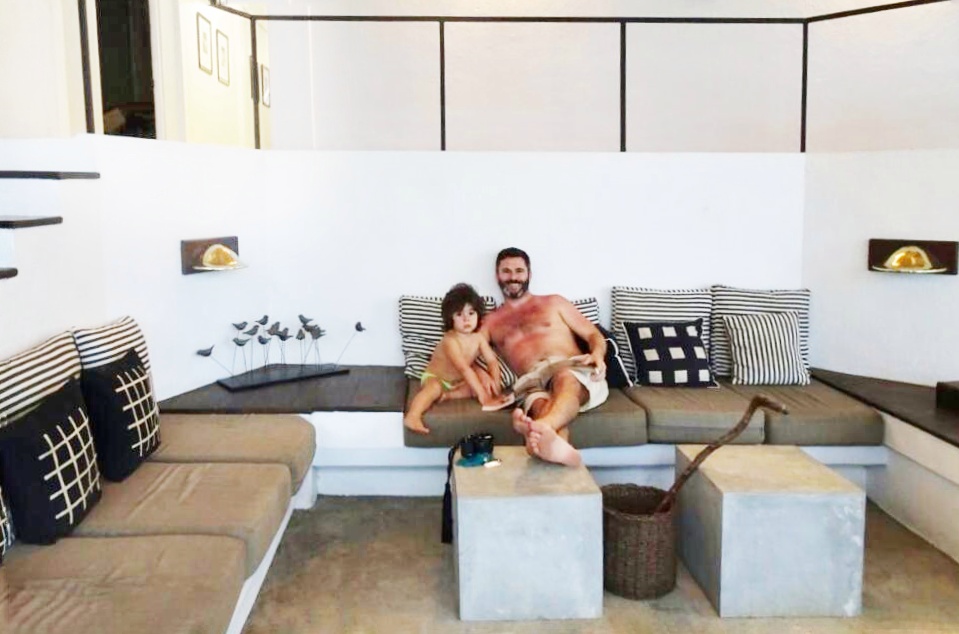 Story Time with a slightly red Ross (don't forget to wear sunscreen – the Sri Lankan sun is hot!)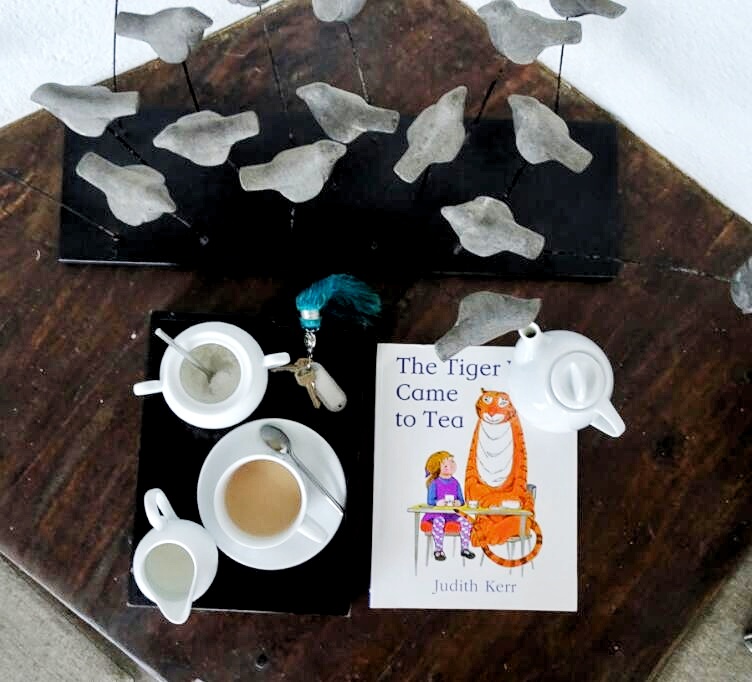 The Open Air Lounge has got to be the pièce de résistance in this villa and reflects the airy tropical modernist style that Bawa was well known for. It is where we read stories and drank tea in the daytime during a tropical rainstorm and it is also where, once our son was tucked up in bed, we spent the evenings drinking and yes…talking. No interruptions, just looking out into the night sky and relaxing. It is for this reason alone that I favour self catering accommodation over a single hotel room when travelling with my family. Whilst he felt happy having his dinner and going to bed first, it meant we could also enjoy a quiet dinner later on and drinks in the lounge. No hiding in the bathroom or sitting in the bedroom with lights off waiting for him to sleep.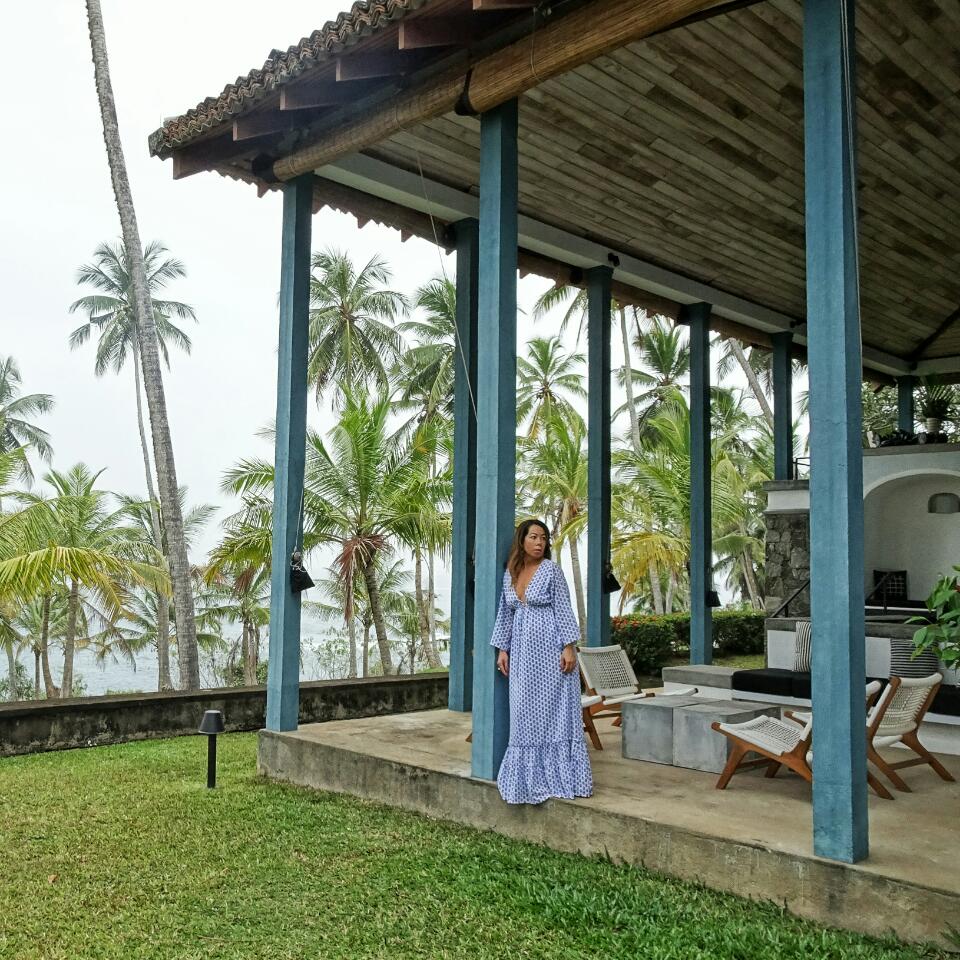 Palm Trees and The Open Air Lounge (Dress -Seraphina)
Our Stay was the perfect way of easing us into Sri Lankan life. I loved that we had local people around us to chat to and who were also incredibly kind and helpful without encroaching on our space . On our first day we wondered down to the pool for a swim. The pool sits at the bottom of the villa's grounds overlooking the very quiet Kudawella Beach.There is direct beach access from the villa and it was completely empty when we were there bar a couple of surfers checking out the swell. Like many of Sri Lanka's beaches the sea is quite rough and so not suitable for young children swimming but the corner of the beach nearest the villa was fairly calm.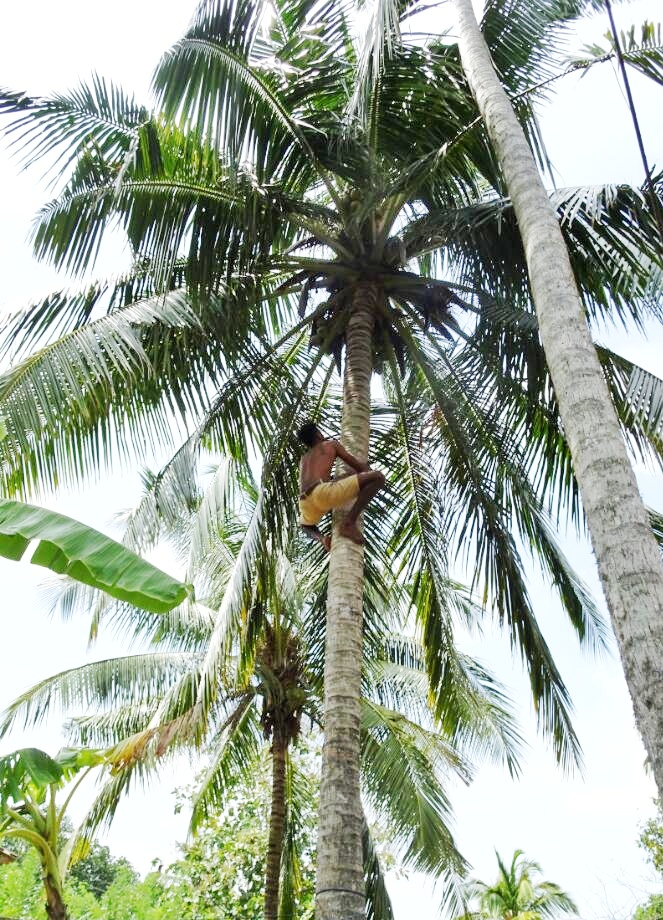 Coconut kids
Our villa friends offered to climb up a tree and get us a coconut. This is the point where you feel a million miles away from England, watching our coconut being pulled from a 20ft palm tree and then chopped and presented complete with a straw and carved handles. We didn't leave the villa during our short stay, preferring to enjoy our time relaxing in it but if we'd had an extra few days in this area then I would have definitely visited Udawalawe National Park – a sanctuary for wildlife including elephants and leopards – which is only an hour's drive away from Claughton House.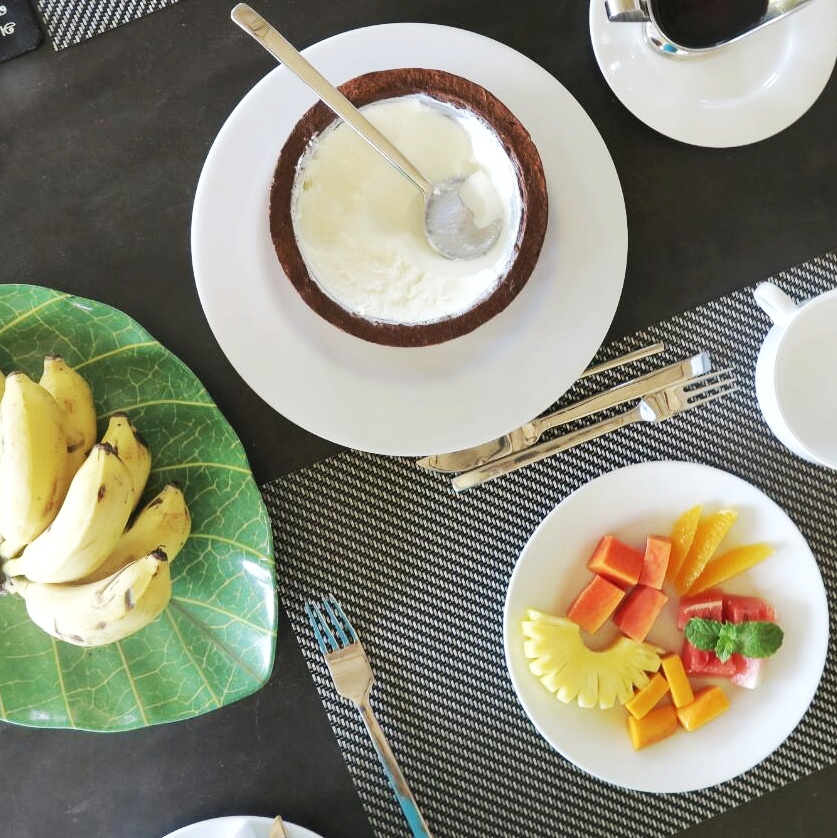 The Food is served at the dining table in the open air verandah overlooking the palm trees and ocean. On booking your villa you are given a menu where you can choose your home cooked daily meals. We opted for Sri Lankan curries and fish dishes every day, all of which is freshly bought from the local market in the morning. Breakfasts are also a bit of a feast with tropical fresh fruit plates and buffalo curd (a really yummy type of yoghurt that I loved) followed by traditional Sri Lankan egg hoppers (a bowl shaped pancake with a fried egg incorporated) toast and passionfruit jams accompanied by teas, coffees and fresh juices. I really got into drinking black tea in Sri Lanka because it tastes so clean and pure there…you should try it with Dilmah tea, it's really nice.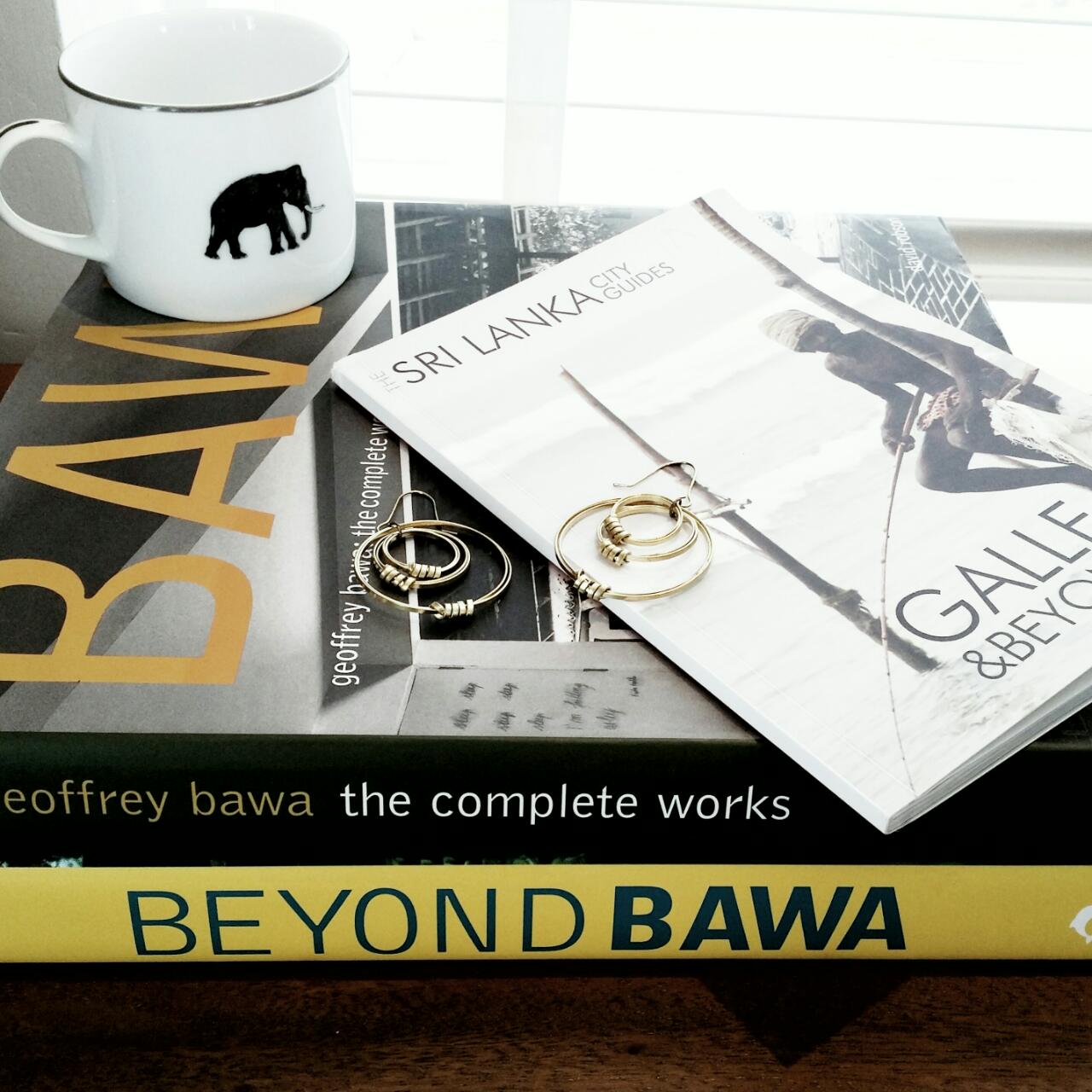 Claughton House features in these books; A little guide to Sri Lanka given to villa guests; earrings (Postcards Home)
By The End Of Our Stay…we felt like we didn't want to leave! In case I haven't mentioned it enough, Claughton House is amazing and should be experienced at least once. It is a great family villa for all ages with lots of space to run around in the gardens, swim in the pool or play on the beach. There is even a games room with table tennis for older children. It is not flashy but combines old fashioned colonial glamour with a contemporary designed tropical space. It is not the cheapest villa but neither is it totally unaffordable, especially if you were to share with two other families…and there is more than enough space to do so. In fact that was the only thing we wished we'd have had in the villa, more friends or family to share it with. Equally I'll never complain about having quiet time, especially when I've got a million palm trees to make friends with.
Need to Know:
Getting there: We flew London-Dubai (transit 2 hours) then Dubai-Sri Lanka (total of 12 hours inc. transit)
Car transfer time from Bandaranaike International Airport (Colombo) to Claughton House is approx 2-3hrs
Villas in Sri Lanka organise transfers from airport to villa at an extra cost. You can transfer by car or plane
Food and alcohol when staying at the villa are at an extra cost (but the food is amazing and well worth it)
Claughton House is ideally located (1 hr drive) to visit one of the best national parks in Sri Lanka – Udawalawe
There are no seasons in Sri Lanka. We visited mid-October and it was mainly sunny with the odd thunderstorm
If you'd like to book Claughton House for a minimum of four nights you can use my booking code BB20 to receive two bottles of Prosecco (valid on all bookings up until November 30 2017. T&Cs apply).
This post was written in association with Villas In Sri Lanka who kindly hosted us for two nights at Claughton House.