Luxury Family Spa at Six Senses Ninh Van Bay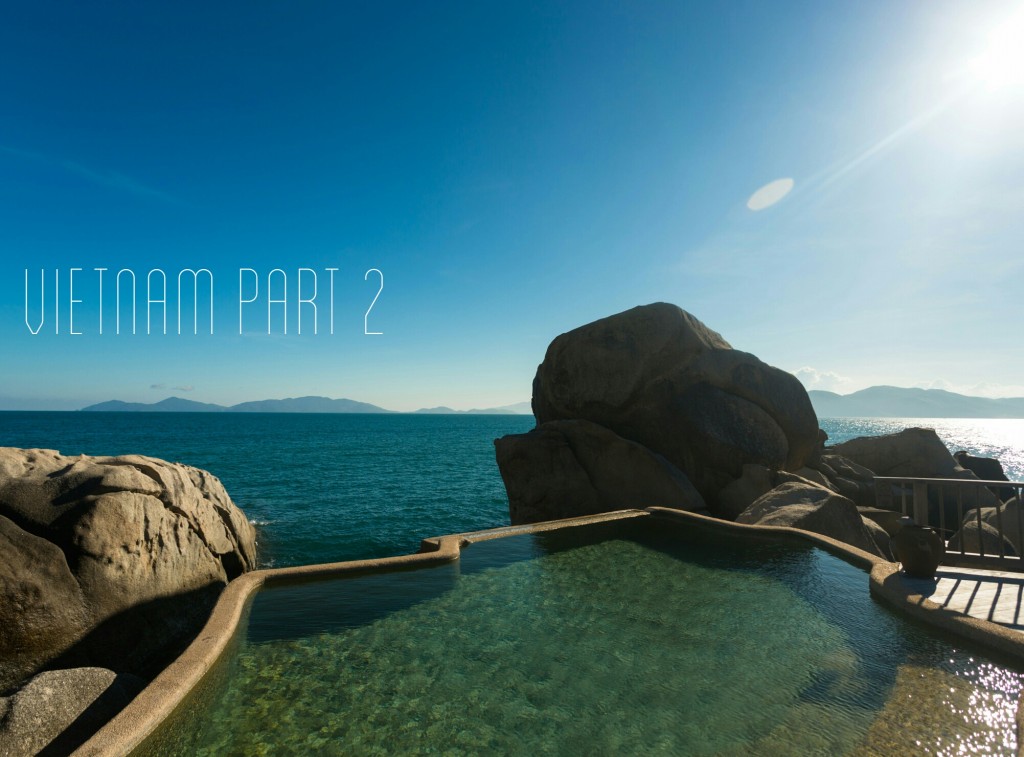 The Six Senses Ninh Van Bay in Vietnam was one of my big inspirations for creating this blog.  Before T-Rex, I wouldn't have even considered that spa-goers and families could quite happily holiday next to one another, or that they would even want to.  However, this luxury Robinson Crusoe style resort is, I believe, the perfect combination of grown up relaxation and cool kid adventures.
It might have been the beautiful Swedish family of five, whom we shared our private speedboat transfer with, that had me thinking about how to holiday as a new family.  Not only were they characteristically jolly but from our conversation, it was clear that they didn't subject themselves to the typical all-inclusive, overrun with kids, type of vacation (you know the ones I mean).
As we all alighted our rather glamorous transfer from nearby Nah Trang, we were welcomed onto the jetty by a team of Six Senses staff, ready and waiting to take bags and offer us drinks.  I just want to say at this point, this welcome was like being greeted by old friends and not the awkward subservience that you can sometimes experience in Asia.  Amongst these 'old friends' a personal butler is allocated to each guest – he is at your beck and call throughout your stay but again, by the end of our holiday we felt like Luan was part of our family.
Visiting different countries and their accommodations is always really inspirational especially if you're into design. I love analysing the architectures and interiors that have been so cleverly thought through. It is a running joke between husband and I that I only need a few hours in a place before I start saying "honey, if we lived here…".  It probably took me two minutes before I started uttering these words in Ninh Van Bay.  While couples can hide away in Rock Pool Villas with private infinity pools overlooking the East Vietnam Sea,  families can enjoy direct beach access from the two story Beachfront Villas, also with private pool.
Our Beachfront Villa with its polished plaster floors and four poster bed romantically draped in a mosquito net and overlooking our pool, was nothing short of heavenly.  T-Rex, at only 3 months old, was still sleeping with us and so a cot was provided next to the bed (ok, not so romantic I know but you can't have everything).  If you have older children, there are two bedroom villas available.  The bathrooms provide complete barefoot luxury with a beautiful indoor outdoor space where after a day at the beach one of you can indulge in the handcrafted wooden bathtub whilst another can use the outside rain shower.  A handwoven beach bag and conical hat hang stylishly from hooks whilst lots of other lovely little bathroom treats are left at our disposal.
As I'm sure you have probably discovered, when you have kids getting the accommodation right can make or break a holiday, mainly because you spend so much time there.  We quickly realised that whatever holiday money we might have happily squandered pre-children, would be far more beneficial if invested in a really nice hotel room or gorgeous villa because that is where we found ourselves spending most of our time.  As with the Jacuzzi Villa at the Chen Sea (my last Vietnam post) the gorgeous beach villas at Six Senses meant that husband and I could sunbathe, swim or read (yes READ!) whilst being able to keep to T-Rex's sleeping and eating routine.  If one of us wanted to go and have a spa treatment, snorkel or maybe take one of our villa bicycles to explore, the other could hang out by the pool, envy free with T-Rex.
What about the older kids?  Ohhhh there is so much good stuff for the big kids and not an electronic device or plastic flashing toy in sight.  Cultivating the island adventurer in its mini guests, Six Senses has daily programs at its 'Sub Club' including Kayak Training, Mocktail Making Classes, Beach Football and Sandcastle Making Competitions.  If that's not of interest then how about a Glass Bottom Boat Adventure or Movie Night by the Jetty?  All this is for children four years and above.  If you have a small baby like we did, then Sub Club can babysit on a complimentary basis for you throughout the day.  Out of hours babysitting is also available at an extra cost.
I could go on because Six Senses Ninh Van Bay has enough to truly keep everyone happy.  The beautiful spa and yoga experiences are perfect for stressed out parents to reset while their little ones are being safely cared for.  The 'back to nature' activities for kids are a refreshing change from the standard ball pit infested kids clubs you might find elsewhere.  For me, the simplest pleasure of sitting over a leisurely lunch and drinking in the views (ok maybe a few cocktails as well) is all I need to make the ideal holiday.
Three Things That Makes Holidaying with Kids Easier at Six Senses Ninh Van Bay.
1. The poolside restaurant with pirate playground – kids swim or climb within sight, while you enjoy a long lunch
2. The Beachside Villas with private pool where the whole family can happily hang out every day
3. The Sub Club where children's activities incorporate the resorts natural beauty and ethos
We were guests of Six Senses Ninh Van Bay in February 2014.